Trying to find the best Happy Birthday song to download? You're in the right place!

Folk Song, U.S.A.
"Happy Birthday to you" (also "The Happy Birthday Song" or simply "Happy Birthday") is a song that is traditionally sung to celebrate the anniversary of a person's birth, and one of the most popular party songs. Scroll for two free birthday songs you can download or play on the right occasion.
According to the 1998 Guinness World Records, this is the most recognized tune in the English language. The melody of the rhyme comes from the song "Good Morning to All". In 1893, Patty Hill and her composer sister Mildred published it in a songbook called "Song Stories for the Kindergarten".
Besides the traditional Happy Birthday song, you can get various other versions like the Dance version, the Reggae version, and so many more.
Table of Contents
For even more free kids songs and great content, browse through our collection of nursery rhymes and baby tunes.
Happy Birthday Song Videos
You can send these videos to a friend or share on social media.
Sing-Along Video with lyrics [clean ending]
Sing-Along Video with lyrics [cheerful version]
Happy Birthday Song Lyrics
Happy Birthday to you,
Happy Birthday to you,
Happy Birthday, dear ____ _____
Happy Birthday to you.
Also read: Are There Extra Happy Birthday Lyrics We Didn't Know?
24 Amazing Versions of "Happy Birthday to You"
From touching to funny, these are the instrumental Happy Birthday songs you've been looking for.
Get one version that suits your birthday party only for 0,99$/€!
Free Happy Birthday Song Download
Here are two music tracks with vocals (we also give some karaoke versions). You can download and use these free birthday tracks for non-commercial purposes.
To download and save your free "Happy Birthday to you" song on your computer or other device, right click (or tap and hold, on mobile devices) on the following links, then choose "Save link as…".
[clean ending version:]
"Happy Birthday to you" (clean ending) (Song duration: 0:40 – 3/4 – 120 bpm)
[cheerful ending version:]
"Happy Birthday to you (cheerful version)" (song duration: 0:40 – 3/4 – 120 bpm)
♥ To sing the song yourself, click here
for a Happy Birthday (Karaoke Version)
To download a free instrumental mp3 of the track you can listen to below, click on the following button.
See also: How to Play Happy Birthday on Piano – Easy Notes & Tutorial
To download a ready-to-print PDF of "Happy Birthday to you" for music activities with a music sheet, lyrics and a colouring sheet for kids, click here.
Click on the following button for a printable PDF file with Guitar Chords,
Tabs and Sheet Music with Notes and Tablature for this song for free.
Click on the button to watch a glockenspiel / xylophone tutorial video
and download a free printable PDF file with glockenspiel/xylophone sheet music
and a note Chart of this song.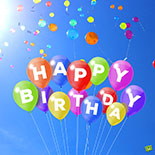 For the Best Birthday Wishing…
When you celebrate somebody's special day, you might have to pick the right words to express your feelings.
For endless options of original and unique birthday greetings, visit Birthday Wishes Expert and pick the one you like best.
Happy Birthday Videos on YouTube
Other popular versions of "Happy Birthday to you" to send or share:
Feliz cumpleaños – The Happy Birthday Song in Spanish
Feliz cumpleaños is the Spanish-language "Happy Birthday" and its lyrics vary according to the country.
Looking for a Spanish Happy Birthday Song download? Click here for a Feliz cumpleaños mp3!
Happy Birthday by Stevie Wonder
Happy Birthday (Dance Version with countdown)
Interesting Happy Birthday Song Facts
History of the Happy Birthday Song
• "Happy Birthday" is one of the highest-earning songs of all time having made in the region of US$50 million in earnings since it came into existence several decades ago.
• In 1998, the Guinness World Records placed this song at number one on their list of the most popular songs in the English language.
Happy Birthday song in Space
• During the Apollo 9 mission astronauts sang "Happy Birthday" to the then NASA space operations director Christopher Kraft in honor of his birthday, thereby making this song the first song to be performed live in outer space.
• On the first anniversary of NASA's Curiosity Rover's landing on Mars on August 5, 2013, NASA scientists at the Goddard Space Flight Center (GSFC) programmed Curiosity to "sing" the "Happy Birthday" song to itself in a crater on the Red Planet, more than million miles from earth.
Public Performances of Happy Birthday Songs
• One of the most notable performances of this song was on May 19, 1962 when famed American actress and singer, Marilyn Monroe, sang it to the 35th President of the United States, John F. Kennedy, as he celebrated his 45th birthday at the third Madison Square Garden. Monroe was joined on stage by noted jazz pianist, Hank Jones. Monroe's version of the song was titled "Happy Birthday, Mr. President".  Monroe died tragically at the age of 36 about three months after that legendary performance.
• Besides "Happy Birthday", one of the most popular birthday songs is Stevie Wonder's "Happy Birthday". Wonder created this single to campaign in favor of having the birthday of Martin Luther King, Jr. become a national holiday.
Copyright of the Happy Birthday song
• Prior to the song entering into the public domain in 2016, Warner Chappell Music, who had copyright ownership of the song, had been generating as much as $2 million every year from the song through licensing it to be used for commercial purposes. Finally, on Tuesday September 22, 2015, the song was rendered free from copyright after a federal judge ruled so in court.
Teaching idea & activities
Just have fun and try singing "Happy Birthday" in different ways: cheerfully, in a loose way, as if in French or Chinese, seriously, in a mocking way, etc.
Free Happy Birthday Images
to Download and Share
Did you like this article?
You may also like:
Happy Birthday to You [Karaoke] | 7 Versions to Download and Sing at a Party
How to Play Happy Birthday – Easy Piano Notes, Keys, Sheet Music