Looking for easy Piano Sheet Music? These are 86 printable PDF files for free download!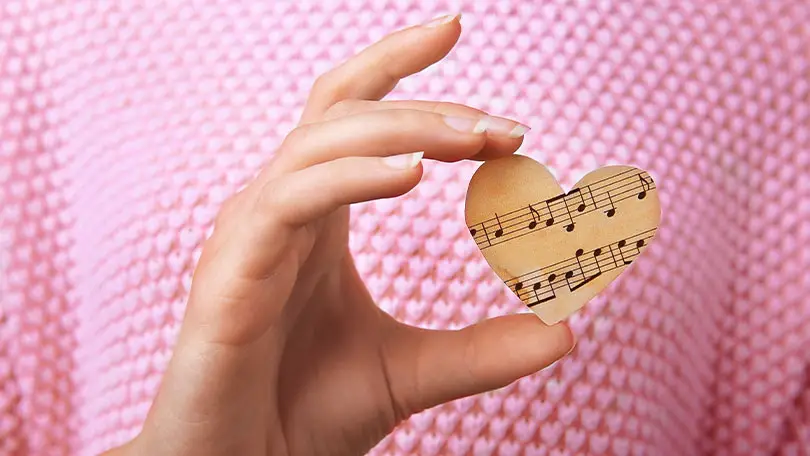 Each link leads you to a post were you can get 100% free:
Free printable piano sheet music in PDF
Video Piano Tutorial where you can see exactly how to play the song
If you're also looking for free printable
Lead Sheets with sheet music with lyrics in a single staff,
click here!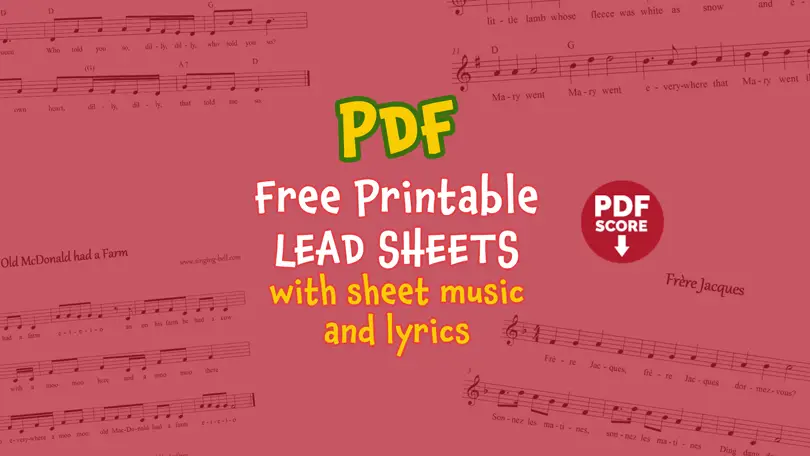 Let's dive in!
Free Piano Sheet Music – Alphabetical list of songs

A
A Ram Sam Sam Piano Sheet Music : Notes, Chords, and Video Tutorial
ABC Song Piano Sheet Music : Notes, Chords, and Video Tutorial and Activities
All I Want for Christmas is You Piano Sheet Music : Notes, Chords, and Video Tutorial
All The Pretty Little Horses (Hush-a-bye) Piano Sheet Music : Notes, Chords, and Video Tutorial
Amazing Grace Piano Sheet Music : Notes, Chords, and Video Tutorial
Angels We Have Heard On High Piano Sheet Music : Notes, Chords, and Video Tutorial
Auld Lang Syne Piano Sheet Music : Notes, Chords, and Video Tutorial
Away in a Manger Piano Sheet Music : Notes, Chords, and Video Tutorial
B
Baa Baa Black Sheep Piano Sheet Music : Notes, Chords, and Video Tutorial
Baby Bumblebee Piano Sheet Music : Notes, Chords, and Video Tutorial
Bingo Song Piano Sheet Music : Notes, Chords, and Video Tutorial
C
Can-Can Dance by Jacques Offenbach Piano Sheet Music : Notes, Chords, and Video Tutorial
Carol of the Bells Piano Sheet Music : Notes, Chords, and Video Tutorial
D
Dance of the Sugar Plum Fairy from Tchaikovsky's The Nutcracker Piano Sheet Music : Notes, Chords, and Video Tutorial
Danny Boy Piano Sheet Music : Notes, Chords, and Video Tutorial
Deck The Halls Piano Sheet Music : Notes, Chords, and Video Tutorial
Did You Ever See a Lassie Piano Sheet Music : Notes, Chords, and Video Tutorial
Do Re Mi from The Sound of Music Piano Sheet Music : Notes, Chords, and Video Tutorial
Dos Oruguitas Piano Sheet Music : Notes, Chords, and Video Tutorial
F
Feliz Navidad Piano Sheet Music : Notes, Chords, and Video Tutorial
Finger Family Piano Sheet Music : Notes, Chords, and Video Tutorial and Activities
Five Little Ducks Piano Sheet Music : Notes, Chords, and Video Tutorial
G
Good King Wenceslas Piano Sheet Music : Notes, Chords, and Video Tutorial
H
Happy Birthday Piano Sheet Music : Notes, Chords, and Video Tutorial
Happy Xmas (War is over) Piano Sheet Music : Notes, Chords, and Video Tutorial
Hark! The Herald Angels Sing Piano Sheet Music : Notes, Chords, and Video Tutorial
Have Yourself a Merry Little Christmas Piano Sheet Music : Notes, Chords, and Video Tutorial
Head Shoulders Knees and Toes Piano Sheet Music : Notes, Chords, and Video Tutorial
Hot Cross Buns Piano Sheet Music : Notes, Chords, and Video Tutorial
Humpty Dumpty Piano Sheet Music : Notes, Chords, and Video Tutorial
I
I Heard the Bells on Christmas Day Piano Sheet Music : Notes, Chords, and Video Tutorial
I'm a Little Teapot Piano Sheet Music : Notes, Chords, and Video Tutorial
If You're Happy and You Know It Piano Sheet Music : Notes, Chords, and Video Tutorial
It's Beginning to Look a Lot Like Christmas Piano Sheet Music : Notes, Chords, and Video Tutorial
Itsy-Bitsy Spider Piano Sheet Music : Notes, Chords, and Video Tutorial
J
Jack and Jill Piano Sheet Music : Notes, Chords, and Video Tutorial
Jingle Bells Piano Sheet Music : Notes, Chords, and Video Tutorial
Jolly Old Saint Nicholas Piano Sheet Music : Notes, Chords, and Video Tutorial
Joy to the World Piano Sheet Music : Notes, Chords, and Video Tutorial
Jurassic Park Opening Theme Piano Sheet Music : Notes, Chords, and Video Tutorial
L
Last Christmas Piano Sheet Music : Notes, Chords, and Video Tutorial
Lavender's Blue Piano Sheet Music : Notes, Chords, and Video Tutorial
Little Boy Blue Piano Sheet Music : Notes, Chords, and Video Tutorial
London Bridge Is Falling Down Piano Sheet Music : Notes, Chords, and Video Tutorial
M
Mary Had a Little Lamb Piano Sheet Music : Notes, Chords, and Video Tutorial
Molly Malone Piano Sheet Music : Notes, Chords, and Video Tutorial
My Bonnie Lies Over The Ocean Piano Sheet Music : Notes, Chords, and Video Tutorial
My Heart Will Go On (Titanic) Piano Sheet Music : Notes, Chords, and Video Tutorial
O
O Christmas tree Piano Sheet Music : Notes, Chords, and Video Tutorial
Ode to Joy Piano Sheet Music : Notes, Chords, and Video Tutorial
Oh, Susanna Piano Sheet Music : Notes, Chords, and Video Tutorial
Old MacDonald Had a Farm Piano Sheet Music : Notes, Chords, and Video Tutorial
Oranges and Lemons Piano Sheet Music : Notes, Chords, and Video Tutorial
P
Pirates of the Caribbean (He's a Pirate) Piano Sheet Music : Notes, Chords, and Video Tutorial
Pop Goes The Weasel Piano Sheet Music : Notes, Chords, and Video Tutorial
R
Rain Rain Go Away Piano Sheet Music : Notes, Chords, and Video Tutorial
Remember Me from Coco Piano Sheet Music : Notes, Chords, and Video Tutorial
Rock-a-bye baby Piano Sheet Music : Notes, Chords, and Video Tutorial
Row Row Row Your Boat Piano Sheet Music : Notes, Chords, and Video Tutorial
Rudolph the Red-Nosed Reindeer Piano Sheet Music : Notes, Chords, and Video Tutorial
S
Santa Claus is Coming to Town Piano Sheet Music : Notes, Chords, and Video Tutorial
Scarborough Fair Piano Sheet Music : Notes, Chords, and Video Tutorial
See Saw Margery Daw Piano Sheet Music : Notes, Chords, and Video Tutorial
Silent Night Piano Sheet Music : Notes, Chords, and Video Tutorial
Skidamarink Piano Sheet Music : Notes, Chords, and Video Tutorial
Star Wars – Imperial March Piano Sheet Music : Notes, Chords, and Video Tutorial
Star Wars – Main Theme Piano Sheet Music : Notes, Chords, and Video Tutorial
T
The Addams Family Theme Piano Sheet Music : Notes, Chords, and Video Tutorial
The Farmer in the Dell Piano Sheet Music : Notes, Chords, and Video Tutorial
The More We Get Together Piano Sheet Music : Notes, Chords, and Video Tutorial
The Muffin Man Piano Sheet Music : Notes, Chords, and Video Tutorial
This Old Man Piano Sheet Music : Notes, Chords, and Video Tutorial
Three Blind Mice Piano Sheet Music : Notes, Chords, and Video Tutorial
Twinkle Twinkle Little Star Piano Sheet Music : Notes, Chords, and Video Tutorial
U
Un Poco Loco from Coco Piano Sheet Music : Notes, Chords, and Video Tutorial
Up ("Married Life") Piano Sheet Music : Notes, Chords, and Video Tutorial
W
We Don't Talk About Bruno Piano Sheet Music : Notes, Chords, and Video Tutorial
We Three Kings (of Orient Are) Piano Sheet Music : Notes, Chords, and Video Tutorial
We Wish You A Merry Christmas Piano Sheet Music : Notes, Chords, and Video Tutorial
What Child is This? (Greensleeves) Piano Sheet Music : Notes, Chords, and Video Tutorial
Wheels on the Bus Piano Sheet Music : Notes, Chords, and Video Tutorial
When The Saints Go Marching In Piano Sheet Music : Notes, Chords, and Video Tutorial
While Shepherds Watched their Flocks Piano Sheet Music : Notes, Chords, and Video Tutorial
White Christmas Piano Sheet Music : Notes, Chords, and Video Tutorial
Winter Wonderland Piano Sheet Music : Notes, Chords, and Video Tutorial
Y
You Are My Sunshine Piano Sheet Music : Notes, Chords, and Video Tutorial