The best source of kids songs to listen to or use in class.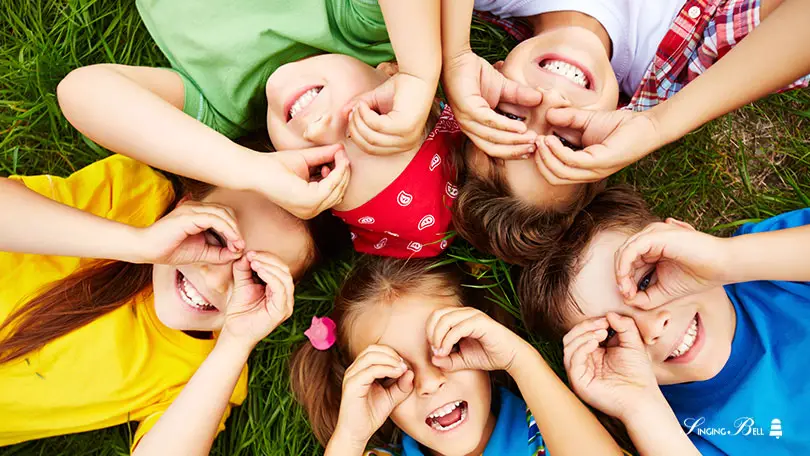 Singing Bell is an ever-growing vault of free instrumentals! Popular kids songs in karaoke versions are here to help children develop their musical skills.
Our page is covering a huge catalogue of world-famous children's songs, following their history, from the Mother Goose years to any tune sung today with a teddy bear in a child's hand!
If you are looking for good music to play to your little one or use yourself, this is the place to be.
PLAY MUSIC NOW
Table of Contents
Karaoke Kids Songs for download (A-Z)
Alphabetical list of free karaoke versions for non-commercial use
This is our entire list of kids songs, lullabies, nursery rhymes and baby songs, action songs, singing games and other songs for kids, each in instrumental version.
You can listen to or download our kids music for personal use or for educational purposes. For more information or details about commercial licensing for YouTube or other, click here.
Karaoke Kids Songs Videos with Lyrics
Sing-Along Kids Songs with vocals (A-Z)
Alphabetical list of vocal versions for sing-along

These songs with vocals are featured in sing-along videos in the following posts.
You can also listen to them on the music players found on our Kids Music Player page or on the pages for our children albums 30 Favourite Nursery Rhymes Volume 1 and Volume 2.
For more information or details about commercial licenses for use on YouTube or other, click here.
The Most Popular Songs for Kids
On the page for every song you can find a free mp3 and mp4 file, a printable PDF with lyrics for free download, a karaoke video, and much more.
Non-Stop Video
Children's Songs with Lyrics – Sing-Along Versions
1 hour with the Best Songs for Kids
You can also watch all our Children's Songs Videos and our Christmas Videos.
Curated Collections of Songs for Kids
When it comes to choosing songs for kids, you'll often find yourself needing some help.
With that in mind, we have started creating these collections of songs that are organized by subject, celebration or occasion.
Click here for various versions of the "Happy Birthday" song.
You may also like our
30 Favourite Nursery Rhymes Vol. 1
30 Favourite Nursery Rhymes Vol. 2
50 Instrumental Nursery Rhymes for Karaoke Vol. 1