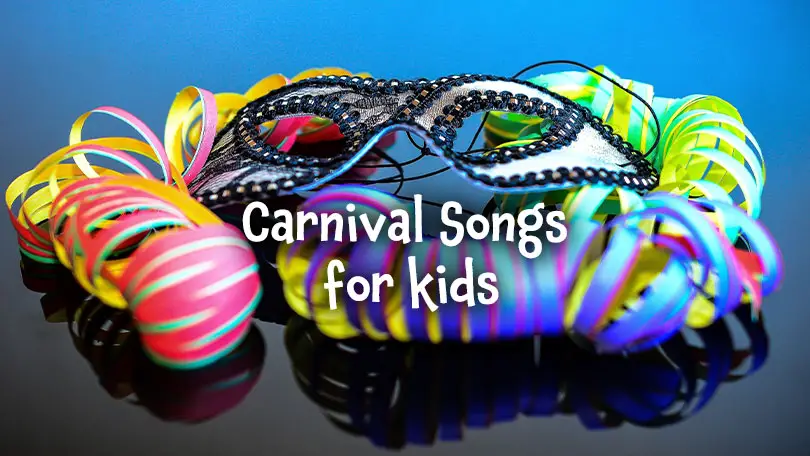 It's that time of the year: Carnival is celebrated all over the world and parties everywhere can turn out to be absolute fiestas. While you are getting ready for that children's party, you might want to complete the repertoire with songs suitable for children. If you want to listen, sing and dance, that's what these Carnival songs for kids are about!
The songs of this collection make reference to the celebration in the yearly calendar, but they are also offered for funny dancing and playing. So let's invite all the kids to party – before we leave them alone to dance and have fun.
The Carnival Song
"Let's go to the Carnival, let's join the parade!" That's what we call a good start!
Everybody Loves Carnival
Carnival, Carnival, everybody loves Carnival. We're going to have a party!!!
La Cucaracha
One of the most popular Spanish songs. The origins of the song are unknown, but we have written our very own La Cucaracha lyrics in English. Children and adults love to dance to it and sing along.
Mexican Hat Dance
Known in Mexico as "Jarabe Tapatio", the song is a mix of famous Mexican dance forms, fact that perhaps justifies the word jarabe which means a mixture of herbs.
Oats, Peas, Beans and Barley Grow
A singing game where children follow the text with movements. Children already know the song, but they are masqueraders now and it's so funny to dance dressed-up like this!
Mrs. Macaroni
A singing and name game for kids parties.
The Animal Fair
Who is disguised as an animal? With this song, everyone! You can sing and dance in the funniest way following the lyrics.
Skip to my Lou
A popular American partner-stealing dance and very popular children's song, too. My lady, shall we dance?
Cucú Cantaba La Rana
A well known song sung by several generations of Spanish-speaking children.
Savez-vous Planter Les Choux?
Similar to The Farmer in the Dell, but in French. Let's plant a few sprouts using our arms, legs, knees, elbows, head, and whatever else comes up!
Five Little Monkeys
And now… we all become monkeys, with a song that little ones love!
Spotify Playlist
Did you like this post?
You may also like:
32 Disney Songs for Kids to Listen to on Repeat
55+ Dr. Seuss Quotes for Kids That Teach Humanity