Ready for some Carol of the Bells boomwhackers?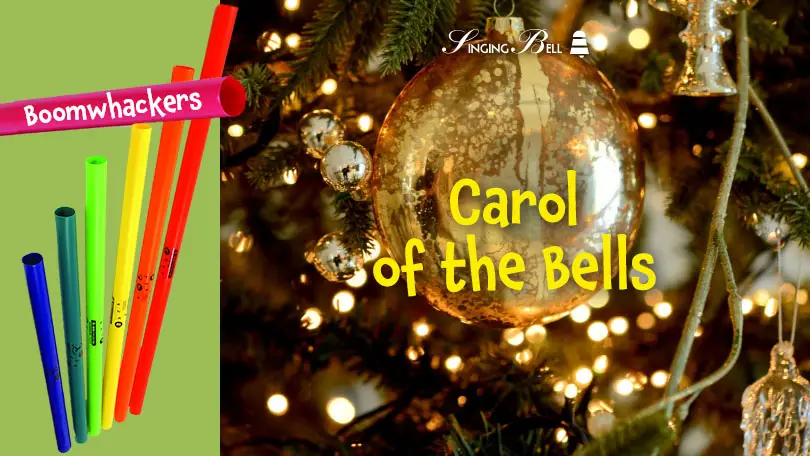 On this page you can find boomwhackers sheet music for Carol of the Bells in two lines: one for the melody and one for the accompaniment. You can also download for free a PDF file with colored notes and listen a sound file with the arrangement.
"Carol of the Bells" is a popular Christmas carol, composed by Mykola Leontovych with lyrics by Peter J. Wilhousky. The song is based on a folk chant known in Ukrainian as "Shchedryk".
It was associated with the coming New Year which, in pre-Christian Ukraine, was originally celebrated with the coming of spring in April.
Carol Of The Bells – Boomwhackers / Handbells Arrangement Free Sheet Music PDF
An arrangement of the song for two voices, in which we avoid accidental notes in order to make it simpler for a group of beginners. The second voice, with the exception of the last bars of the song, is more minimal and abstract, playing one note in each bar.
(PDF download button below)
Click on the following images to preview the music sheet.
Click here or on the following button for a free download
of boomwhackers / handbells sheet music in PDF.

Boomwhackers Arrangement Sound file
To listen to the boomwhackers arrangement provided above, click on the following player.
Did you like this post?
You may also like:
Jingle Bells – How to Play with Boomwhackers or Handbells
Amazing Grace – How to Play with Boomwhackers or Handbells
We Don't Talk About Bruno – How to Play on the Glockenspiel / Xylophone
Harry Potter | Hedwig's Theme – How to Play on the Glockenspiel / Xylophone