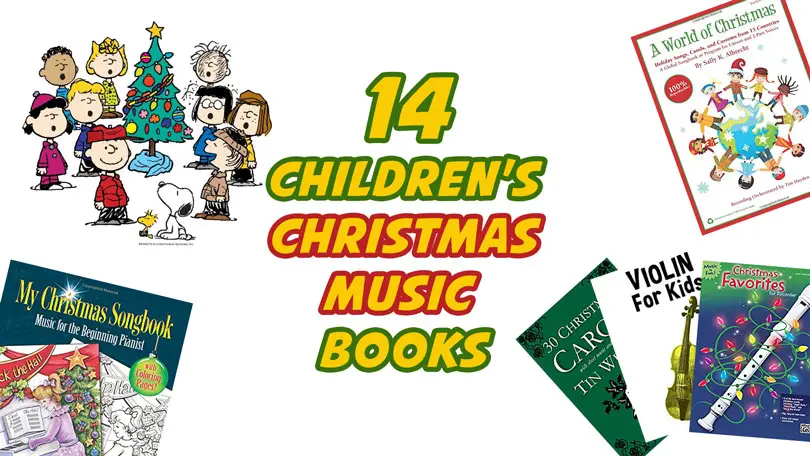 There are countless of super cool ways to make this Christmas season a magical one for your sweet kid(s). And one such way is by presenting them with the gift of music books.
Below we have a fine list of some of the most widely praised Christmas books geared for children who love music. Pick any of these wonderful books for your music loving kid(s) and make their Christmas even more magical.
---
My Christmas Songbook: Music for the Beginning Pianist (Includes Coloring Pages)
The Christmas Songbook comes with twenty of some of the greatest Christmas songs of all time. These songs are both easy to play and sing, so your kid(s) would surely have fun with them. Furthermore, the songbook comes with a collection of sixteen festive coloring pages which are based on some of the classic melodies of the season. Also, each of the songs comes with an MP3 download that is totally free. The download assists the user during practice.
If your kid is a beginning singer, pianist or colorist who can't seem to get enough of Christmas, then this is one of the ideal choices for him or her this holy season.

---
A Charlie Brown Christmas (Five-Finger Piano)
A Charlie Brown Christmas (Five-Finger Piano) proudly features ten wonderful tunes from the legendary Vince Guaraldi's critically acclaimed and commercially successful 1965 studio album A Charlie Brown Christmas (soundtrack).
The 10 tunes of this brilliant collection are arranged in five-finger notation, thereby making it much easier for even beginners to play and have the fun of their lives.
As if that isn't enough, this five-finger piano songbook comes also proudly boasts of pages of B&W Peanuts™ line art.
If you are a big fan of A Charlie Brown Christmas, and have always wanted to play the songs on your piano, then this book would suit you well.

---
A Christmas Carol: Easy Piano Picture Book
A Christmas Carol: Easy Piano Picture Book sees composer Kenneth Lillington retelling Charles Dickens' legendary story (A Christmas Carol) of the Christmas-hating unfriendly miser named Ebenezer Scrooge who is changed into a friendlier and Christmas-loving man after being visited by ghosts.
This easy piano picture book comes with very colorful illustrations by Annabel Spenceley and features 8 popular Christmas carols including Deck the Hall, Silent Night and Good King Wencelas.
The combination of the story with the holiday tunes makes it great when used at school during Christmas recitals and performances.

---
A First Book of Christmas Songs for the Beginning Pianist: with Downloadable MP3s
If you are a beginner on the piano and want to have immense fun while at the same time practicing to perfection, then this bestselling Christmas songbook (A First Book of Christmas Songs for the Beginning Pianist) by Bergerac might just be ideal for you.
The book features twenty beautiful Christmas tunes that are systematically arranged to help the beginner learn with ease. Some of the most popular Christmas melodies in this book include O Little Town of Bethlehem, Deck the Halls and Silent Night.
And what's more, all the twenty fantastic melodies this book comes with are available as free downloadable MP3s. These free MP3s are meant to assist the user in their practice. Also, this book comes with beautiful festive illustrations.

---
Famous & Fun Christmas, Bk2: 12 Appealing Piano Arrangements.
This songbook, which features as many as twelve amazing piano arrangements, was made with the sole aim of serving as a brilliant supplement to any piano method – a function it performs very well.
Besides having the ability to support many a piano method, this supplementary series comes with 12 popular Christmas tunes, including the likes of Coventry Carol, Joy to the World, and Jingle Bells.
In addition to the cool features of this book mentioned above, the fact that the book is also very fun to use makes it one of the truly nice songbooks for Christmas!

---
5 Finger Christmas Fun: 11 Delightful Melodies Arranged for Piano with Optional Duet Accompaniments
5 Finger Christmas Fun comes with approximately 11 super delightful Christmas melodies, which have been perfectly arranged to fit the five-finger piano style. In addition to this, the melody splits effortlessly between the player's hands. Furthermore, the style features no key signatures.
Another outstanding feature of this songbook that separates it from many others is that it comes with illustrations of the starting hand positions above each piece.
To avoid confusion during play, any fingering that is not in the noted position as well as any that indicates a shift in the player's hand is circled in order to allow the player to easily identify them.
In addition to all the goodies mentioned above, every single melodic arrangement comes with a duet accompaniment that is totally optional for the player. What does this? It simply gives the player a fantastic musical experience.

---
Popular 8 Note Songs for Christmas: Music Patterns for Xylophone, Glockenspiel, Recorder, Bells and Piano
If you love music and want to play but don't know how read musical notations, then The Music Pattern Song Book  is worth considering!
Using this book is super easy and fun! It works excellently with any musical instrument capable of playing 8-notes (c-to-c). You can use this book with a host of instruments, including Xylophones, recorders, glockenspiels and pianos, among others.
Another cool feature that accompanies this book is the fact that its song patterns are both letter and color-coded, making it very easy for you to play along if you know the notes of your instrument of choice.
Other noteworthy features that The Music Pattern Song Book comes with include duets that make it easy for multiple people to make music, a piano fingering chart, a recorder fingering chart, and several classic Christmas carols with their lyrics.

---
Christmas Favorites for Recorder
This recorder is designed to help you learn how to play all your favorite Christmas tunes easily and with so much fun! It doesn't matter whether you are a young or an old musician, with this recorder in your possession, you can learn how to expertly play all the popular holiday melodies with great ease.
So what really makes this recorder one of the easiest and most fun to play on the market? A number of things account for this, most notably the fact that it comes with notes that are big and easy to read, a comprehensive introduction on how to go about reading music, and an easy-to-understand beginner's guide to how to play a recorder.
Finally, the recorder comes with nine of some of the world's most famous Christmas tunes, including We Wish You a Merry Christmas, Jingle Bells, and O Little Town of Bethlehem.

---
30 Christmas Carols with Sheet Music and Fingering for Tin Whistle (Whistle for Kids)
This book features thirty of some of the world's well-known Christmas melodies accompanied with sheet music and fingering illustrations for use with the Irish tin whistle or the pennywhistle.
The book comes with arrangements of songs that are not only very easy to follow, but also very fun, especially for kids. With this songbook, it is pretty easy to begin playing songs straightaway even if you have no technical musical knowledge.
Another highlight of the book worth mentioning is its accompanying audio CD that contains all the wonderful songs in the book.

---
Christmas Carols for Violin: Easy Songs in First Position!
The Christmas Carols for Violin comes with a beautiful and exciting selection of Christmas melodies which you can easily play on your violin thanks to their easy arrangements. As a result of this, the book is considered one of the most useful books for beginner violinists.
The book comes with approximately 22 wonderful Christmas carols, including the much loved Joy to the World, We Wish You A Merry Christmas and A la Nanita Nana, among others.
In addition to being loaded with some of the world's most famous Christmas tunes, this popular songbook by Javier Marco also comes with beautiful illustrations to further enhance your experience.

---
Violin for Kids: Christmas Carols, Classical Music, Nursery Rhymes, Traditional & Folk Songs!
Another brilliant Christmas songbook for children who love music is Violin for Kids. This cool book comes with a unique collection of some of the well-known Christmas songs, traditional and folk songs, nursery rhymes and classical music.
This book is great and fun for the beginner violinist thanks to the fact that it is easy to use and comes with an easy-to-follow introduction on how to read and play music.
The collection also lists as many as 36 very fun and popular songs for children from all over the world including La Cucaracha, Jingle Bells, Twinkle Twinkle Little Star, When the Saints go Marching In and Row Row Row Your Boat. Since all the songs in the book are arranged to be played purely as instrumental solos, none of the songs' lyrics are included.

---
Alfred's Kid's Ukulele Course Christmas Songbook 1 & 2
Authored by Ron Manus and L.C. Harnsberger, Alfred's Kid's Ukulele Course Christmas Songbook 1 & 2 is designed to assist ukulele lovers learn how to play the ukulele in an easy and fun way.
This Christmas songbook comes with 16 of some of the finest holiday tunes of all times arranged nicely to help you have fun whilst you play your instrument. Some of the most notable songs featured by this book include Deck the Halls, Hark! the Herald Angels Sing, and Silent Night.
Away from the wonderful holiday tunes of the book, it also features cool attributes such as easy-to-use page references, a Ukulele Fingerboard Chart, and an instructional Alfred's Kids Ukulele Course Christmas Songbook CD that has the professional performances of all the 16 Christmas carols in the book for you to listen and play along.

---
101 Rhythm Instrument Activities for Young Children
If you are looking for a great book to expose your kids to rhythm instruments, then the 101 Rhythm Instrument Activities for Young Children is a great resource worth considering. This book, which has over the years won a number of important awards, including the Early Childhood New Director's Choice Award in 2005, is easy to read, comes with tons of interesting and fun activities, and contains familiar tunes that not only make your kid(s) learning experience more fun, but also play an essential role in their early childhood experience.
And what's more, this multiple award-winning book by renowned early childhood music educator Abigail Flesch Connors makes the process of teaching children the fundamentals of music and how to properly use different kinds of musical instruments very easy and interesting. With this book in your possession, you and your kid(s) would have so much fun while learning is ongoing!

---
A World of Christmas – Holiday Songs, Carols, and Customs from 15 Countries: A Global Songbook or Program for Unison and 2-Part Voices (Kit)
A World of Christmas gives young singers the unique opportunity of traveling around the world this Christmas thanks to its impressive collection of some of the most popular Christmas songs and customs from 15 different countries across the globe.
This book is designed to teach young singers about music while at the same time teaching them about different cultures, languages and customs around the globe. You can use this book as a songbook or you can use the optional script that accompanies it to create a global musical (Unison/2-Part voices).
And what's more, this fantastic songbook, which is 100% reproducible, comes with a SoundTrax CD.

You may also like:
20 Best Christmas Carols for Karaoke You Can Download for Free
The Best Glockenspiels for your Kids' Music Class