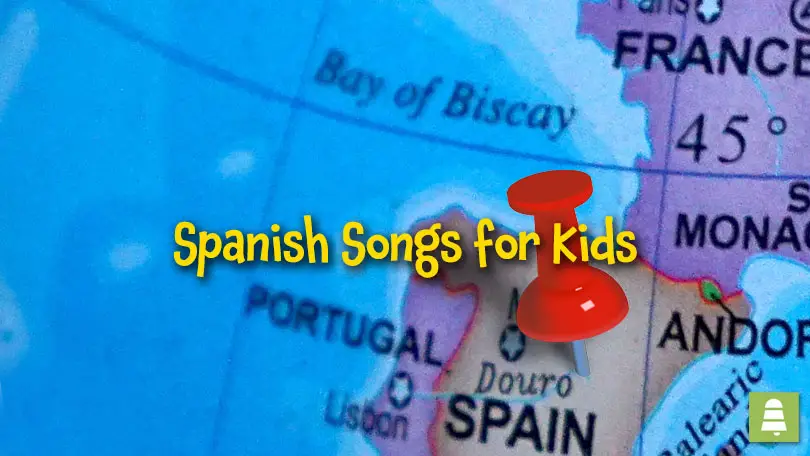 Popular children's songs and nursery rhymes in Spanish have a global impact since they tend to spread throughout the entire Hispanic world, which consists of most of Central and South America – and, of course, Spain.
And this has been true for centuries.
Below are some of such kiddies' tunes that are now sung in the Spanish language and enjoyed internationally.
Table of Contents
1.
The exact origins of this song are unknown except that it has come from Spain.  What is known is that it has been in existence for at least two centuries. However, the lyrics of the catchy "La Cucaracha" are often modified to fit the occasion it is being used for. In other words, it is not always used as a children's song. Some versions focus on more-serious subject matters, such as history or even politics.  But the most-popular iteration of the tune is the one you will find below, which features the humorous tale of a tormented yet dance-loving cockroach.
La Cucaracha Lyrics for Kids in English
2.
"Cucú Cantaba La Rana" has been with us for hundreds of years. As with most traditional songs, the tune that is popular today is a modified version of the original. This song originated from Spain and is generally believed to have been composed back in the 17th century. And from there, it has become popular in the rest of the Spanish-speaking world. The story of the song in its modern iteration is a rather simple one. It involves a frog who happily sings as various people pass her by. However, she is ultimately disappointed when she asks a sailor who is selling rosemary for a small piece of the plant, but he refuses.
Lyrics to Cucú Cantaba La Rana
3.
"Los Pollitos Dicen pío pío pío" is a children's song hailing from Spain but throughout the generations has become popular in other parts of the Latin world, such as Ecuador and Colombia. In fact its fame has been compared to that of "Twinkle Twinkle Little Star" in the English-speaking world. Like most folk songs, the time and date of the composition of "Los Pollitos Dicen" is unknown.  However, it is still beloved by parents and children to this day due to its easy-to-follow lyrics. In fact, the song is sometimes used to even teach adults Spanish. The lyrics of the tune are also very family-friendly, as they center around the dependency of "little chickens" on their mother hen.
Lyrics to Los Pollitos Dicen pío pío pío
4.
There seems to be some debate as to whether this song originated in Spain or Italy. Logic would dictate the former, since the song is extremely-popular in Spanish-speaking countries. However, it actually originated in France under the name "Ah! Mon beau château!".  And it dates as far back as the 19th century. This song has a strong party vibe as in it is designed to be sung in groups. If the modern iteration of the song is translated literally it seems to have somewhat of a dark meaning since words such as rile and kill are used. However, this is a mistranslation of the original French, which is completely innocent.
Lyrics to ¿Dónde Están las Llaves?
5.
Little is known about the history of this song. All that is apparent is that it is popular throughout the Spanish-speaking world, including Spain itself, though depending on locality, it may be called by different names. "A mi Burro" centers on a donkey who is suffering from a variety of ailments. When this animal is taken to a doctor, the physician gives him a number of different items, including clothing and medicine, to help him feel better. And the lyrics are arranged in such a way that the song can be used in form of a game if sung in Spanish.
6.
Despite "La Vaca Lola" being a tremendously popular children's song, not too much is actually known about its history. However, it seems to have originated in the South American country of Colombia. As such, it is sung in Spanish, which is the dominant language in that part of the world. The lyrics of the song are very simple and ideal for introducing children to some basic Spanish terms. The song is centered around the Spanish words for cow (vaca), head (cabeza) and tail (cola).  And as you can probably deduce from the title, the name of the cow who is the subject of the song is Lola.
7.
"A la Nanita Nana" originates from mid-19th century Spain but is now popular throughout the Hispanic world. Along the way, a number of people have worked on it to make it what it is today, but by and large, the work hasn't been touched in over 100 years. This is a children's lullaby, which was initially a Christmas carol, as the baby featured in it is named "Jesus", based on the Biblical child of course. The song is addressed to his "nana" or caretaker. In it, she is being implored to join the singer in a lullaby to put the baby to sleep.
8.
"El Cocherito Leré" has been credited to one of the greatest music composers in modern Spanish history, Carmelo Bernaola. The subject of this song is a girl named Maria. In it, she is being asked by someone who is driving a vehicle described as a "coach" if she would like a ride. However, she refuses by telling him that riding in such a vehicle makes her ill. Then the song ends with the spelling of the name Maria, letter-by-letter. It sounds somewhat like an old-school women's empowerment song and is perfect for kids!
9.
"Debajo del Botón" is one of the most popular Spanish nursery rhymes in the entire Spanish-speaking world. That is because it is simple and catchy as well as clever. It tells the story of a button, a man, a mouse and a sock and uses repetition to keep children vested.  Due to its simplicity and natural rhythm, it can also be sung by children of very-young ages as well as older people who just want to have a good time.
10.
"Cinco Lobitos" or five little wolves is a children's song originating from Spain. As can be inferred from the name, this song can be used to teach counting – for instance, by using the fingers. It is very short, simple and modifiable. Although the song is very popular in Spain and is even sung to infants, like any classic folk song, its origins remain shrouded in mystery. That being said, due to its universal appeal, "Cinco Lobitos" is still likely to be around for many generations to come.
All our Nursery Rhymes in Spanish
Here's our entire collection of Spanish nursery rhymes, as well as children's songs from Latin America.
Every post includes a free karaoke mp3 you can download and use for educational purposes.
You may also like:
Cumpleaños Feliz | La Canción de Cumpleaños (Karaoke)
Rain, Go Away | Top 10 English Nursery Rhymes
Why Should Parents Sing Nursery Rhymes to their Children?