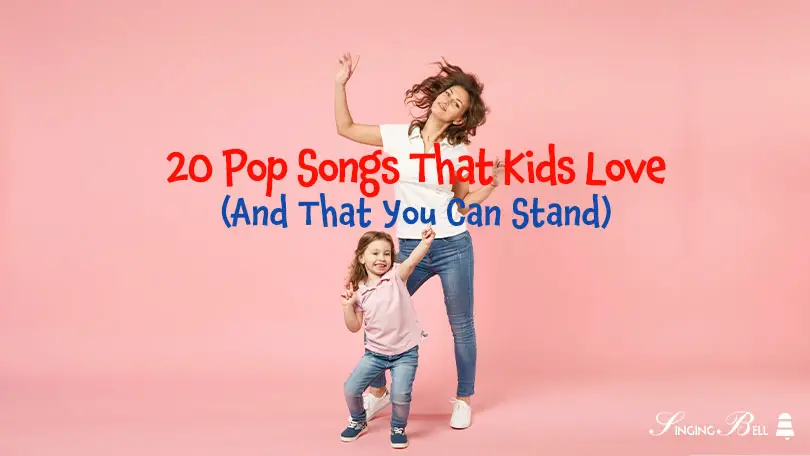 It could be the generation gap, it could be the new trends in music. The point is, listening to even the best music for kids can sometimes bring headache to parents. On the other hand, we often worry that pop lyrics shouldn't reach children's ears – yet.
So, what if you actually played music for grown-ups which would be 100% suitable for your little one(s)? Having that in mind, we prepared this playlist of 20 childproof hits that you can play anytime! You can play the entire list on Spotify, too.
Table of Contents
Why These Songs?
Whether it's a song written for an animated film or some inspirational tune by a pop star who's popular with teenagers, certain songs can make you feel safe while letting you have fun.
Kids love it when they share the listening process with mom, with dad or with both parents, but even when they need some go-to list, this one will come in handy.
20 Pop Songs for 8-year-olds
Can't Stop the Feeling, by Justin Timberlake
Justin's track from the Dreamworks movie "Trolls" became a #1 in over a dozen countries and got multiple award nominations, which made "Can't Stop the Feeling!" one of 2016's biggest success stories.
Timberlake, who had just had a son at the time, said in an interview: "I remember when I was in school, all the girls had the troll pencil-toppers that they would put over their erasers." No wonder why the song became so popular with children. Justin himself said that, as he watched 30 seconds of the film, he "turned into a kid again".
Happy, by Pharrell Williams
In the case of Pharrell's contagious hit "Happy" from the animated film "Despicable Me", you really can't tell who helped whom.
Whether it was the song's absurdly high energy that turned Gru and his loyal Minions into instant classics or the film helped Williams get almost 1 billion plays on Spotify, this is a well-crafted song that's rather hard to despise even after repeated hearing.
Roar, by Katy Perry
As if Katy Perry wasn't popular with kids and teenagers anyway, a big part of her hit catalogue actually consists of really tasteful tracks.
"Roar" is one of them and it's taken from her 2013 album PRISM.
A Sky Full of Stars, by Coldplay
Say what you will about Coldplay, you always have to recognize their tendency to write and record motivational love songs.
Chris Martin and the rock band's decision to collaborate with the late EDM producer Avicii – amongst others – is yet to be judged by music historians of the future, but "A Sky Full of Stars" is a truly uplifting track.
Wake Me Up, by Avicii
Uber-successful Swedish producer and songwriter Avicii (born Tim Bergling) tragically took his own life due to extremely stressful conditions regarding life, art and creation, before even turning 30.
However, his massive hit "Wake me up" is a hymn to the person who is trying to find themselves in a competitive world.
One Minute More, by Capital Cities
That's a truly under-appreciated inspiring song that deserves to be heard, by a pop duo from Los Angeles, consisting of Ryan Merchant and Sebu Simonian.
Its lyrics promote the idea of balancing joy and sorrow when everyday circumstances become hard in a world full of beauty.
Symphony, by Clean Bandit
The British classical crossover band Clean Bandit invited the Swedish singer Zara Larsson to sing the vocals to what would turn out to be one of their biggest hits.
Although the song appears to be a love song, its lyrics are make a reference to unity and strong bonds, something that could also apply to a strong friendship or even a family relationship.
Fireflies, by Owl City
Owl City is one of several projects by singer, songwriter and multi-instrumentalist Adam Young from Minnesota, USA.
Young wrote how he enjoyed the fireflies in his hometown of Owatonna, Minnesota and the rest of the track about seeing fireflies while he was awake with insomnia. The song's lyrics are quite easy to understand and the music arrangement and production makes the track really accessible and pleasant.
Feels Like Summer, by Childish Gambino
Your child might not be at the age of getting to know the entire body of work of the talented musician that Childish Gambino is, but this is surely a beautiful song for the entire family.
Donald Glover addresses several issues in the songs, including artificial intelligence, water crisis and air pollution, which may sound trite but it isn't, considering a child can listen to the track.
All is Love, by Karen O and the Kids
"All Is Love" is taken from the original soundtrack from the motion picture "Where The Wild Things Are", a 2009 fantasy adventure drama film directed by Spike Jonze, which in turn was adapted from the 1963 children's picture book by American writer and illustrator Maurice Sendak.
The music is credited by Karen O and the Kids, with Karen O being the singer of the American rock band Yeah Yeah Yeahs.
Kids, by MGMT
Although the video for the song cause some controversy for supposedly frightening a small kid (something MGMT denied by releasing a "behind the scenes" video with the same toddler laughing with the "monsters" appearing in the video), "Kids" has been loved by many. Since its release as a single in 2008, it made its way onto the FIFA 09 video game, as well as on various film soundtracks.
Cheap Thrills, by Sia
Australian singer/songwriter Sia has become something like a true hit-making factory. "Cheap thrill" turned out to be her first US Billboard number one and it's not hard to wonder why: an addictive melody, an uplifting 'bouncy' beat, kids on the chorus, a reggae – EDM tropical music fusion and featuring Sean Paul on Jamaican-style vocals, it surely is "more than diamond, more than gold".
Rocket, by Goldfrapp
Londoners Goldfrapp's success might not have crossed the Atlantic very easily, but their mix of downtempo ambient and tasteful electronic beats could easily turn them into megastars, even if they have been on the scene for more than 20 years. "Rocket" is taken from their 2010 album "Head First" and won a Grammy nomination for Best Dance Recording in 2011.
Count on Me, by Bruno Mars
A true hymn to friendship, "Count on me" was released in 2010 by Bruno Mars and it was a folk and tropical ballad that was successful worldwide. Considering that was pre-Uptown Funk Bruno and that was his first album, the effect of this song's positivity has lasted long.
Little Things, by One Direction
2012 seems like centuries ago for those who might have followed One Direction as a perfect boy band, considering its singers Zayn Malik and Harry Styles went on to become huge stars after the group's decision to go on indefinite hiatus in 2016.
Still, "Little Things", written by by Fiona Bevan and Ed Sheeran, became a hit for the band even though it's a ballad unlike their other hits.
Look Up at the Stars, by Shawn Mendes
Although "Look Up the Stars", taken from Shawn Mendes's 2020 album "Wonder", wasn't released as a single, it is a well-written song that you can't easily get tired of.
Something Just Like This, by The Chainsmokers & Coldplay
A huge hit for the American electronic DJ and production duo of The Chainsmokers, "Something Just Like This" initially broke the record for most views of a lyric video in one day with 9 million plays. Thanks to Coldplay's Chris Martin being featured on vocals, the song went on to have over 2 billion views on YouTube and its Tokyo Remix was included in Coldplay's EP "Kaleidoscope" and got its own video.
Royals, by Lorde
The singer that David Bowie himself called 'the future of music' made a huge hit with the simple but captivating "Royals" in 2013. "We'll never be royals (royals) / It don't run in our blood / that kind of luxe just ain't for us / we crave a different kind of buzz" sings Lorde. The song's lyrics convey an alternative, perhaps even revolutionary message, while its simple music arrangement makes it addictive – in a good way.
What About Us, by P!NK
P!nk 20-year discography needs no introductions, but 2017's "What About Us" went on to become one of the biggest hits of her career.
Its political message gets across through a really powerful vocal performance by the singer and though the songs amazing music production. The video, depicting Pink and members of minority groups performing choreographed routines in an abandoned city, was also praised for the representation of oppressed groups.
All Of Me, by John Legend
2 billion YouTube viewers can't be wrong about one of the cutest love songs of the last decade. John Legend gives a great vocal performance on a composition dedicated to his wife Chrissy Teigen. The song sound like an instant classic for Valentine's day for kids and grown-ups alike.
Spotify Playlist

Did you like this post?
You may also like:
15 Grown-up Love Songs that Kids Will Love Too
7+1 Friendship Songs for Preschoolers
10+1 Children's Songs for Valentine's Day with your Kids