Carol, U.S.A.
"Jingle Bells" is among the most popular Christmas songs around the world.
It was written by James Lord Pierpont, its original title was "One Horse Open Sleigh" and it was published under it in the autumn of 1857.
---

To download "Jingle Bells", click here.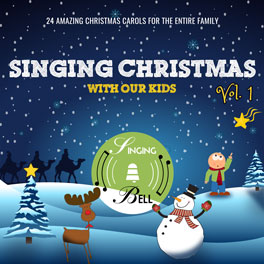 Buy our entire "Singing Christmas with Our Kids Vol. 1" album for only 9.99$/€
---
"Jingle Bells" Sing-Along Video with lyrics
---
"Jingle Bells" Free karaoke mp3

For a free download of a karaoke (instrumental) mp3,
and a music sheet with chords and lyrics for "Jingle Bells",  click here.
---
"Jingle Bells" Free PDF Download

To download a ready-to-print PDF of "Jingle Bells" for music activities with a music sheet, lyrics and a colouring sheet for kids, right click (or tap and hold, on mobile devices) on the following link, then choose "Save link as…".
"Jingle Bells" free PDF download – Singing Bell
---
You may also like