Villancico, Austria.
Este es un villancico austriaco popular, que se ha traducido en casi 140 idiomas y cuyas versiones han sido hechas por muchos artistas famosos.
Su música se compuso en 1818 en Oberndorf bei Salzburg, Austria por Franz Xaver Gruber en letras de Joseph Mohr.
Se declaró Patrimonio Cultural Mundial por UNESCO en marzo de 2011.
---
"Noche de Paz" | Bajar mp3 gratis


Para descargar el mp3 de "Noche de Paz", haga clic en el siguiente enlace.
"˜Noche de Paz" – descargar mp3 gratis (instrumental)
---
"Noche de Paz" Letra (español)
Noche de paz, noche de amor
Todo duerme en derredor
Entre los astros que esparcen su luz
Bella anuciando al niño Jesús
Brilla la estrella de paz
Brilla la estrella de paz
Noche de paz noche de amor
Oye humilde el fiel pastor
Coros celestes que anuncian salud
Gracias y glorias en gran plenitud
Por nuestro buen redentor
Por nuestro buen redentor
Noche de paz noche de amor
Ved que bello resplandor
Luce en el rostro del niño Jesús
En el pesebre del mundo la luz
Astro de eterno fulgor
Astro de eterno fulgor
---
"Noche de Paz" partitura musical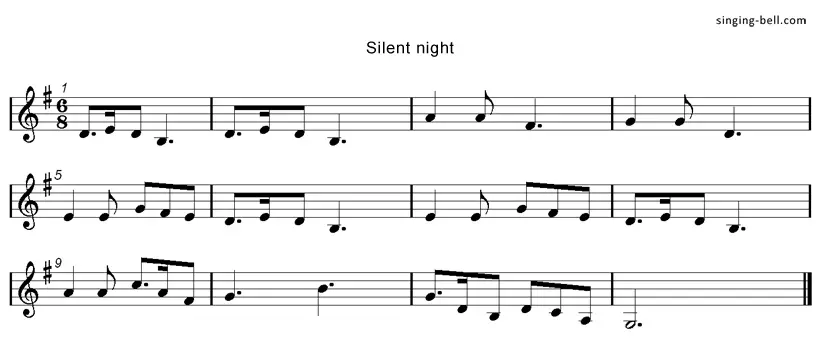 Para guardar esta partitura musical a su ordenador, haga clic derecho y elija la opción "Guardar imagen como …".
---
"Noche de Paz" Video para karaoke
---
"Noche de Paz" ideas de enseñanza
¿Por qué no introducir una segunda voz?
Simplemente siga cantando -como una tenuta- la primera nota de cada compás durante todo el compás.
El resultado suena así: : D— D— A— G— / E— D— E— D— / A— G— G-D- G—
Al principio, cante esta frase melódica junto con los alumnos.
En la segunda estrofa siga cantando esta frase, mientras toque la melodía original con un instrumento (piano, guitarra, etc).
Cuando estén listos a mantener esta voz por si sólos, el profesor empieza a cantar la melodía.
Ahora ya pueden dividirse en dos grupos para cantar a dos voces!
---
Le podría también gustar:
Campana sobre Campana (Versión española)
La Peregrinacion (A la huella)
Share to let others hear the sound of Singing Bell!