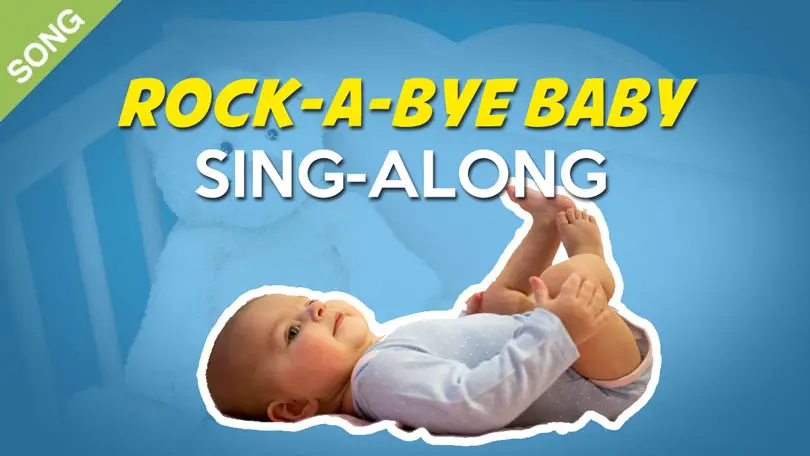 Nursery rhyme/Lullaby, U.K. 
Rock-a-bye baby is a popular song for kids and a lullaby.
On this page you can find Lyrics, Sing-along Video, and MP3 and MP4 files for Free Download.
Sing-Along Video
---
Lyrics (English)
Rock-a-bye baby
On the treetop
When the wind blows
The cradle will rock,
When the bough breaks
The cradle will fall
And down will come baby
Cradle and all.
Click here for a printable PDF with Lyrics
Lyrics (French)
Balance, mon bébé,
Dans l'arbre, tout en haut.
Si le vent souffle
Balance le berceau
Si la branche casse
Le berceau tombera
Et en bas iront, le bébé,
Le berceau, et tout ça.
---
Free karaoke mp3 download

To download your free instrumental mp3 of "Rock-a-bye baby" , right click on the following link, then choose "Save link as.."
"Rock-a-bye baby" (instrumental, 2:27 – 6/8 – 110 bpm)
For commercial license of this track on YouTube, write to info(at)singingbell.com
---

Buy our entire album with 30 Favourite Nursery Rhymes for only 9.99 + 20 Bonus Instrumental versions and save 20$/€!
---

MP4 Video File | Free Download
To watch "Rock-a-bye baby" on your tablet, smartphone or other mobile device, click on the following link to download the video file (mp4 format) of the Karaoke Video that Singing Bell has created.
Rock-a-bye baby | Free mp4 Video File Download
---
Song Info
"Rock-a-bye Baby" 's melody comes from a variant of the English satirical ballad "Lilliburlero", a march that seems to have been known at the time of the 17th-century English Civil War.
In Derbyshire, England, local legend has it that the song relates to a local character in the late 18th century, Betty Kenny (Kate Kenyon), who lived with her charcoal-burner husband, Luke, and their eight children in a huge yew tree in Shining Cliff Woods in the Derwent Valley, where a hollowed-out bough served as a cradle.
You may also like: