When it comes to celebrating the most important Christian celebration of the year, kids are already on board. Children absolutely love everything that surrounds Christmas (gifts, songs, decorations, family reunions, and more) and are always excited to participate in everything Christmassy grown-ups do.
This collection of famous Christmas quotes for kids is designed to help parents, teachers or even kids in finding the right words to share with a child at Christmas. Whether you'd like to wish Merry Christmas in an original way or simply spread the humor, warmth and wisdom through the quotations of important people, here you will find what you are looking for.
Table of Contents
Funny Christmas Quotes for Kids
All I want for Christmas is my two front teeth. Donald Yetter Gardner
Dear Santa, Before I explain, how much do you know already? Unknown
Aren't we forgetting the true meaning of Christmas, the birth of Santa? Bart Simpson
Don't give me books for Christmas; I already have a book. Jean Harlow
Christmas Prayer: Guardian angel pure and bright, please lead Santa here tonight. Unknown
Christmas: the only time of year you can sit in front of a dead tree eating candy out of socks. Unknown
More than Santa Claus, your sister knows when you've been bad and good. Linda Sunshine
Let's be naughty and save Santa the trip. Gary Allan
Christmas is a time when everybody wants his past forgotten and his present remembered. Phyllis Diller
Not believe in Santa Claus! You might as well not believe in fairies! Francis Pharcellus Church
Don't be a Scrooge, share your Christmas! Kate Summers
I never get to see Santa Claus come down the chimney because I always get too tired and fall asleep from eating all his cookies while waiting for him. Theodore W. Higginsworth
I once bought my kids a set of batteries for Christmas with a note on it saying, toys not included. Bernard Manning
Do not listen to Mrs.Claus about the cookies. My cholesterol is fine. And I get plenty of exercise on Christmas Eve. Santa Claus; Amy Newmark
Nothing's as mean as giving a little child something useful for Christmas. Kin Hubbard
One can never have enough socks. Another Christmas has come and gone and I didn't get a single pair. People will insist on giving me books. K. Rowling
I stopped believing in Santa Claus when I was six. Mother took me to see him in a department store, and he asked for my autograph. Shirley Temple
Famous Christmas Quotes for Kids
It is Christmas in the heart that puts Christmas in the air. T. Ellis
Children make your Christmas Merry. Erma Bombeck
Christmas isn't a season. It's a feeling. Edna Ferber
If 'ifs' and 'buts' were candy and nuts, wouldn't it be a Merry Christmas? Don Meredith
Christmas, my child, is love in action. Every time we love, every time we give, it's Christmas. Dale Evans
Star of wonder, star of night,
Guide us to thy perfect light.
John Henry Hopkins Jr., We Three Kings
What kind of Christmas present would Jesus ask Santa for? Salman Rushdie
The smells of Christmas are the smells of childhood. Richard Paul Evans
Peace on earth will come to stay, when we live Christmas every day. Helen Steiner Rice
I wish that dear old Santa would take me for a ride; I'd like to drive his reindeer and sit by Santa's side. Ovie Pedige Tanner
At Christmas play and make good cheer,
for Christmas comes but once a year. Thomas Tusser
Christmas is the day that holds all time together. Alexander Smith
Ho, ho, ho – Cherry nose – Cap on head – Suit that's red – Special night – Beard that's white – Must be Santa. Bob Dylan
Christmas is like candy; it slowly melts in your mouth sweetening every taste bud, making you wish it could last forever. Richelle E. Goodrich
Christmas magic is silent. You don't hear it — you feel it. You know it. You believe it. Kevin Alan Milne
One of the most glorious messes in the world is the mess created in the living room on Christmas Day. Don't clean it up too quickly. Andy Rooney
Christmas now surrounds us,
Happiness is everywhere.
Our hands are busy with many tasks
as carols fill the air. Shirley Sallay
Heap on the wood! – the wind is chill;
But let it whistle as it will,
We'll keep our Christmas merry still. Sir Walter Scott
Christmas Quotes from Disney Movies
Christmas isn't just a day, it's a frame of mind. Kris Kringle, Miracle on 34th Street
All you need is faith, trust, and a little pixie dust. Peter Pan
Here's my Christmas speech. Ahem. Thank you all, and Merry Christmas. The Muppet Christmas Carol
Christmas isn't about candy canes or lights all aglow, it's the hearts that we touch, and the care that we show. Mickey's Once Upon a Christmas
Oh, it's a jolly holiday with you. Mary Poppins
I like warm hugs. Olaf, Frozen
They started out selfish, those rascally brothers, but made Christmas magic by thinking of others. Narrator, Christmas: Impossible
A Yule log. It's a wonderful tradition. One log is chosen, and everyone in the house touches it and makes a Christmas wish. Belle, Beauty and the Beast: The Enchanted Christmas part 4
Charlie, stay away from those things. They're reindeer, you don't know where they've been. They all look like they've got key lime disease. Scott Calvin, The Santa Clause
Charles Dickens' A Christmas Carol Quotes
A merry Christmas to everybody! A happy New Year to all the world. Hallo here! Whoop! Hallo! Charles Dickens, A Christmas Carol
A gift? A gift for me? Thank you. Thank you. Fifty times! And a merry Christmas. Charles Dickens, A Christmas Carol
Bah, It's humbug still! I won't believe it. Charles Dickens, A Christmas Carol
There is nothing in the world so irresistibly contagious as laughter and good humor. Charles Dickens, A Christmas Carol
Christmas is a time for giving… a time to be with one's family. Charles Dickens, A Christmas Carol
IT'S CHRISTMAS MORNING! I haven't missed it! The spirits have given me another chance! Charles Dickens, A Christmas Carol
God bless us, everyone! Charles Dickens, A Christmas Carol.
The happiness he gives is quite as great, as if it cost a fortune. Charles Dickens, A Christmas Carol
It's your Uncle Scro-o-o-o-oge! Charles Dickens, A Christmas Carol
I will honor Christmas in my heart, and try to keep it all the year. I will live in the Past, the Present, and the Future. The Spirits of all Three shall strive within me. I will not shut out the lessons that they teach. Oh, tell me I may sponge away the writing on this stone! Charles Dickens, A Christmas Carol
Christmas Tree Quotes for Kids
Christmas trees make us feel happy and uplifted. Jacqueline Farmer
But Christmas trees are so bright and fun and pretty. Paul Dini
The perfect Christmas tree? All Christmas trees are perfect! Charles N. Barnard
I was only kicking down the Christmas tree to get the star on top. Ray Bradbury
It's not what's under the Christmas tree that matters, it's who's around it. Charlie Brown
For every year, the Christmas Tree
Brings to us all both joy and glee. Ernst Anschuetz
Christmas trees don't grow on trees; they need rainbows, lumberjacks, and Leprechauns on unicorns playing jock jams on glockenspiels. Ryan Ross
One little Christmas tree can light up a home
So one little heart can find some joy. Jeff Hanna
Glittering tinsel, lights, glass balls, and candy canes dangle from pine trees. Richelle E. Goodrich
Christmas trees are special. Cause they remind us this is the season, that we should all love one another. John Loy
Never worry about the size of your Christmas tree. In the eyes of children, they are all 30 feet tall. Larry Wilde
The best of all gifts around any Christmas tree: the presence of a happy family all wrapped up in each other. Burton Hills
Original Christmas Wishes for Kids
Merry Christmas to the bright star of this house! Even when you're asleep, your light shines and makes us happy.
Judging by how nice you've been this year, Santa Claus's gift won't make it through the chimney. We love you, Merry Christmas.
Just wanted you to know, on this bright Christmas day,
that you are the light of my life, in every possible way.
I thought of putting some Christmas lights on me, I'm taller than a Christmas tree!
See you on Christmas Day, keep a seat on the table for me, I'll bring you all my love.
Let's eat some Christmas candy under the table at Christmas. And some on it, of course.
May your Christmas days be full of joy, your stockings full of gifts, and your Christmas nights full of dreams.
'Tis the season to be jolly, fa lala lala, la la la laaa!
Like it? Pin it!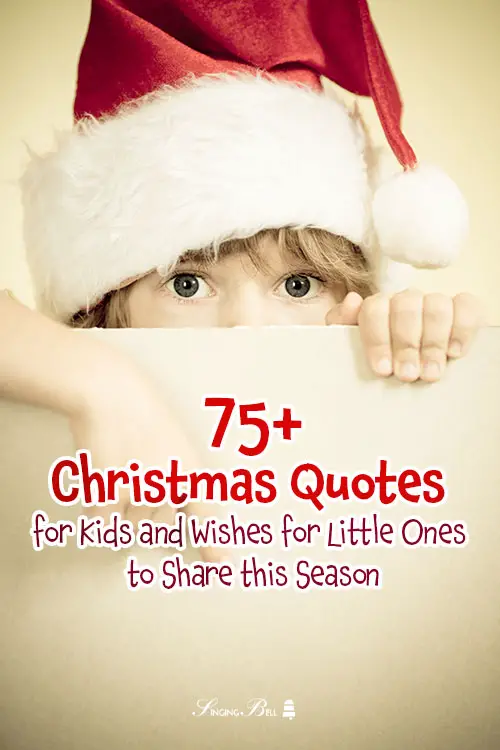 Did you like this article?
You may also like:
20 Best Carols for Karaoke You Can Get for Free | Download Christmas Songs
16+1 Easy Piano Christmas Songs – Sheet Music for Beginners
100+ Christmas Songs Lyrics to Help You Spread the Spirit
70 Reading Quotes for Kids Like Tickets to New Worlds