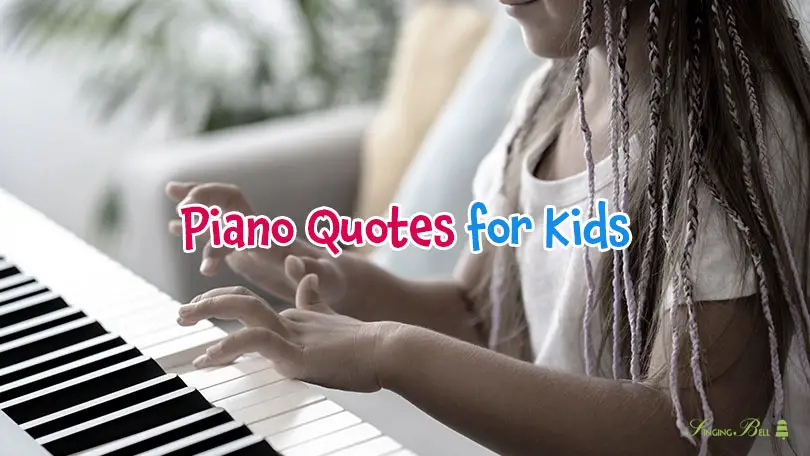 The piano's black and white keys have always been popular with children since its invention in Italy in the 17th century. Since then a lot has been said to show appreciation for this beautiful musical instrument and the following piano quotes for kids are here to prove it.
Whether you are a teacher reminding a student about the reasons why we learn how to play the piano or a parent who helps a child discover the beauty of this instrument, this collection will give you material to read, share or even caption your Instagram pic with.
Table of Contents
Short Piano Quotes for kids that Show the Beauty Unlocked by a Keyboard
These brief quotes by famous musicians are perfect for a message or an Instagram caption. You'll find them ideal for sharing with your young pianists!
My love for my grand piano is eternal. Sami Abouzid
To me, the piano in itself is an orchestra. Cecil Taylor
I tell my piano the things I used to tell you. Chopin
When you play, never mind who listens to you. Robert Schumann
What has keys but can't listen to the beauty it unlocks? A piano. Jarod Kintz
Inspirational Piano Quotes to Fill your Kids with Enthusiasm
For the piano initiates, the beloved music instrument is more than its 88 black and white keys – it opens up a whole world of self-expression and thrill.
There are eighty-eight keys on a piano and within that, an entire universe. James Rhodes
The piano keys are black and white, but they sound like a million colors in your mind. Maria Cristina Mena
When I had nothing else, I had my mother and the piano. And you know what? They were all I needed. Alicia Keys
I'm an interpreter of stories. When I perform it's like sitting down at my piano and telling fairy tales. Nat King Cole
Prayer is when you talk to God. Meditation is when you're listening. Playing the piano allows you to do both at the same time. Kelsey Grammer
Deep Quotes for kids About Piano Playing, Performance and Dreaming Big
Pianists create a deep relationship with their piano; they feel it as an extension of their fingers and their soul. This is an incredible asset for life that any music teacher has to inspire to his/her students.
Sometimes I can only groan, and suffer, and pour out my despair at the piano. Frederic Chopin
Without a piano I don't know how to stand, don't know what to do with my hands. Norah Jones
To play a wrong note is insignificant; to play without passion is inexcusable. Ludwig van Beethoven
The notes I handle no better than many pianists. But the pauses between the notes – ah, that is where the art resides! Artur Schnabel
One of my biggest thrills for me still is sitting down with a guitar or a piano and just out of nowhere trying to make a song happen. Paul McCartney
Motivational Quotes on Piano Practice to Encourage Kids to Learn to Play
Learning the piano requires resilience and dedication, since it's one of the most difficult musical instruments. If a young pianist shows patience and perseverance, the results will be more than rewarding!
The slower you go, the faster you'll get there. John Link
Simplicity is the final achievement. Frederic Chopin
Put all your soul into it, play the way you feel! Frederic Chopin
I never practice, I always play. Wansa Landowaska
An amateur practices until he can do a thing right, a professional until he can't do it wrong. Percy C. Buck
One does not play the piano with one's fingers, one plays the piano with one's mind. Glenn Gould
Do you ask me how good a piano player you may become? Then tell me how much you practice the scales. Carl Czerny
Funny Piano Quotes for kids that will Put A Smile on Your Face
Exciting, passionate, expressive, elegant – the piano is the superstar of all instruments! It's no wonder there are so many jokes about it – particularly from jealous guitarists!
The piano ain't got no wrong notes. Thelonious Monk
The piano is a monster that screams when you touch its teeth. Andre Segovia
I guess you go too far when pianos try to be guitars. Tori Amos
There's nothing remarkable about it. All one has to do is hit the right keys at the right time and the instrument plays itself. Johann Sebastian Bach
Over the piano was printed a notice: 'Please do not shoot the pianist. He is doing his best'. Oscar Wilde
Meaningful Quotes about Piano Life for your Future Musicians
Apart from the famous "life is like a piano" quote by Tom Lehrer, you'll read some insightful words of wisdom and truth about piano life; we are sure you and your kids will be moved!
Life is like a piano. What you get out of it depends on how you play it. Tom Lehrer
Life is like a piano. White keys are happy moments and the black ones are sad moments. Both keys are played together to give us the sweet music called Life. Suzy Kassem
If life was a piano light and darkness would be the keys. And shadows would be the melody that creates the harmony. Joe Rodriguez
I grew up with the piano. I learned its language as I learned to speak. Keith Jarrett
If you like it, pin it!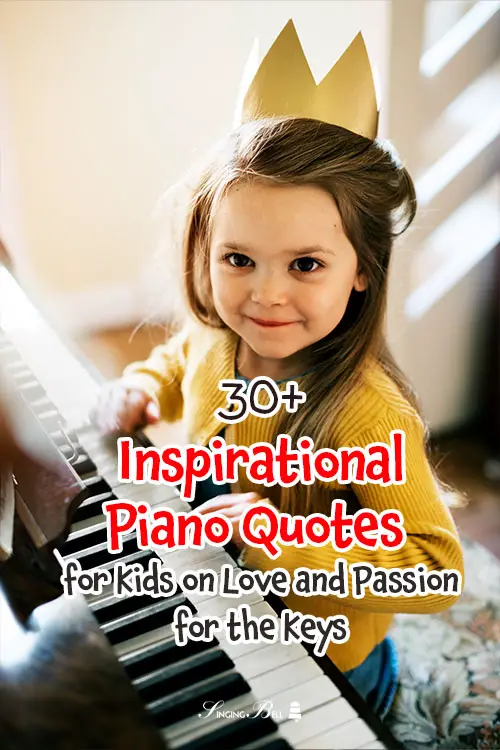 Did you like this article?
You might also like:
35+ Guitar Quotes for Kids to Inspire Love for the 6 Strings
36 Easy Piano Songs for Kids (+ Free Sheet Music)
60 Empathy Quotes for Kids to Make the World a Better Place
70 Reading Quotes for Kids Like Tickets to New Worlds