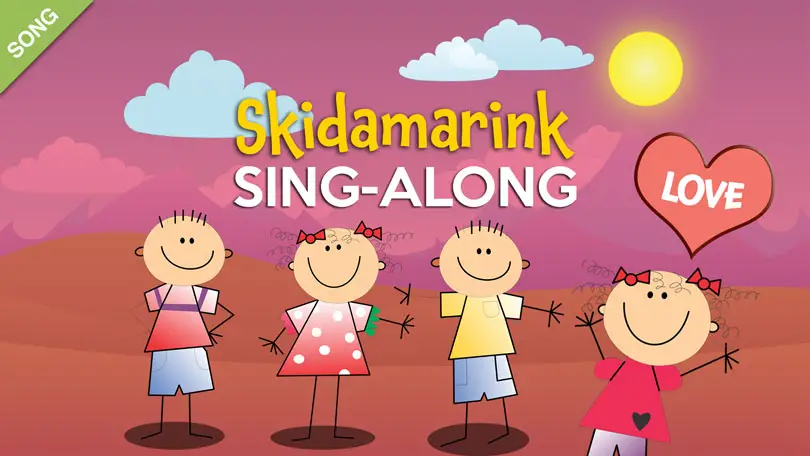 Children's song, U.S.A.
"Skidamarink" is a popular preschool song.  The initial version of the song, originally titled "Skid-dy-mer-rink-adink-aboomp" or "Skiddy-Mer-Rink-A-Doo" (as a gibberish the title has various spellings) was written by Felix F. Feist (lyrics) and Al Piantadosi (music) for the 1910 Charles Dillingham Broadway production "The Echo."
In Canada, the song was popularized by the band Sharon, Lois & Bram, who first released it on their debut album "One Elephant, Deux Elephants" and then sang it on The Elephant Show. The song had been discovered for the band by Lois Lilienstein, who had asked her cousin's daughter if she knew any good songs; the girl sang 'Skinnamarink', which she had heard at a camp she had just been to. None of the band members knew the origins of the song.
"Skidamarink" began appearing on many song collections for children's shows in the 1980s. One version appeared on the Australian show Bananas in Pyjamas.
Thanks to its lovely lyrics and melody, the tune has also appeared as a Valentine Day song on various kids songs websites.
Sing-Along Video
---
Lyrics
Skidamarink a-dink a-dink,
Skidamarink a-doo,
I love you.
Skidamarink a-dink a-dink,
Skidamarink a-doo,
I love you.
I love you in the morning,
And in the afternoon;
I love you in the evening,
And underneath the moon.
Oh, Skidamarink a-dink a-dink,
Skidamarink a-doo,
I love you.
---
Click on the button to watch a karaoke video and download a PDF file with lyrics to this song for free.

---
Free karaoke MP3 download
To download your free instrumental mp3 of this song, click or tap on the following button, then choose "Save link as…"

"Skidamarink" (instrumental, 1:30 – 2/4 – 110.25 bpm)

---

This track is also featured in our New Album with 50 Instrumental Nursery Rhymes for karaoke, OUT NOW!
---

MP4 Video File | Free Download

To watch the karaoke video of this song on your mobile device, click on the following link to download the video file (mp4 format).
Skidamarink | Free mp4 Video File Download
---
Sheet music with chords
To save this free music sheet of "Skidamarink" to your computer, right click (or tap and hold, on mobile devices) and choose "Save Image As…".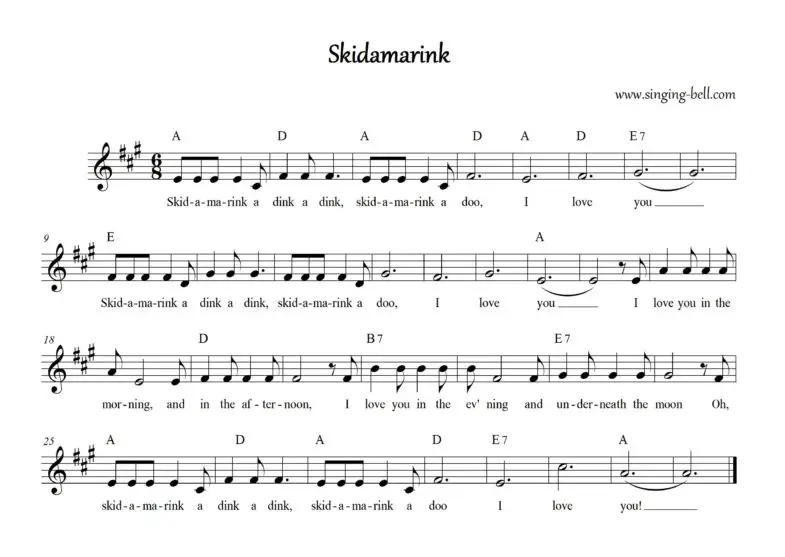 ---
Free Printable PDF with Lyrics and Sheet Music


To download a ready-to-print PDF of this song for music activities with a music sheet, lyrics and a drawing for kids to paint, right click (or tap and hold) on the following link, then choose "Save link as…".
"Skidamarink" free PDF download – Singing Bell
---

Buy our entire album with 30 Favourite Nursery Rhymes
+ 20 Bonus Instrumental versions and save 20$/€!
---
Teaching idea & activities
Use the song to learn how to read or recognize words or pictures.
Draw with the children, e.g. some cards with an animal depicted on its one. Show a card to the kids every time and sing the respective animal after the line "I love…(animal)".
You could do the same with words (for example, the days of the week), colours, etc.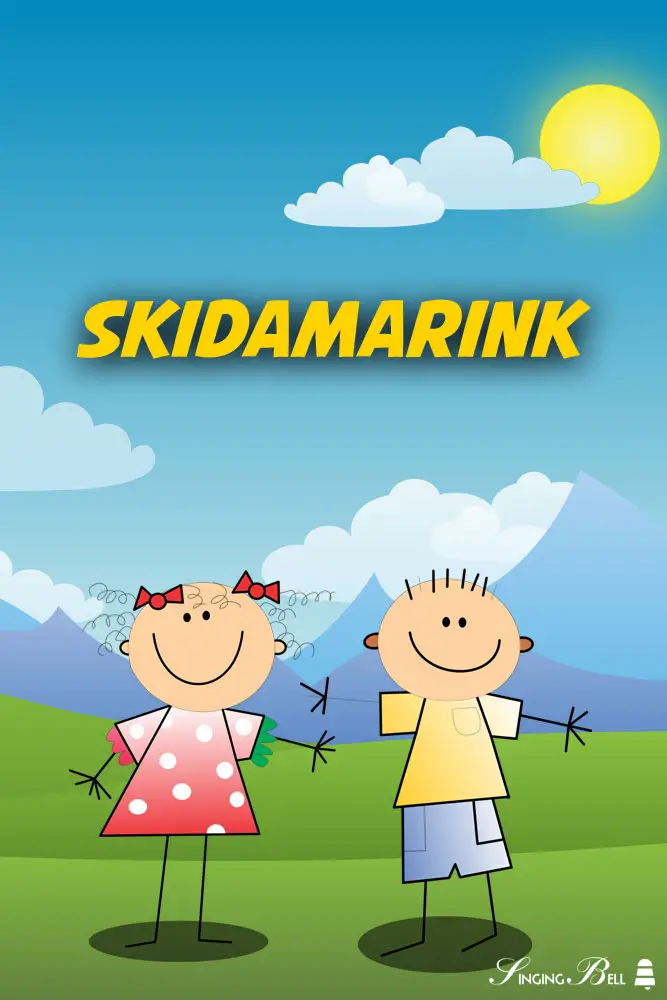 You may also like: