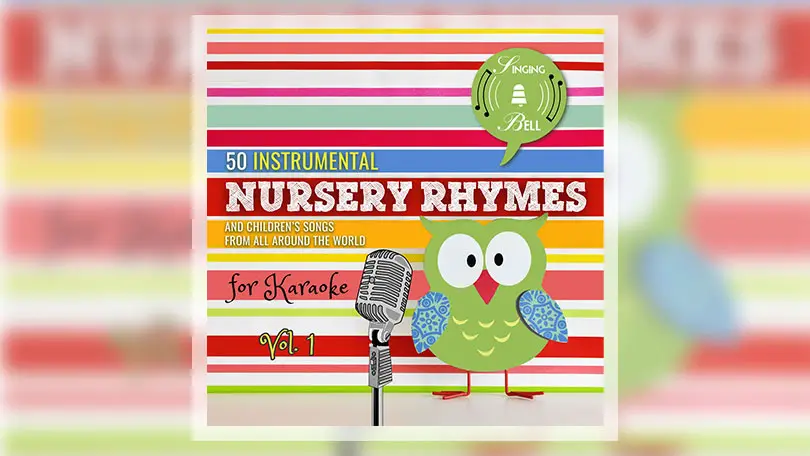 Spotify Player
Singing Bell is excited to present its first album exclusively with instrumental Nursery Rhymes for Karaoke.
Album Description
When children want to learn new nursery rhymes, nothing can be better than karaoke versions of popular songs for kids. Certainly, the same goes for parents who would like to sing them to their little sons and daughters or music teachers that would like to teach them in class.
50 Instrumental Nursery Rhymes for Karaoke Vol.1 by Singing Bell includes amazing versions of traditional songs from all over the world. Originally sung in English, French, and other native American languages, these melodies get a modern treatment from the Singing Bell Team.
21st-century arrangements of American classic like Old MacDonald Had a Farm, Mary Had a Little Lamb, and Row, Row, Row your Boat appear next to the country-tinged Oh, Susanna! and The Farmer in the Dell.
Folk and gospel moments like Skip to my Lou and She'll Be Coming Round the Mountain are featured along with beautiful British traditional songs like The Muffin Man, Hickory Dickory Dock and Incy-Wincy Spider.
France is represented with great children's classics that became world heritage, like Alouette, Sur Le Pont d'Avignon, and Frère Jacques.
Last but not least, our section of the most soothing lullabies ever sung will help parents put their baby to sleep after a long day, while singing heart-warming standards like Twinkle, Twinkle, Little Star, Rock-a-bye baby, All the Pretty Little Horses, and Hush, Little Baby.
50 Instrumental Nursery Rhymes Track listing
1. Baby Bumblebee
2. Old Mac Donald Had a Farm
3. The Wheels on the Bus
4. Baa Baa Black Sheep
5. Mary had a little lamb
6. Skidamarink
7. The Farmer in the Dell
8. Skip to my Lou
9. Kookaburra
10. Head Shoulders Knees and Toes (Fast Version)
11. She'll be coming round the mountain
12. Oh, Susanna!
13. The Animal Fair
14. Ring around the rosie (Ring a Ring o'Roses)
15. ABC Song
16. Bingo Song
17. Ten Little Fingers
18. Finger Family
19. Incy-Wincy Spider
20. Hickory Dickory Dock
21. Rain, rain, go away
22. Three Blind Mice
23. This Old Man
24. The Muffin Man
25. I'm a Little Teapot
26. Jack and Jill
27. The more we get together
28. Girls & Boys Come out to Play
29. Oranges and Lemons
30. Sur le pont d'Avignon
31. Le bon roi Dagobert
32. A Ram Sam Sam
33. Promenons-nous dans les bois
34. Alouette
35. Merrily we roll along
36. Row, row, row your boat
37. Frere Jacques (Are You Sleeping?)
38. Banuwa
39. Kumbaya
40. Ani Kuni
41. Pirouette Cacahuete
42. Au clair de la lune
43. Fais do do
44. Too-Ra-Loo-Ra
45. Twinkle, Twinkle, Little Star
46. Rock-a-Bye Baby
47. All the Pretty Little Horses
48. Mozart's Lullaby
49. Brahms' Lullaby (Cradle Song)
50. Hush Little Baby
Online stores and platforms
Buy now on:
You can also listen to the entire album on Spotify
and on YouTube Music
You can also watch the videos for Singing Bell's Nursery Rhymes & Lullabies from this album or Subscribe to our YouTube Channel.

You may also like:
50 Instrumental Nursery Rhymes for Karaoke Vol. 2