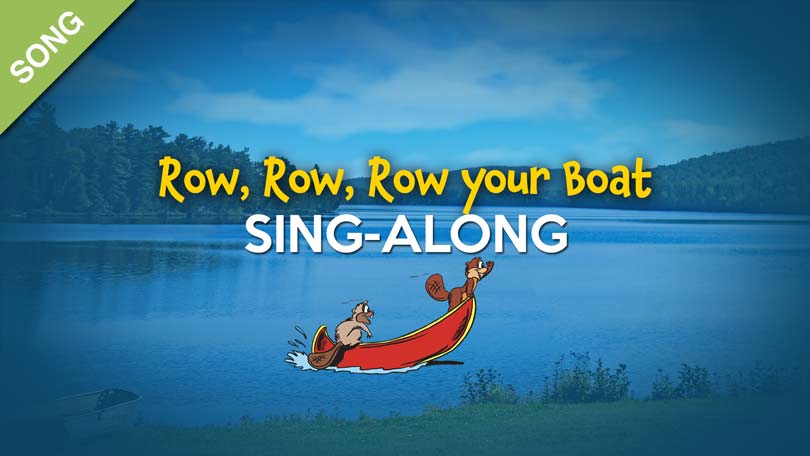 Nursery rhyme, U.S.A.
"Row, Row, Row your Boat" is one of the most popular songs for kids in the English-speaking world. It was first recorded as a modern tune in 1881 by Eliphalet Oram Lyte, although it is not clear if he is the composer or adapter of the melody.
The song has been heard several times in films and TV programs (Star Trek V, Eternal Sunshine of the Spotless Mind, Dirty Harry, HBO's series Oz and Deadwood, MTV series Teen Wolf, etc.).
On this page you will find a Sing-along video with Lyrics, followed by the MP3 and MP4 files for free download.
Table of Contents
Sing-Along Video
Lyrics
Row, row, row your boat,
Gently down the stream.
Merrily, merrily, merrily, merrily,
Life is but a dream.
Click on the button to watch a karaoke video and
download a PDF file with lyrics to this song for free.

Free karaoke MP3 download
To download your free instrumental mp3 of this song, click or tap on the following button, then choose "Save link as…"

"Row, Row, Row your boat" free mp3 download (instrumental, 1:52 – 6/8 – 110 bpm)


MP4 Video File | Free Download
If you'd like to watch the karaoke video of this song on your mobile device, click on the following link to download the video file (mp4 format).
Row, Row, Row Your Boat | Free mp4 Video File Download
Click on the button to watch a piano tutorial video and download a PDF file with music score of this song for free.

Please click on the button for a printable PDF file with Guitar Chords, Tabs and Sheet Music for this song for free.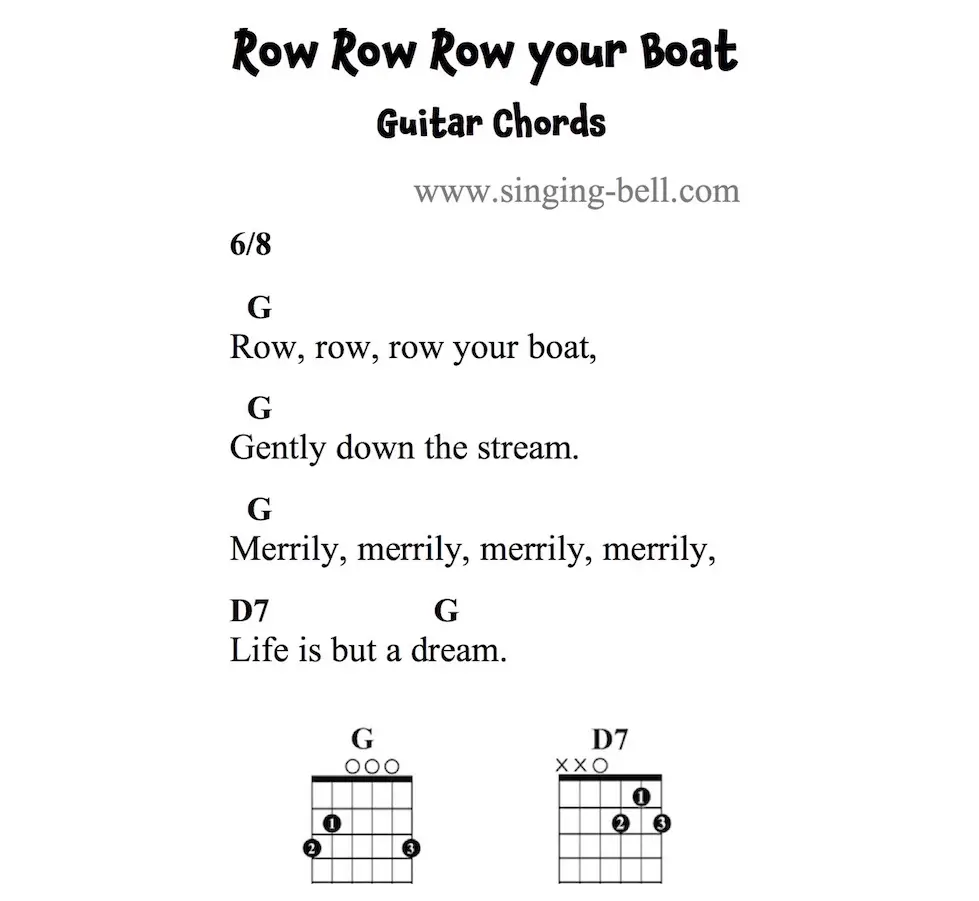 Click on the button to watch a glockenspiel / xylophone tutorial video and download a free printable PDF file with glockenspiel / xylophone Music Sheet and Note Chart of this song.

Teaching idea & activities
This is one more round (see also "Frère Jacques",  "Banuwa", "Kookaburra" and "Jack and Jill"). That means that the melody can be sung exactly the same by more voices, entering one after the other. For this specific song the round comes every one or every two measures.
When teaching a round, or a canon, try to let the children sing by themselves, turn your back to them and start singing the second voice without having explained exactly what was going to happen.
Some of them will keep their voice, others will follow the teacher, but the song sounds already in two voices. At this point you can teach the concept of the canon or round more easily , depending on the age and the level of the class.
In-class Activity
Children sit in pairs opposite to each other, join both hands and sway back and forth in the tempo of the song.
Did you like this post?
You may also like these songs for children: