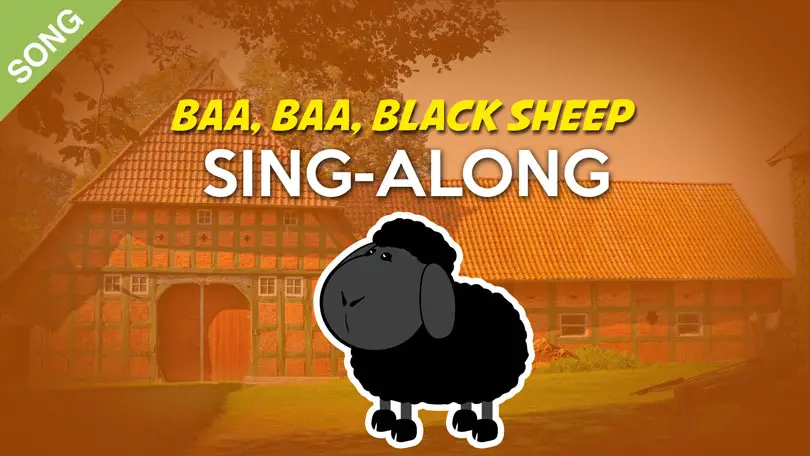 Children's song, U.K.
"Baa, Baa, Black Sheep", just like "Twinkle, Twinkle, Little Star", is a variant of the French melody "Ah! Vous dirai-je, Maman".
On this page you can find Lyrics, Sing-along Video, and MP3 and MP4 files for Free Download.
Sing-Along Video
---
Lyrics

Baa, baa, black sheep,
Have you any wool?
Yes, sir, yes, sir,
Three bags full;
One for the master,
And one for the dame,
And one for the little boy
Who lives down the lane.
Click here for printable PDF with Lyrics
---
Free karaoke mp3 download


To download your free karaoke mp3 of this song, click (or tap) on the following link:
"Baa, Baa, Black Sheep" free mp3 download (instrumental, 1:14 – 4/4 – 110 bpm)

---

This track is also featured in our New Album with 50 Instrumental Nursery Rhymes for karaoke, OUT NOW!
---

MP4 Video File | Free Download

To watch "Baa, Baa, Black Sheep" on your tablet, smartphone or other mobile device, click on the following link to download the video file (mp4 format).
Baa, Baa, Black Sheep| Free mp4 Video File Download
---
Song Info
The rhyme "Baa, Baa, Black Sheep" is known from the first half of the 18th century. One of the theories about the explanation of its meaning is political and related with the medieval taxes on wool and the slave trade.
The song gave its title to a period military television series that aired on NBC from 1976 until 1978. Its premise was based on the experiences of United States Marine Corps aviator Gregory "Pappy" Boyington and his World War II "Black Sheep Squadron".
You may also like: