Hey Ho Nobody Home is a popular tune and an easy round for kids.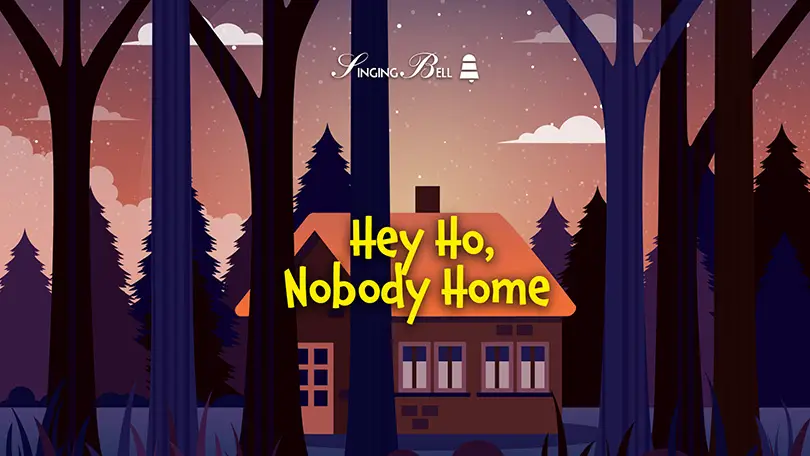 "Hey Ho Nobody Home" is an English folk song and nursery rhyme that is often sung as a round or in a call-and-response style. It is a simple and repetitive song that typically involves multiple voices singing different parts simultaneously.
It is a popular musical round or canon originating from England and dating back to the 16th century.
On this page you'll find a Karaoke MP3 file of the song, a Karaoke video, a PDF with sheet music and some information about.
Table of Contents
Song Info
"Hey Ho Nobody Home" is a popular musical round or canon originating from England and dating back to the 16th century. There's a version of it in Pammelia, a collection of English rounds and canons, published in England in 1609 by Thomas Ravenscroft. It also appears in Francis Beaumont's play "The Knight of the Burning Pestle" (see version 2 below).
This beautiful tune is sung in different languages throughout Europe and it is up to this day a favourite piece for choirs, included in their basic repertoire while often serving as a warm up song at rehearsals.
It is often associated with communal singing or performances, fostering a sense of unity and harmony among participants. The simple and repetitive nature of the rhyme makes it accessible for young children to learn and join in the singing.
The English version "Hey Ho Nobody Home" is sung as a Christmas carol although there is no direct reference to Christmas. The other popular English version "Rose, rose…" is usually sung together with another old canon "Ah poor bird…". As for the rest of the versions in other languages (French, Italian and German), the lyrics talk about the wind, so there is no connection to Christmas time.
Hey Ho Nobody Home Karaoke Video
Lyrics
Hey, ho, nobody home
Meat nor drink nor money I have none.
Yet will I be merry, very merry
The song continues with additional verses that follow the same structure, with variations in the lyrics or melodies depending on different versions or adaptations.
See also our Top 5 Action Songs for Kids
Looking for the Alphabetical List of Children's Songs? Click here!
Hey Ho Nobody Home karaoke mp3 download
To download your free instrumental mp3 of this song, right click on the following link, then choose "Save link as…"

"Hey Ho Nobody Home" free mp3 download (instrumental, 1:23 – 4/4 – 130 bpm)


Buy our entire album with 30 Favourite Nursery Rhymes for only 9.99 + 20 Bonus Instrumental versions and save 20$/€!
Hey Ho Nobody Home Sheet Music and PDF
Click on the image to preview and
download a PDF file with music score of this song for free
by clicking on the following button.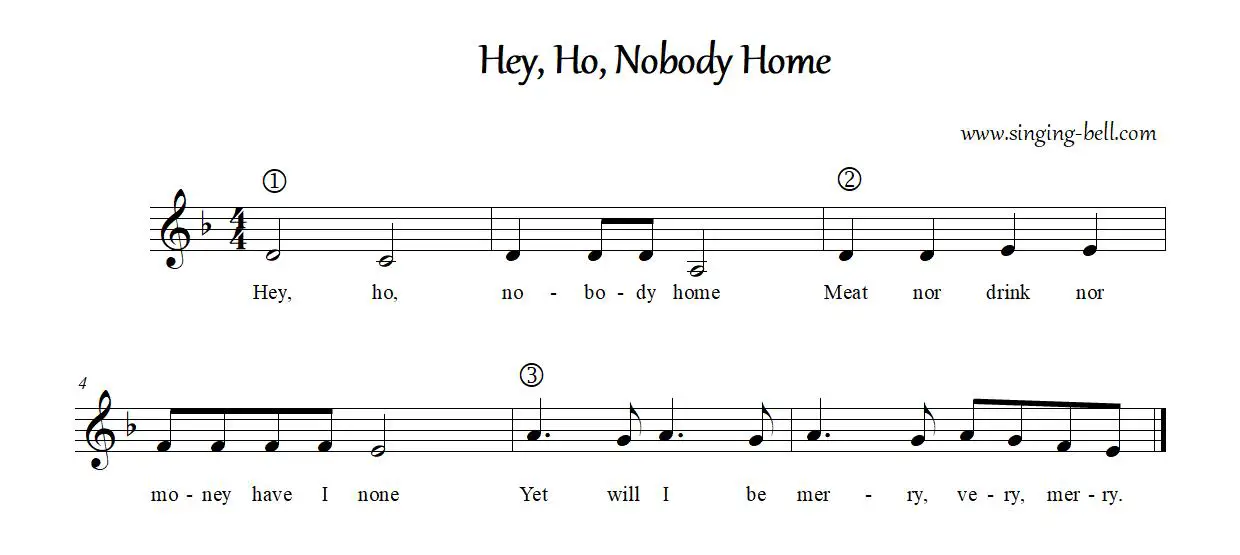 Did you like this post? Rate it!
You may also like:
Brahms' Lullaby (Cradle Song/Lullaby and Goodnight)