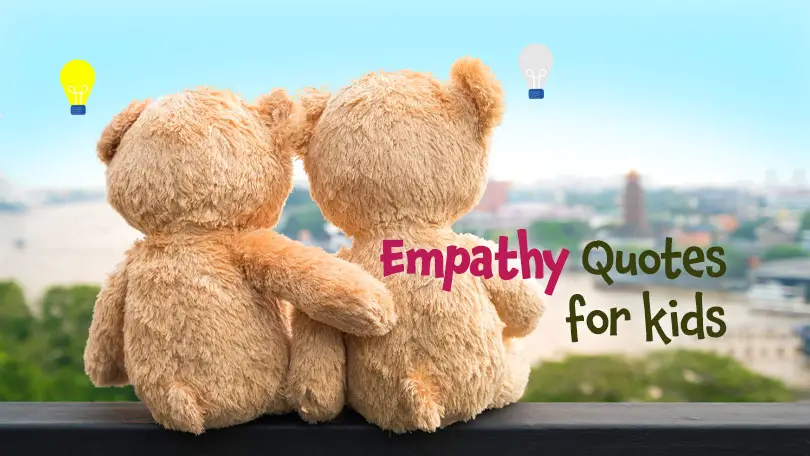 Love and understanding are two of the most powerful secret weapons people have to make the world a better place, and perhaps there's not enough of them. As is often the case with children, to explain that takes examples, so this collection of empathy quotes for kids will be a useful tool when that time comes.
Whether you are a parent or a teacher, conveying the importance of being an empath can't be stressed enough. Teaching the meaning of empathy can plant a seed of solidarity and turn the kids of tomorrow into people that will listen, understand and support those around them when they need it. Feel free to share and include these quotes in your messages or texts.
Table of Contents
Short Empathy Quotes for Kids to Share Instantly on Messages and Social Media
Here are the best quotes and sayings on empathy that are suitable for the times you need a brief and concise way to express your thoughts on the matter. These quotes are also perfect for use in classroom as the motto of the day!
Be kind whenever possible. It is always possible. Dalai Lama
If you see someone without a smile, give them one of yours. Dolly Parton
Empathy grows as we learn. Alice Miller
Be kind, for everyone you meet is fighting a hard battle. Plato
People need people who show that they care. Richelle E. Goodrich
Attention is the rarest and purest form of generosity. Simone Weil
If you want more kindness in the world, put some there. Zero Dean
If speaking is silver, then listening is gold. Turkish Proverb
The opposite of anger is not calmness, it's empathy. Mehmet Oz
There is no greater loan than a sympathetic ear. Frank Tyger
We need empathy, we need the eyes that still can weep. Lydia Millet
Compassion is about giving all the love that you've got. Cheryl Strayed
We have to teach empathy as we do literacy. Bill Drayton
Stories teach us empathy. They reveal to us ourselves in the skins of others. Justin Simien
Empathy requires knowing that you know nothing. Leslie Jamison
Motivational Empathy Quotes for Kids to Inspire a Compassionate Attitude in Life
It's not hard neither time-consuming to care about others; on the contrary, empathy and compassion are indispensable qualities in today's world. They can and should be taught to children from their early age.
Always stop to think whether your fun may be the cause of another's unhappiness. Aesop
The little things you do can be very significant to others. Wayne Gerard Trotman
Have compassion for all beings, rich and poor alike; each has their suffering. Buddha
If we can get man to the moon, we can get man to walk in each other's shoes. Mary Gordon
We have two ears and one mouth so that we can listen twice as much as we speak. Epictetus
Don't cast shadows on anyone unless you are providing shade. Terri Guillemets
There is no exercise better for the heart than reaching down and lifting people up. John Holmes
Yet, taught by time, my heart has learned to glow for other's good, and melt at other's woe. Homer
Every day you need to take some actions – actions to improve your life and actions to improve someone else's life. Amit Ray
When a good man is hurt all who would be called good must suffer with him. Euripides
There is no small act of kindness. Every compassionate act makes large the world. Mary Anne Radmacher
I believe empathy is the most essential quality of civilization. Roger Ebert
One of the most important things you can do on this earth is to let people know they are not alone. Shannon L. Alder
The only way to change someone's mind is to connect with them from the heart. Rasheed Ogunlaru
Could a greater miracle take place than for us to look through each other's eye for an instant? Henry David Thoreau
What you don't realize is that the world does not need more perfection. It needs more compassion and empathy. Tessa Dare
Empathy means both understanding others on their own terms and bringing them within the orbit of one's own experience. Jacob A. Belzen
Inspirational Empathy Quotes for Kids by Famous People
These famous quotes on empathy will serve as inspiration for parents and teachers to start a mind-opening conversation with their kids and students.
The great gift of human beings is that we have the power of empathy. Meryl Streep
Never look down on anybody unless you're helping him up. Jesse Jackson
I think we all have empathy. We may not have enough courage to display it. Maya Angelou
The purpose of human life is to serve, and to show compassion and the will to help others. Albert Schweitzer
If you judge people, you have no time to love them. Mother Teresa
When people talk, listen completely. Most people never listen. Ernest Hemingway
You can only understand people if you feel them in yourself. John Steinbeck
Nobody cares how much you know until they know how much you care. Theodore Roosevelt
Sometimes it takes only one act of kindness and caring to change a person's life. Jackie Chan
Learning to stand in somebody else's shoes, to see through their eyes, that's how peace begins. Barack Obama
You never really understand a person until you consider things from his point of view — until you climb into his skin and walk around in it. Harper Lee
If you want others to be happy, practice compassion. If you want to be happy, practice compassion. Dalai Lama
I did not know how to reach him, how to catch up with him… The land of tears is so mysterious. Antoine de Saint-Exupéry
When you start to develop your powers of empathy and imagination, the whole world opens up to you. Susan Sarandon
Whenever you feel like criticizing any one…just remember that all the people in this world haven't had the advantages that you've had. Scott Fitzgerald
I'm not going to be that hard on you. Please don't be that hard on yourself. We all go through some challenges, we all go through failure. Arnold Schwarzenegger
Insightful "Empathy is…" Quotes for Kids to Help them Understand its Meaning
Empathy is expressed in many different ways as you will read in the following quotes. We are sure they will answer some of your kids' questions or put into question their perspectives and beliefs.
Empathy is the gateway; compassion is the way. Scott Perry
Empathy is about finding echoes of another person in yourself. Mohsin Hamid
Empathy is like giving someone a psychological hug. Lawrence J
The highest form of knowledge is empathy. Bill Bullard
Empathy is connection; it's a ladder out of the shame hole. Brené Brown
Empathy is a special way of coming to know another and yourself. Carl R. Rogers
Empathy is the greatest virtue. From it, all virtues flow. Without it, all virtues are an act. Eric Zorn
Empathy is the ability to step outside of your own bubble and into the bubbles of other people. Joybell
Empathy is a respectful understanding of what others are experiencing. Marshall B. Rosenberg
Empathy is seeing with the eyes of another, listening with the ears of another and feeling with the heart of another. Alfred Adler
Empathy is a skill like any other human skill. If you get a chance to practice, you can get better at it. Simon Baron Cohen
Empathy is simply listening, holding space, withholding judgment, emotionally connecting, and communicating that incredibly healing message of you're not alone. Brené Brown
Did you like this post?
You may also like:
20 Peace Quotes to Explain Peace and War to Kids
Tickets to New Worlds | 70 Reading Quotes for Kids
The Superpower of Being Kind | 99 Kindness Quotes for Kids