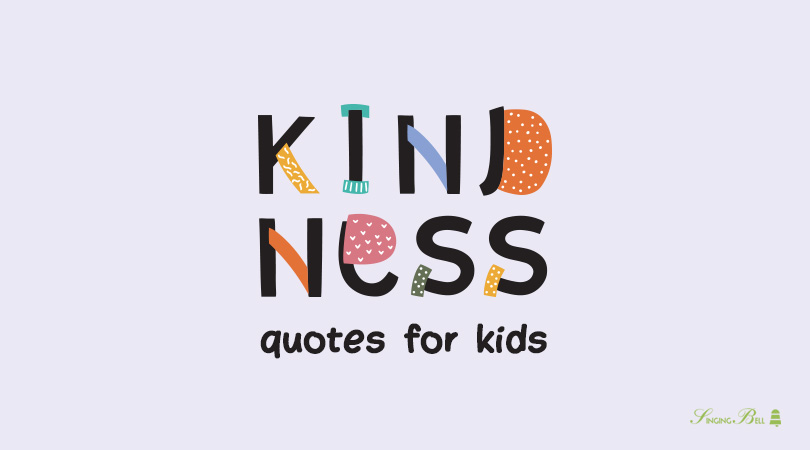 Being kind is in fact a superpower. Kindness can spread to people we have been kind to, and then to the ones they treated kindly in turn.
As children grow up, we often look for something to balance the unwanted cruelty mankind experiences, and these quotes on kindness are a great inspiration.
Table of Contents
Best Kindness Quotes for Kids
If you can be anything, be kind. Unknown
Try to be a rainbow in someone else's cloud. Maya Angelou
Everywhere you go, leave a glitter trail of kindness behind you. Unknown
A kind friend is the right kind of friend. Maya Angelou
What this world needs is a new kind of army – the army of the kind. Cleveland Amory
A kind word is like a Spring day. Russian Proverb
If you see someone without a smile, give them one of yours. Dolly Parton
Never lose a chance of saying a kind word. William Makepeace Thackeray
Be silly, be honest, be kind. Ralph Waldo Emerson
A man never loses anything by politeness. Henry Venn
No one has ever become poor by giving. Anne Frank
A warm smile is the universal language of kindness. William Arthur Ward
A little madness a little kindness makes for happiness. Nicole Johnson
Always be a little kinder than necessary. James M. Barrie
Kindness gives birth to kindness. Sophocles
Goodness is the only investment that never fails. Henry David Thoreau
I've learned that people will forget what you said, people will forget what you did, but people will never forget how you made them feel. Maya Angelou
It's nice to be important, but it's more important to be nice. Unknown
Kindness and politeness are not overrated at all. They're underused. Tommy Lee Jones
The smallest act of kindness is worth more than the greatest intention. Kahlil Gibran
Kindness doesn't cost you anything but will bring you riches beyond your wildest dreams. Unknown
Manners and politeness will never become old-fashioned. Auliq Ice
Manners easily and rapidly mature into morals. Horace Mann
My religion is very simple. My religion is kindness. Dalai Lama
Never be so busy as not to think of others. Mother Teresa
No act of kindness, however small, is ever wasted. Aesop
Politeness is the flower of humanity. Joseph Joubert
Only a life lived for others is a life worthwhile. Albert Einstein
The only true source of politeness is consideration. William Gilmore Simm
The simple act of caring is heroic. Edward Albert
There is no angry way to say bubbles. Unknown
You cannot do a kindness too soon, for you never know how soon it will be too late. Ralph Waldo Emerson
Positive Kindness Quotes for Kids
When you are kind to others, it not only changes you, it changes the world. Harold Kushner
Be kind whenever possible. It is always possible. Dalai Lama
If you want to lift yourself up, lift someone else up. Booker t. Washington
Be mindful. Be grateful. Be positive. Be true. Be kind. Roy T. Bennett
Go into the world and do well. But more importantly, go into the world and do good. Minor Myers
In a gentle way, you can shake the world. Mahatma Gandhi
You can always, always give something, even if it is only kindness! Anne Frank
Don't wait for other people to be loving, giving, compassionate, grateful, forgiving, generous, or friendly… lead the way! Steve Maraboli
Forget injuries; never forget kindness. Confucius
When you laugh, you change, and when you change, the world changes. Madan Kataria
In about the same degree as you are helpful, you will be happy. Karl Reiland
To the world you may be one person, but to one person you may be the world. Seuss
In a world full of people who couldn't care less, be someone who couldn't care more. Unknown
Kindness in words creates confidence. Kindness in thinking creates profoundness. Kindness in giving creates love. Lao-Tzu
Love and kindness are never wasted. They always make a difference. They bless the one who receives them, and they bless you, the giver. Barbara De Angelis
Never believe that a few caring people can't change the world. For, indeed, that's all who ever have. Margaret Mead
There is no exercise better for the heart than reaching down and lifting people up.  John Holmes
Think of giving not as a duty but as a privilege. John D. Rockefeller
Those who are the happiest are those who do the most for others. Booker T. Washington
Today will never come again. Be a blessing. Be a friend. Encourage someone. Take time to care. Let your words heal, and not wound. Unknown
We make a living by what we get, but we make a life by what we give. Winston Churchill
Quotes for Kids About Kindness at School
Kind students are the coolest. Heidi McDonald
Treat everyone with respect and kindness. Period. No exceptions. Kiana Tom
Be kind to unkind people. They need it the most. Ashleigh Brilliant
Never look down on anybody unless you're helping them up. Jesse Jackson
Always stop to think whether your fun may be the cause of another's unhappiness. Aesop
Good manners are just a way of showing other people that we have respect for them. Bill Kelly
Do more than belong: participate.
Do more than care: help.
Do more than believe: practice.
Do more than be fair: be kind.
Do more than forgive: forget.
Do more than dream: work. William Arthur Ward
If you want to change attitudes, start with a change in behavior. Katharine Hepburn
Kind words don't cost much. Yet they accomplish much. Blaise Pascal
Kindness is in our power, even when fondness is not. Samuel Johnson
Always be kind, for everyone is fighting a hard battle. Plato
Kindness makes a fellow feel good whether it's being done to him or by him. Frank A. Clark
No person was ever honored for what he received. Honor has been the reward for what he gave. Calvin Coolidge
Of all virtues and dignities of the mind, goodness is the greatest. Francis Bacon
One thing I believe strongly in this life is that you just don't reward bad behavior. Phil
Peace cannot be kept by force; it can only be achieved by understanding.  Albert Einstein
Before you speak, let your words pass through three gates:
Is it true?
Is it necessary?
Is it kind? A Sufi Saying
Treat everyone with politeness, even those who are rude to you – not because they are nice, but because you are. Unknown
Politeness is … forgetting ourselves in order to seek what may be agreeable to others. Wellins Calcott
Real generosity is doing something nice for someone who will never find out. Frank A. Clark
Respect for ourselves guides our morals, respect for others guides our manners. Laurence Sterne
Success is not how high you have climbed, but how you make a positive difference to the world. Roy T. Bennett
The best way to knock the chip off your neighbor's shoulder is to pat him on the back. Unknown
The very nature of kindness is to spread. If you are kind to others, today they will be kind to you, and tomorrow to somebody else. Sri Chinmoy
Inspirational Kindness Quotes for Kids
Kind hearts are the gardens. Kind thoughts are the roots. Kind words are the blossoms. Kind deeds are the fruits. Kirpal Singh
Kindness is a language which the deaf can hear and the blind can see. Mark Twain
A bit of fragrance always clings to the hand that gives roses. Chinese Proverb
How beautiful a day can be when kindness touches it! George Elliston
A kind gesture can reach a wound that only compassion can heal. Steve Maraboli
I would rather make mistakes in kindness and compassion than work miracles in unkindness and hardness. Mother Teresa
A kind heart is a fountain of gladness, making everything in its vicinity freshen into smiles. Washington Irving
A little consideration, a little thought for others, makes all the difference. Eeyore, Winnie-the-Pooh
Α kind act can sometimes be as powerful as a sword. Rick Riordan
Constant kindness can accomplish much. As the sun makes ice melt, kindness causes misunderstanding, mistrust, and hostility to evaporate. Albert Schweitzer
Do one act of kindness each day of the year and change 365 lives. Anthony Douglas Williams
How wonderful it is that nobody need wait a single minute before starting to improve the world. Anne Frank
What wisdom can you find that is greater than kindness? Jean Jacques Rousseau
If you want others to be happy, practice compassion. If you want to be happy, practice compassion. Dalai Lama
Kind words can be short and easy to speak, but their echoes are truly endless. Mother Teresa
Use your voice for kindness, your ears for compassion, your hands for charity, your mind for truth, and your heart for love. Author Unknown
One can pay back the loan of gold, but one dies forever in debt to those who are kind. Malayan Proverb
Our days are happier when we give people a bit of our heart rather than a piece of our mind. Unknown
The best way to find yourself is to lose yourself in the service of others. Mahatma Gandhi
The ideals which have lighted my way, and time after time have given me new courage to face life cheerfully, have been Kindness, Beauty, and Truth. Albert Einstein
No act of kindness, no matter how small, is ever wasted. Aesop 
Try to be a rainbow in someone's cloud. Maya Angelou
Treat everyone with politeness and kindness, not because they are nice, but because you are. Roy T. Bennett
Good manners encompass all the things that make the people around us feel good. Jacquie McTaggart
If you have good thoughts they will shine out of your face like sunbeams and you will always look lovely. Roald Dahl
When I was young, I admired clever people. Now that I am old, I admire kind people. Abraham Joshua Heschel
That best portion of a man's life, his little, nameless, unremembered acts of kindness and love. William Wordsworth
Always remember people who have helped you along the way, and don't forget to lift someone up. Roy T. Bennett
Friends and good manners will carry you where money won't go. Margaret Walker
World Kindness Day : Explaining Kindness to Children
World Kindness Day, celebrated on November 13th, is a special occasion that reminds us of the incredible power of being kind.
For kids, kindness means being friendly, helpful, and considerate towards others. It's like spreading sunshine in someone's day by sharing a smile, offering a hand, or saying something nice to make them feel happy.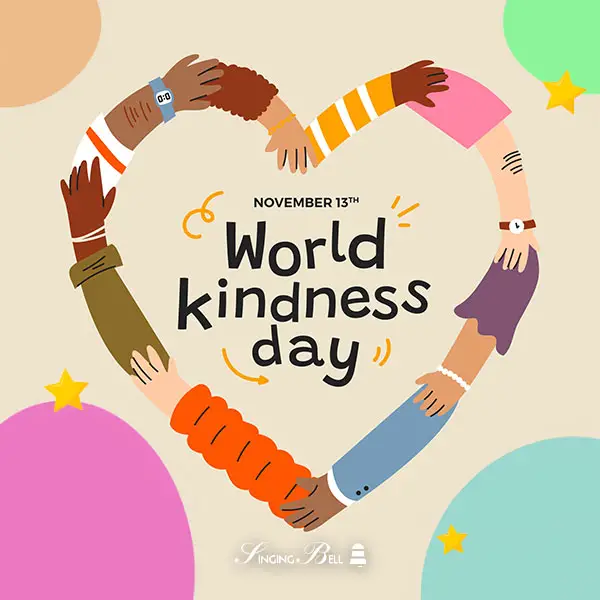 Kindness isn't just a word; it's a magical way to create warm and caring connections with people around us.
When it comes to giving a definition of kindness to kids, you can say:
Kindness is when you do nice things to make someone feel happy and cared for. It's like sharing a smile, helping a friend, or saying something kind to brighten their day. Being kind is like spreading love and happiness wherever you go!
Celebrate World Kindness Day at school
To celebrate World Kindness Day at school, here are three fun and meaningful ideas:
Kindness Challenge: Create a "Kindness Challenge" chart where students can earn stickers or points for acts of kindness. Encourage them to do something kind for a classmate or teacher each day, like sharing a book, helping with a task, or offering a compliment. Celebrate their kindness achievements with a special ceremony or awards.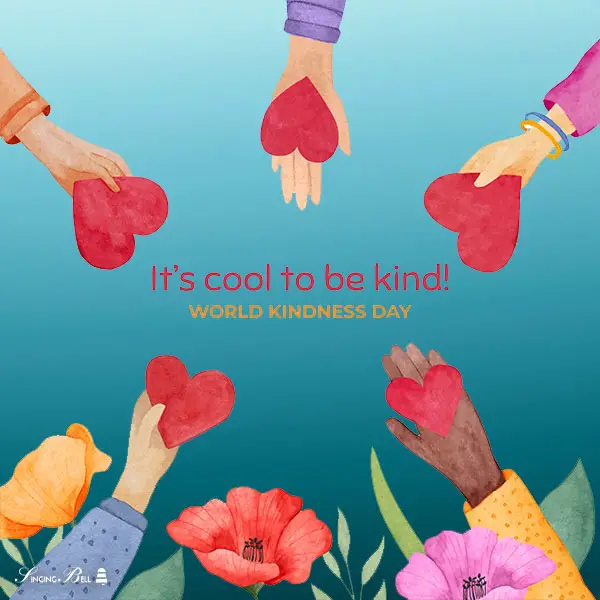 Kindness Cards: Have students make "Kindness Cards" with uplifting messages or drawings. They can exchange these cards with their classmates or even leave them around the school for others to find. It's a delightful way to spread positivity and brighten someone's day.
Kindness Assembly: Organize a school assembly where students can showcase their acts of kindness. Create a "Kindness Wall" where they can post notes or drawings illustrating their kind deeds. Invite a guest speaker or local community member to talk about the importance of kindness and the positive impact it has on everyone.
By celebrating World Kindness Day at school, we not only teach children the value of compassion and empathy but also inspire a culture of kindness that can last a lifetime.
Did you like this post?
You may also like:
60 Empathy Quotes for Kids to Make the World a Better Place
Dream Big | 101 Motivational Quotes for Kids
Every Life Has a Soundtrack | 85 Music Quotes for Kids
Words to Inspire Them | 160 Positive Quotes for Kids
60+ Encouraging Quotes for Kids About Achieving Goals and the Pursuit of Dreams
20 Peace Quotes to Explain Peace and War to Kids
70 Reading Quotes for Kids Like Tickets to New Worlds