As children seek to find their sensitive path through life, what matters most is inspiration. Dreams and visions of the future can only mean so much only when young ones can get the precious help they need to make them come true. That's where many famous personalities can contribute with this collection of inspirational quotes for kids.
Whether you want to encourage kids, show them a way towards happiness and self fulfillment or you would simply like to caption a photo on social media, these words can truly help you inspire younger generations.
Table of Contents
Inspirational Quotes for Kids to Guide them Towards Happiness
Children constantly need love, support and guidance, for their life is full of challenges as they grow and start exploring the world. We have collected for you the best quotes to inspire your kids at any moment!
Life itself is the most wonderful fairy tale. Hans Christen Andersen
You must be the change you wish to see in the world. Mahatma Gandhi
To me every hour of the day and night is an unspeakably perfect miracle. Walt Whitman
Don't let what you can't do stop you from doing what you can do. John Wooden
If I cannot do great things, I can do small things in a great way. Martin Luther King Jr.
What this world needs is a new kind of army – the army of the kind. Cleveland Amory
Happiness is not the absence of problems, it's the ability to deal with them. Steve Maraboli
Reach high, for stars lie hidden in your soul. Dream deep, for every dream precedes the goal. Pamela Vaull Starr
Short Inspirational Quotes for Kids to Teach them they Deserve the Best
These brief but powerful quotes will remind you how special every child is. Never cease to tell them that within themselves lies a vast potential!
Make each day your masterpiece. John Wooden
We grow great by dreams. Woodrow Wilson
Be silly, be honest, be kind. Ralph Waldo Emerson
When you know better you do better. Maya Angelou
Why fit in when you were born to stand out? Dr. Seuss
Just be yourself, there is no one better. Taylor Swift
If you can dream it, you can do it. Walt Disney
Everybody's a teacher if you listen. Doris Roberts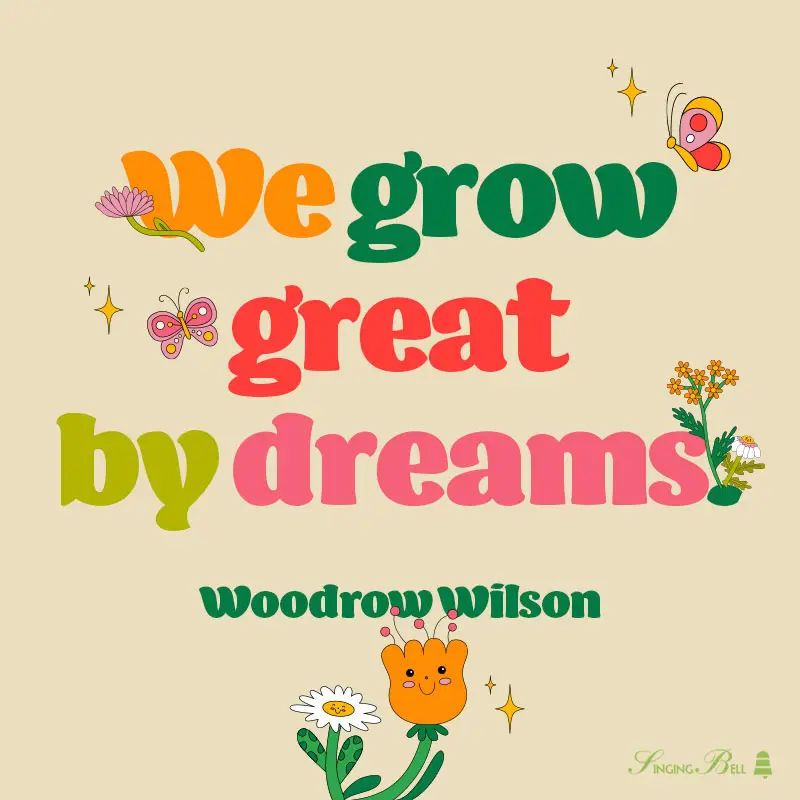 Inspirational Quotes for Kids in School to Create a Positive Mindset
These quotes will refuel your children's enthusiasm for school and education! Learning may be difficult in the process, but the outcomes are very valuable in adult years.
Today a reader, tomorrow a leader. Margaret Fuller
The expert in anything was once a beginner. Helen Hayes
Knowledge will bring you the opportunity to make a difference. Claire Fagin
Education's purpose is to replace an empty mind with an open one. Malcolm Forbes
Today is the first day of the rest of your life. Charles Dederich
No one is perfect – that's why pencils have erasers. Wolfgang Riebe
Judge your success by what you had to give up in order to get it. Dalai Lama XIV
You always pass failure on the way to success. Mickey Rooney
You can steer yourself any direction you choose. Dr. Seuss
The roots of education are bitter, but the fruit is sweet. Aristotle
Learning is the only thing the mind never exhausts, never fears, and never regrets. Leonardo da Vinci
Education is the passport to the future, for tomorrow belongs to those who prepare for it today. Malcolm X
Inspirational Quotes to Encourage kids on their Way to Success
Testing and exams are stressful situations for kids of all ages. Students often doubt their abilities or procrastinate making their goals harder to achieve. These quotes will help them keep trying and trust themselves!
Nothing that's worth anything is easy. Barack Obama
By failing to prepare you are preparing to fail. Benjamin Franklin
Trust yourself, you know more than you think you do. Benjamin Spock
It's hard to beat a person who never gives up. Babe Ruth
Self-belief and hard work will always earn you success. Virat Kohli
Nothing is impossible. The word itself says 'I'm Possible'. Audrey Hepburn
Efforts and courage are not enough without purpose and direction. John F. Kennedy
Success is not final, failure is not fatal: it is the courage to continue that counts. Winston Churchill
Our greatest weakness lies in giving up. The most certain way to succeed is always to try just one more time. Thomas A. Edison
My advice is, never do tomorrow what you can do today. Procrastination is the thief of time. Charles Dickens
Just believe in yourself. Even if you don't, pretend that you do and, at some point, you will. Venus Williams
Everybody is a genius. But if you judge a fish by its ability to climb a tree, it will spend its whole life believing that it is stupid. Albert Einstein
If you like it, pin it!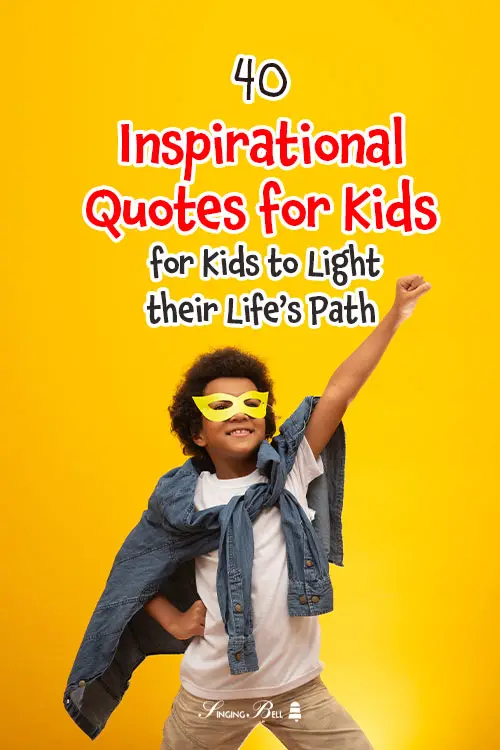 Did you like this article?
You might also like:
20 Peace Quotes to Explain Peace and War to Kids
Tickets to New Worlds | 70 Reading Quotes for Kids
The Superpower of Being Kind | 99 Kindness Quotes for Kids
160 Positive Quotes for Kids on the Good Side