Carol, Basque Country (Spain).
"Gabriel's Message" or "The angel Gabriel from heaven came" is a Basque Christmas folk carol. Its theme is the Annunciation to the Virgin Mary by the archangel Gabriel that she would become the mother of Jesus Christ the Son of God.
The original name of the song in basque language is "Birjina gaztetto bat zegoen". The song was collected by Charles Bordes and then paraphrased into English by Sabine Baring-Gould.
Karaoke Video with Lyrics
---
Lyrics
1. The angel Gabriel from heaven came
His wings as drifted snow his eyes as flame
"All hail" said he "thou lowly maiden Mary,
Most highly favored lady," Gloria!
2. "For know a blessed mother thou shalt be,
All generations laud and honor thee,
Thy Son shall be Emanuel, by seers foretold
Most highly favored lady," Gloria!
3. Then gentle Mary meekly bowed her head
"To me be as it pleaseth God," she said,
"My soul shall laud and magnify his holy name."
Most highly favored lady. Gloria!
4. Of her, Emanuel, the Christ was born
In Bethlehem, all on a Christmas morn
And Christian folk throughout the world will ever say
"Most highly favored lady," Gloria!
---
Click on the button to watch a karaoke video and download a PDF file with lyrics to this song for free.

---
Free karaoke MP3 download
To download your free instrumental mp3 of this song, click or tap on the following button, then choose "Save link as…"

"Gabriel's message" (instrumental, 4:20 – 6/8 – 73 bpm)

---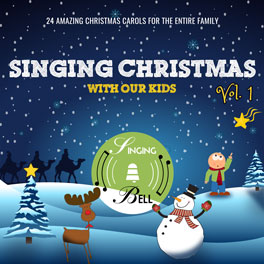 Singing Christmas: Singing Bell's Album with 24 Christmas Carols for the entire family is OUT NOW!
---
Sheet music with chords
To save this free music sheet of "Gabriel's Message" to your computer, right click (or tap and hold, on mobile devices) and choose "Save Image As…"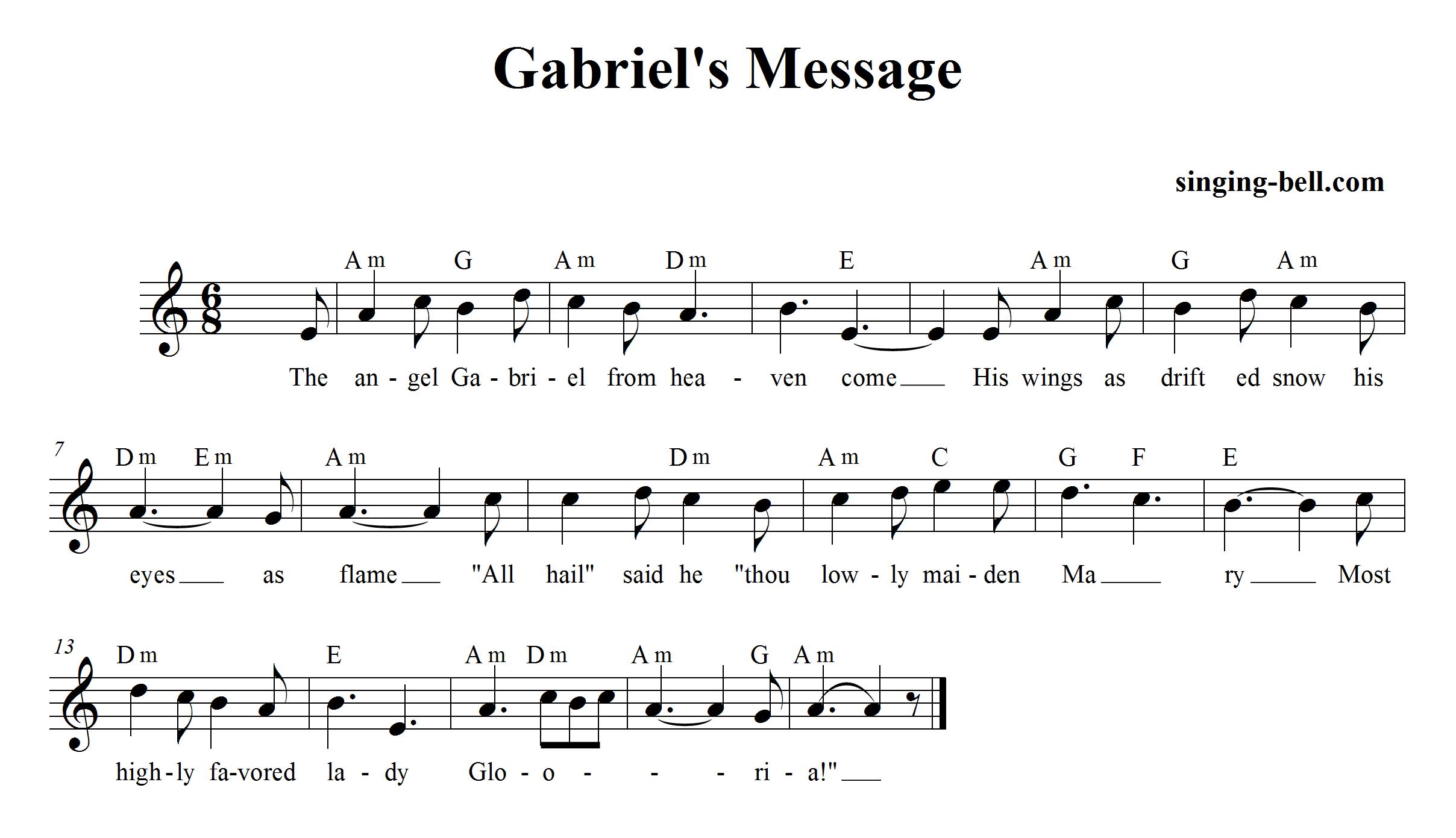 ---
Free Printable PDF with Lyrics and Sheet Music


To download a printable PDF of this song for music activities with sheet music, lyrics and a drawing for kids to paint, click on the button above or on the following link.
Gabriel's Message | Free PDF download – Singing Bell
---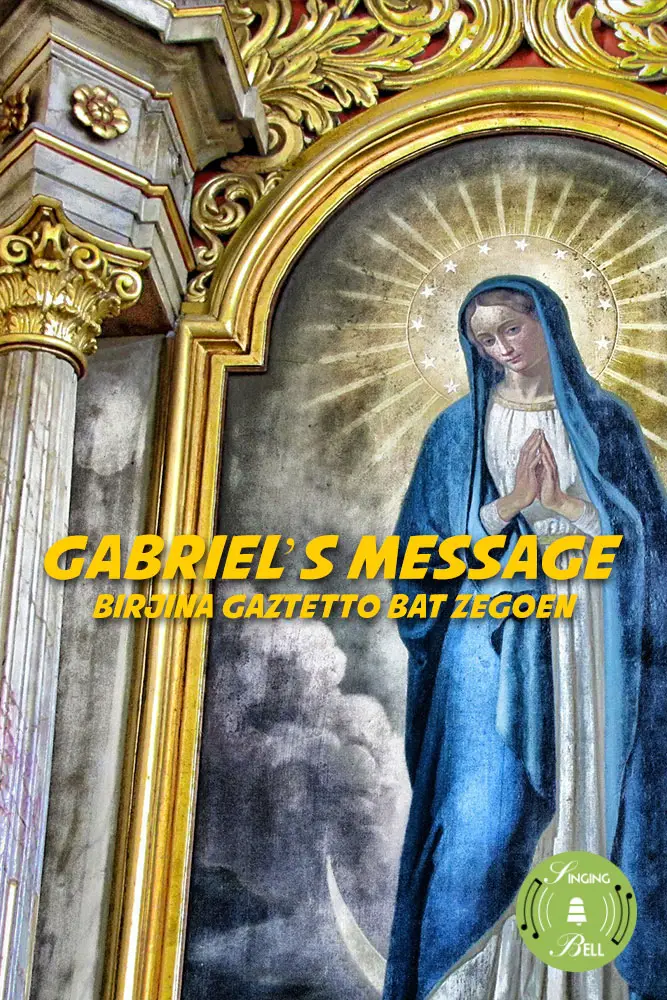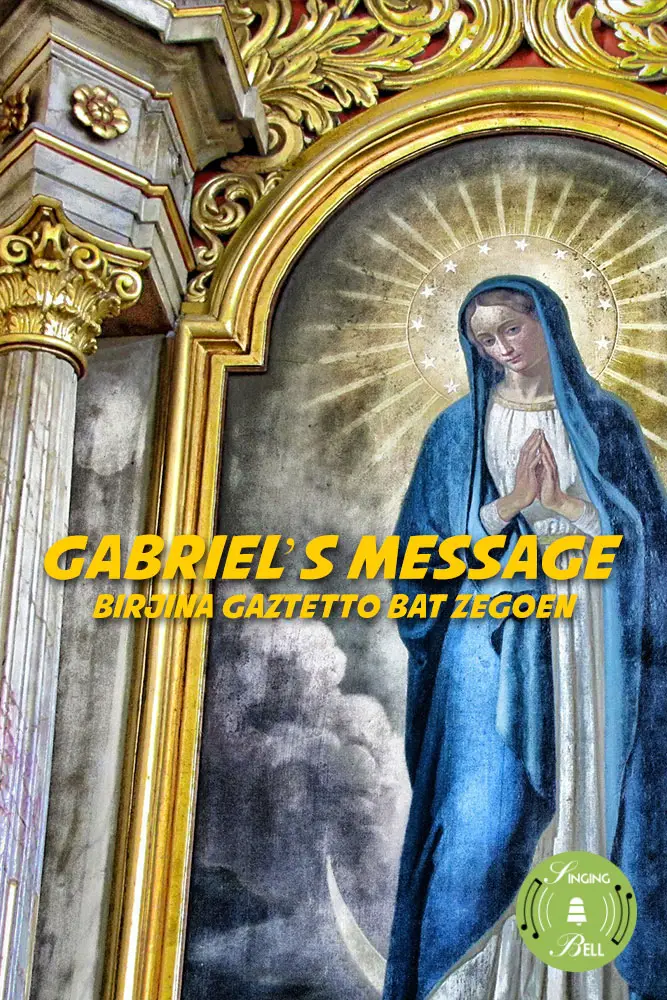 You may also like:
Adeste fideles (O Come, All Ye Faithful)