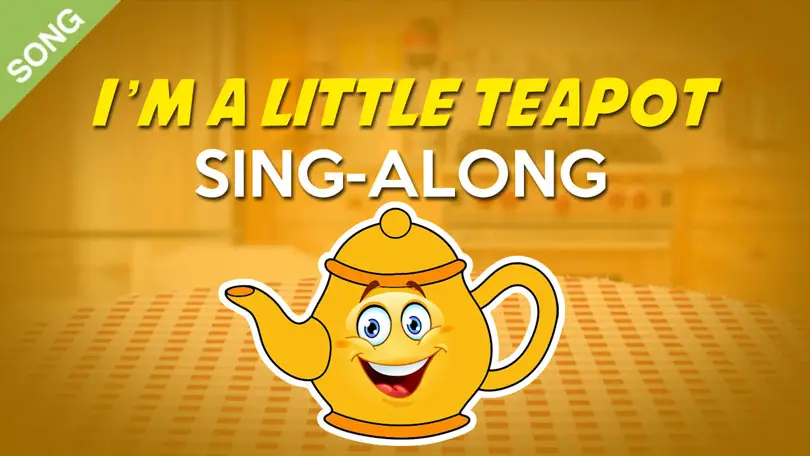 Children's song, U.S.A.
"I'm a little teapot" was written in order to teach children a dance routine. Clarence Kelley -who composed the song with George Harold Sanders- and his wife ran a dance school for children. As the movements for the "Waltz Clog" that they wanted to teach were difficult for children to learn, they wrote "I'm a little teapot" with a helpful choreography.
The song was published in 1939. Actually, the dance moves for the song are a pantomime of a teapot's figure.
Sing-Along Video

---
Lyrics
1. I'm a little teapot
short and stout.
Here is my handle;
Here is my spout.
When I get all steamed up
Hear me shout,
Tip me over
and pour me out!
2. I'm a special teapot,
Yes, it's true,
Here's an example
of what I can do:
I can turn my handle
into a spout.
Tip me over
and pour me out!
---
Click on the button to watch a karaoke video and download a PDF file with lyrics to this song for free.

---
Free karaoke MP3 download
To download your free instrumental mp3 of this song, click or tap on the following button, then choose "Save link as…"

"I'm a little teapot" (instrumental, 1:18 – 2/4 – 120 bpm)

---

Buy our entire album with 30 Favourite Nursery Rhymes
+ 20 Bonus Instrumental versions and save 20$/€!
---

MP4 Video File | Free Download

To watch the karaoke video of this song on your mobile device, click on the following link to download the video file (mp4 format).
I'm a Little Teapot | Free mp4 Video File Download
---
Sheet Music with chords

To save this free music sheet of "I'm a little teapot" to your computer, right click (or tap and hold, on mobile devices) and choose "Save Image As…".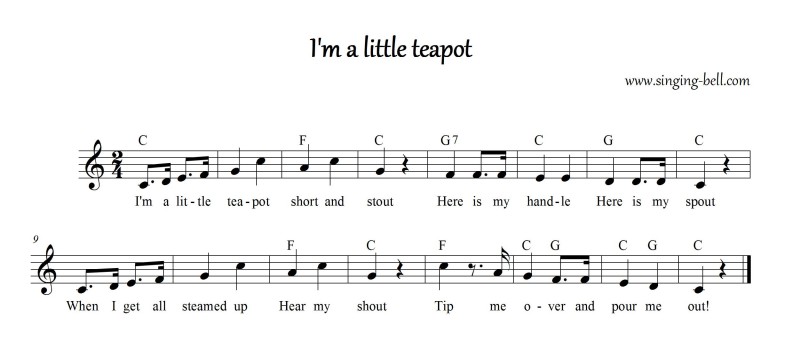 ---
Free Printable PDF with Lyrics and Sheet Music


To download a ready-to-print PDF of this song for music activities with a music sheet, lyrics and a drawing for kids to paint, right click (or tap and hold) on the following link, then choose "Save link as…".
"I'm a little teapot" free PDF download – Singing Bell
---
Teaching idea and activities

Imitate a teapot with your body: an arm for the handle, the other arm for the spout.
Now tilt to pour out the tea, and go back to the previous position.
Follow the lyrics and improvise your own dance routine!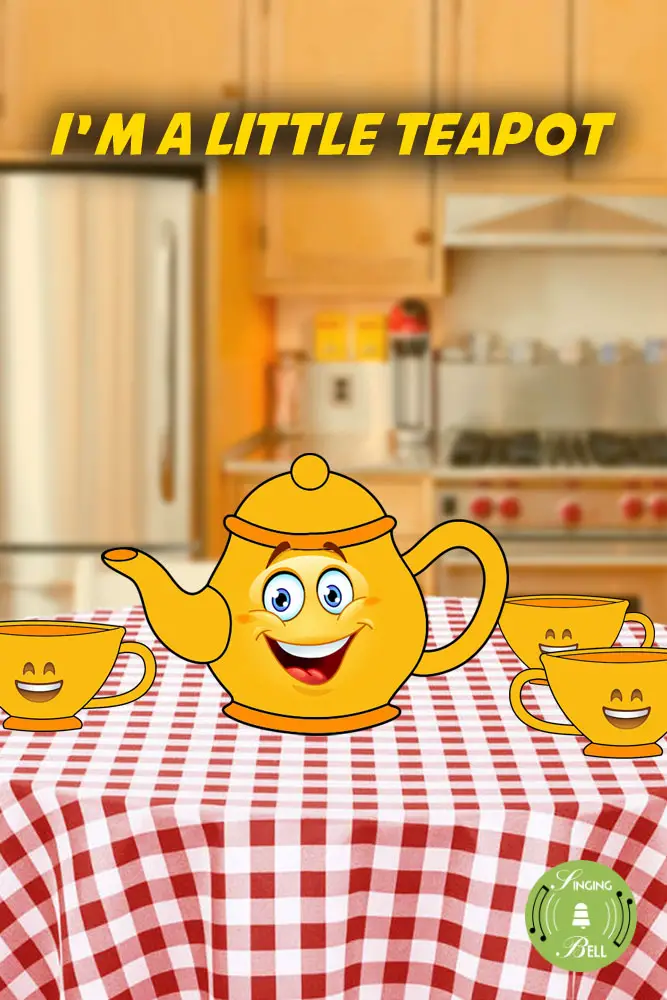 You may also like: