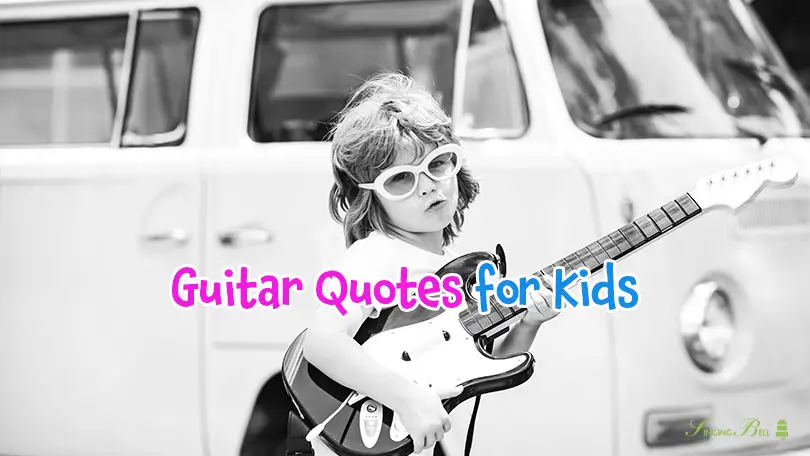 A Spanish invention that conquered the world of art around the globe, the guitar is one of the most popular musical instruments. It's easy to carry, it can be classic or electric, it accompanies gatherings and parties on the beach or anywhere else. This collection of guitar quotes shows why it's an absolute favourite with kids and grown-ups alike.
Whether you want to inspire you guitarist friend or motivate a child to practice the guitar more, go ahead and share these guitar quotes that will touch everyone's chords.
Table of Contents
Famous Guitar Quotes to Make You Feel the Love and Magic of the 6 Strings
Musicians everywhere love the guitar for its expressive sound that is like "a small orchestra" as the famous guitarist Andres Segovia said. These quotes will introduce kids to the fascinating world of the guitar!
My first love was the sound of the guitar. BozScaggs
A guitar is like an old friend that is there with me. B. King
Nothing is more beautiful than a guitar. Except, possibly two. Frederic Chopin
I just go where the guitar takes me. Angus Young
My guitar is not a thing. It is an extension of myself. It is who I am. Joan Jett
The guitar is the easiest instrument to play and the hardest to play well. Andres Segovia
I love the guitar for its harmony; it is my constant companion in all my travels. Nicolo Paganini
The guitar is a small orchestra…Every string is a different color, a different voice. Andres Segovia
The guitar is a wonderful instrument which is understood by few. Franz Schubert
Funny Guitar Quotes that will Make You Smile
Making noise is an inevitable stage when you learn music – and sometimes a goal by itself! And then it's the aspirations of young learners that dream to become like their icon- guitarists. In any case, these quotes suggest chilling and taking it easy with a smile!
This week, I'm a gypsy. Maybe next week it'll be glitter rock. Jimmy Page
If I could sing, I wouldn't be a guitarist. Robin Trower
Anyone who used more than three chords is just showing off. Woody Guthrie
I love playing guitar. It's the only thing I've ever really been great at. Johnny Winter
Who I am as a guitarist is defined by my failure to become Jimi Hendrix. John Mayer
There's a weird period of learning how to play guitar where your fingers are constantly messed up a handful. Jason Reeves
When I was growing up, there were two things that were unpopular in my house. One was me, and the other was my guitar. Bruce Springsteen
Playing the Guitar Quotes to Inspire Passion and Dedication
You child will spend many hours of practice once he/she steps into the guitar world. Read and enjoy these quotes about guitar playing and the dedication to it!
Be yourself. Play a lot. Joe Satriani
Playing guitar is a never-finished journey. John Fogerty
I like to be quiet and play guitar and just chill. Post Malone
Don't use your brain to play it, let your feelings guide your fingers. Jimi Hendrix
Someone told me the smile on my face gets bigger when I play the guitar. Niall Horan
Practice is a word I don't use. I used to play. If you play, you get better. Tommy Tedesco
If you really love guitar, you're going to spend every waking hour stroking the thing. Frank Zappa
I mean, give me a guitar, give me a piano, give me a broom and string, I wouldn't get bored anywhere. Keith Richards
Inspirational Quotes About Guitar Players, their Thoughts and Feelings
Whether it's an acoustic, a classical or an electric one, the guitar lets the guitarist to "dream out loud" as Michael Hedges said.
I play guitar because it lets me dream out loud. Michael Hedges
I'm only myself when I have a guitar in my hands. George Harrison
My big fear was that my guitar would go out of tune. Bob Dylan
I picked up a guitar, and I knew what I wanted to do. Stone Gossard
I've always loved the electric guitar: to hold it and work it and hear what it does is unreal. David Lynch
I grew up in a world that told girls they couldn't play rock 'n' roll. Joan Jett
I've always wanted to be the best guitarist in the world, ever since I was eight years old. Peter Frampton
Meaningful Guitar Quotes About Life that Resonate Positivity
A guitar is a friend for life, that will always be there – in good and bad days – and that makes it a precious gift for lifetime!
Music is magic. Magic is Life. Jimi Hendrix
When I'm having a bad day, I pick up my guitar. Michelle Branch
I can communicate far better on a guitar than I can through my mouth. Jimmy Page
If you want music to be your livelihood, then play, play, play and play!… Eddie Van Halen
As long as you're excited about what you're playing, and as long as it comes from your heart, it's going to be great. John Frusciante
Sometimes you want to give up the guitar, you'll hate the guitar. But if you stick with it, you're gonna be rewarded. Jimi Hendrix
If you like it, pin it!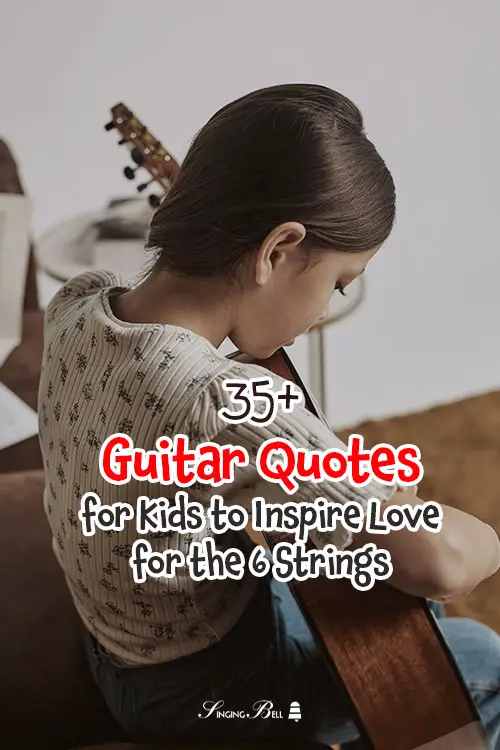 Did you like this post?
You might also like:
Every Life Has a Soundtrack | 85 Music Quotes for Kids
60+ Encouraging Quotes for Kids About Achieving Goals and the Pursuit of Dreams
35 Super Easy Guitar Songs for Kids + Free Sheet Music
70 Reading Quotes for Kids Like Tickets to New Worlds