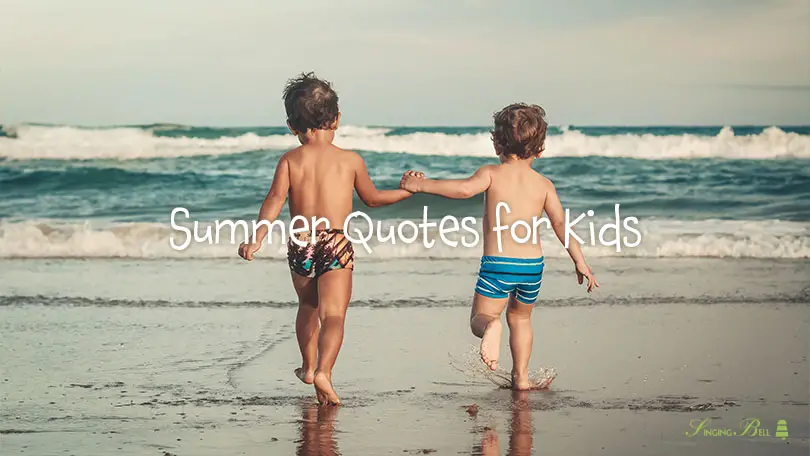 Every woman and man needs to stop running, and every kid needs some time off from what seems like the everlasting task when you're a child: school. Then again, many children have such a great time at school that they really miss the socialization it brings, so they often go to summer camps until they're back at school. These summer quotes for kids are here to remind us of all that.
Whether you want to prepare your child for that summer break they are eagerly longing for or if you are looking for that smart caption for your summer pics on Instagram, this collection of short, fun, and cute summer quotes are ideal for kids who dream of summertime. For those that are already looking forward to going to their favorite summer camp, there's a section with quotes that praise this hobby. Let the summer begin!
Table of Contents
Summer Fun Quotes For Kids
Live in the sunshine. Swim in the sea. Drink in the wild air. Ralph Waldo Emerson
Do what we can, summer will have its flies. Ralph Waldo Emerson
If summer had one defining scent, it'd definitely be the smell of barbecue. Katie Lee
And at the end of the day, your feet should be dirty, your hair messy and your eyes sparkling. Shanti
Smell the sea, and feel the sky. Let your soul and spirit fly. Van Morrison
When the sun is shining I can do anything; no mountain is too high, no trouble is too difficult to overcome. Wilma Rudolph
The mountains are calling and I must go. John Muir
I could never in a hundred summers get tired of this. Susan Branch
I discovered that summer is a completely different experience when you know how to grill. Taylor Swift
Summer has a flavor like no other. Always fresh and simmered in sunshine. Oprah Winfrey
Summer passes and one remembers one's exuberance. Yoko Ono
Of all the paths you take in life make sure a few of them are dirt. John Muir
Short Summer Quotes For Kids
Some of the best memories are made in flip-flops. Kellie Elmore
Cause a little bit of summer is what the whole year is all about. John Mayer
Summertime is always the best of what might be. Charles Bowden
The summer night is like a perfection of thought. Wallace Stevens
Summertime and the living is easy. DuBose Heyward
Let us dance in the sun, wearing wild flowers in our hair. Susan Polis Schutz
I like summer. I like warmer weather and long days. Danielle Steel
Summer will end soon enough, and childhood as well. George R.R. Martin
A life without love is like a year without summer. Swedish Proverb
It's always summer somewhere. Lilly Pulitzer
You are so much sunshine in every square inch. Walt Whitman
When all else fails, take a vacation. Betty Williams
Keep your face to the sunshine and you will never see the shadows. Helen Keller
Cute Summer Quotes For Kids
Everything good, everything magical happens between the months of June and August. Jenny Han
One benefit of Summer was that each day we had more light to read by. Jeannette Walls
To see the summer sky is poetry, though never in a book it lie–true poems flee. Emily Dickinson
Summer afternoon—summer afternoon; to me those have always been the two most beautiful words in the English language. Henry James
In summer, the song sings itself. William Carlos Williams
Rejoice as summer should… chase away sorrows by living. Melissa Marr
One must maintain a little bit of summer, even in the middle of winter. Henry David Thoreau
I love how summer just wraps its arms around you like a warm blanket. Kellie Elmore
When the winter comes, the summer shines infinitely in our hearts! Mehmet Murat Ildan
Oh, the summer night, has a smile of light, and she sits on a sapphire throne. Bryan Procter
In the depth of winter I finally learned that there was in me an invincible summer. Albert Camus
Summer Camp Quotes For Kids
A vacation is having nothing to do and all day to do it in. Robert Orben
Summer is singing with joy, and the beaches are inviting you with dancing waves. Debasish Mridha
The glories of a mountain campfire are far greater than may be guessed. John Muir
The clearest way into the Universe is through a forest wilderness. John Muir
Sleep under a blanket of stars, and your heart will forever be kept warm by your love of life. Anthony T. Hincks
Roses are red, mud is brown, the wood are better than any night on the town. Earl Dibbles Jr
The fire is the main comfort of camp, whether in summer or winter. Henry David Thoreau
I hate camping, but I love summer camp. Zooey Deschanel
A perfect day would be to get into the car, drive out to Yosemite and go camping. Michael Steger
The wilderness holds answers to questions we have not yet learned to ask. Nancy Wynne Newhall
If you like it, pin it!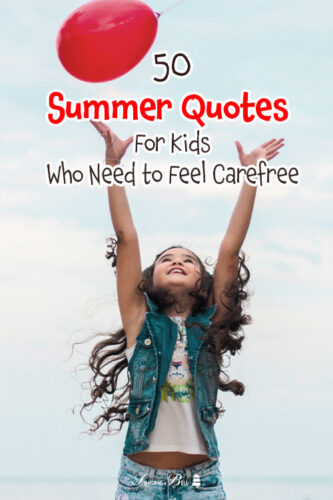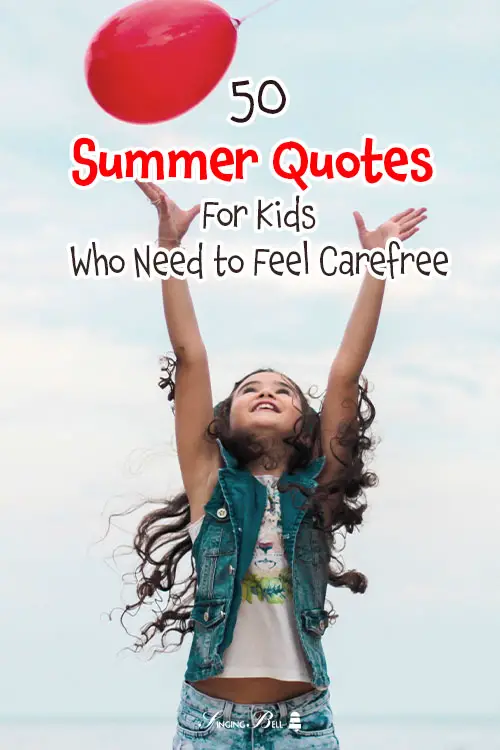 Did you like this post?
You May Also Like:
60+ Encouraging Quotes for Kids About Achieving Goals and the Pursuit of Dreams
Dream Big | 101 Motivational Quotes for Kids
160 Positive Quotes for Kids to Keep Away Negativity
70 Reading Quotes for Kids Like Tickets to New Worlds