The classics are fine, but there is also an abundance of new dance songs for kids from which to choose.

When it comes to finding songs that will get your kids dancing, you can't go wrong with the classics. Who doesn't love a little "YMCA" or "The Hokey Pokey"?
However, for those who want to take their party up a notch and give their youngsters something more hip and trendy, there is an abundance of new music from which to choose.
To help save you hours of searching through the latest hits we've compiled this list of 25 dance songs for kids that will have them grooving from start to finish! Whether you're planning an indoor sleepover bash or an outdoor picnic soiree, these tunes are guaranteed to set the tone for good vibes all around.
Spotify Playlist
1
Sia – Cheap Thrills
Sia's upbeat and catchy tune is centered around the simple message of enjoying life without having to spend a lot of money.
Its lyrics are bursting with energy, encouraging anyone listening to keep on dancing and having fun even if they don't have much.
The song also features background vocals from chirpy children, which adds a fun and lighthearted element to the track and makes it all the more enjoyable for kids.
2
Shakira – Try Everything
Shakira's song "Try Everything" is an upbeat, inspirational track that offers a great message of hope and perseverance.
Children will love the catchy melody and empowering lyrics, which encourage them to keep trying even when they encounter challenges.
The accompanying music video featuring cute animal characters makes it even more fun for kids to watch and sing along.
3
Justin Timberlake – Can't Stop the Feeling!
Justin Timberlake's infectious and upbeat song is sure to bring a smile to the face of even the most serious child. With its toe-tapping beat, cheerful lyrics, and catchy chorus, it is difficult not to move your feet when you hear it.
In addition, this iconic song was featured in the popular movie Trolls, providing an extra incentive for children to dance along.
4
Joel Corry, Jax Jones feat. Charli XCX & Saweetie – OUT OUT
Joel Corry, Jax Jones feat. Charli XCX & Saweetie have created an upbeat and catchy song that encourages people to jump up and dance with its lyrics "We only live once, so let's get out out tonight". Children would love dancing along to this track as it contains a fun beat and a catchy chorus.
The song samples the French hit "Alors on dance" by Stromae, making it perfect for children that want to feel like they are living life on the edge. This track is sure to get stuck in your head as soon as you hear it, so be prepared to listen to it on repeat!
5
Lady Gaga & Ariana Grande – Rain On Me
Lady Gaga and Ariana Grande's collaboration is an upbeat, dance-friendly tune that children are sure to love.
With the catchy beat and fun lyrics, it is easy to see why kids would want to get up and move to this song. Even parents can appreciate the empowering message behind the track, making it a perfect choice for family playlists.
6
Anna Kendrick, Gwen Stefani, James Corden –
Move Your Feet / D.A.N.C.E. / It's A Sunshine Day
This lively, fun-filled medley by Anna Kendrick, Gwen Stefani, and James Corden is sure to be a hit with children.
With its bright, peppy beats and infectious lyrics, it's perfect for getting kids up on their feet and dancing.
The accompanying music video featuring a variety of colorful characters adds even more appeal to the song, making it an ideal choice for any child-friendly dance party.
7
Taylor Swift – Shake it Off
Children of all ages love to dance and have fun, and Taylor Swift's upbeat song is the perfect soundtrack for it.
With its catchy chorus that goes "haters gonna hate," this song encourages kids to keep their heads up and stay positive no matter what the world throws at them.
The cheerful melody is sure to get everyone on their feet and shaking it off.
8
Katy Perry – Roar
Katy Perry's empowering anthem is perfect for children looking for an uplifting motivational message. Perry's inescapable hit has been streamed millions of times on Spotify and watched countless times on YouTube, solidifying its status as one of the greatest pop songs of all time.
With its driving beat and soaring chorus, "Roar" encourages kids to be brave and stand up for themselves.
The accompanying music video featuring a variety of colorful animated animals makes the song even more fun and exciting to listen to.
9
Pharrell Williams – Happy
Pharell Williams' feel-good track is an instant hit with children. With its toe-tapping rhythm and catchy chorus, it's no surprise that kids are singing along to the song's positive message of joy and contentment.
The music video featuring people from all walks of life celebrating their happiness is also sure to put a smile on their faces.
The song was featured in the soundtrack of the animated movie "Despicable Me 2".
10
Meghan Trainor – Better When I'm Dancin'
Meghan Trainor's fun and upbeat song "Better When I'm Dancin'" is sure to get children out of their seats and moving!
It has a catchy beat that kids will love dancing to, and inspiring lyrics that encourage everybody to feel confident in themselves.
11
PSY – Gangnam Style
Released in 2012, this song quickly became a worldwide sensation for its upbeat and catchy tune.
With over 3 billion views on YouTube and topping music charts around the world, it is not surprising that children of all ages find themselves irresistibly dancing to the beat of the song despite not knowing what lyrics mean. The success of this song has been one of the biggest record-breakers in the music industry.
12
Black Eyed Peas – I Gotta Feeling
Children find the energy and enthusiasm of Black Eyed Peas' hit song from 2009 irresistible. Its rousing chorus, with its hopeful and optimistic words, encourages them to move their bodies with joy. The powerful beat spurs youngsters to get up and dance, helping them express themselves in a healthy way.
13
Taio Cruz – Dynamite
Taio Cruz's energetic track is a surefire way to get children on their feet. With its cheerful, exuberant rhythms and catchy lyrics, this upbeat bop is sure to be an instant hit with kids of all ages.
14
Avicii – Wake me up
The catchy tune of Avicii's song encourages children to move along to the beat.
The lyrics are optimistic and positive, making it a great choice for kids looking for something cheerful. With its effervescent rhythm and joyful messages, this track is sure to have young ones dancing in no time.
15
Tegan and Sara with The Lonely Island –
Everything is AWESOME!!!
Canadian identical twin sisters Tegan and Sara had been making music together for two decades when their song was used in The Lego Movie soundtrack in 2014, and was even nominated for an Oscar!
Their collaboration with The Lonely Island is full of the type of zany energy that makes it a hit with kids. With clever lyrics such as "Everything's cool when you're part of a team" and "We're living in a dream," this song is sure to get the whole family up and dancing.
16
Fergie feat. Q-Tip, GoonRock –
A Little Party Never Killed Nobody (All We Got)
Fergie feat. Q-Tip and GoonRock's song has an uplifting beat that makes it perfect for… a little party.
Its catchy rhythms are sure to make children smile as they dance along. The song has been featured in the 2013 film "The Great Gatsby" to create a cheerful atmosphere at parties.
17
Glee Cast – I Wanna Dance with Somebody (Who Loves me)
The Glee Cast's cover of Whitney Houston's "I Wanna Dance with Somebody (Who Loves me)" is an uplifting, energetic song that will get anyone up and moving.
Its bright, fun beat will have children dancing without a care in the world. The cheerful chorus and upbeat tempo are perfect for any young dancer who loves the thrill of moving to music.
18
MARINA & THE DIAMONDS – Primadonna
Marina (formerly MARINA & THE DIAMONDS) has created a fun pop anthem that speaks of enjoying the finer things in life. The lyrics "Don't be scared to run your show, no one else could ever know" encourages children to be unique and express themselves through music and dancing.
Its infectious beat is sure to make them groove along, while its empowering message will make them feel like they can take on the world. This song is sure to lift their spirits and give them the motivation to be themselves.
19
Daft Punk with Pharrell Williams & Nile Rodgers – Get Lucky
Daft Punk's 2014 collaboration with Pharrell Williams and Nile Rodgers has seen a resurgence of the classic sound that made disco popular in the 70s.
Rodgers' infectious guitar riffs, coupled with Williams' soulful voice and Daft Punk's electronic production makes for an irresistible track – perfect for children to enjoy dancing to. It is a fantastic way for children to embrace the classic sound of disco in a modern way.
20
Beyoncé & JAY-Z – Crazy in love
The catchy rhythm of this song is impossible to resist! Its combination of up-beat hip hop and soulful R&B creates the perfect upbeat dance track that children can't help but move their feet to.
The infectious chorus will keep them singing along, making it a great choice for any child's party playlist. Whether they are twirling around or bopping their heads, the lively pace of this song will keep them entertained.
21
Los Del Rio – Macarena
Los Del Rio's infectious song has a catchy, upbeat rhythm that will get anyone up and dancing. The fun repetition makes it easy to learn and it is the perfect length for children to enjoy.
Its simple choreography and melody captivate children, making them want to keep dancing along with it. It is no wonder that this hit became a global success.
22
Las Ketchup – Aserejé (The Ketchup Song)
Las Ketchup has created a catchy Spanish pop song that will make children want to get up and dance. Its instantly recognizable chorus, combined with its simplified lyrics, ensures that everyone from toddlers to teens can join in on the fun.
The song was a worldwide hit in 2002, reaching number one on charts all over the world as well as being viewed millions of times on YouTube. It's no wonder why this song is still a favorite for children who love to dance and enjoy the summer vibes.
23
Shakira feat. Wyclef Jean – Hips Don't Lie
Shakira's hit single featuring Wyclef Jean has an upbeat rhythm and catchy chorus that will get anyone up and dancing. Its bouncy beat, combined with its danceable melody, makes it perfect for children to enjoy.
The uplifting lyrics make it fun to sing along to while dancing, making it a favorite among youngsters everywhere. The video is currently in the top 100 of Global Music Videos on YouTube.
24
Imagine Dragons – On Top of the World
This upbeat, uplifting track by Imagine Dragons will get children in the dancing mood. With its driving beat and encouraging lyrics, it's perfect for inspiring kids to keep reaching for their dreams.
The song's music video featuring a cast of animated characters is also sure to capture their attention and make the song even more enjoyable to dance to.
25
ABBA – Dancing Queen
This classic ABBA tune is sure to get any party started. Its timeless melody and catchy hook have been around for generations, ensuring that it will remain relevant for years to come.
With its upbeat tempo and instantly recognizable chorus, Dancing Queen is a great choice of music both children and adults can enjoy dancing to together. It is no wonder why this song has become a beloved classic.
Like it? Pin it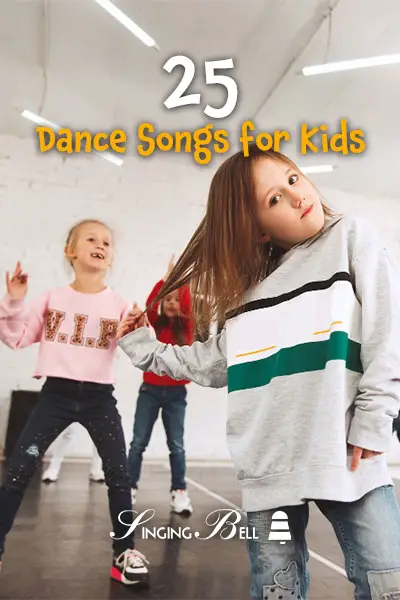 Did you like this post?
You may also like:
Move Your Feet! | 90+ Dance Quotes for Kids
20 Pop Songs for Kids – Which You Can Stand Too!
14 Fresh Summer Songs For Kids
160 Positive Quotes for Kids on the Good Side