Ah Poor Bird is a traditional English song.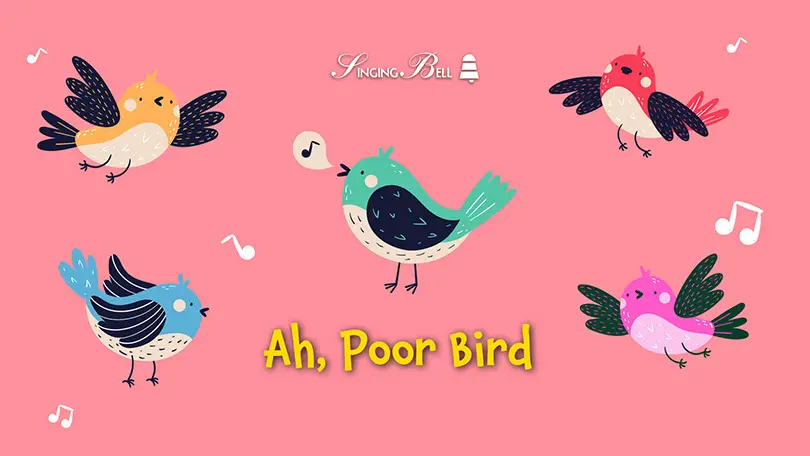 Are you looking for the perfect traditional song to share with your kids, students or friends? Look no further! "Ah, Poor Bird" is a classic tune that has been around since the 1800s. It is one of the most popular English rounds, ideal for choir warm-ups and a great way to get everyone singing and connecting in a fun and meaningful way.
Not only can you listen to this old-timey song with karaoke accompaniment if desired, but you can also find sheet music for both voice parts so even beginners will be able to join in. That said, here you'll find a Karaoke audio MP3 file of the song, a Karaoke video, a PDF with sheet music, and information about it.
If you are interested in singing more rounds you may like to take a look at our list with rounds for children.
So what are you waiting for? Let's explore this beloved folk song together!
Table of Contents
Ah Poor Bird Karaoke Video
Lyrics
1. Ah poor bird,
Take your flight,
Up above the sorrow
of this dark night.
2. Ah poor bird,
As you fly,
Can you see the dawn
of tomorrow's sky?
See also our 5 Bird Songs for Kids for High and Low Flights
Looking for the Alphabetical List of Children's Songs? Click here!
Ah Poor Bird karaoke mp3 download
To download your free instrumental mp3 of this song, right click on the following link, then choose "Save link as…"

"Ah! Poor Bird" free mp3 download (instrumental, 2:22 – 4/4 – 94 bpm)


Buy our entire album with 30 Favourite Nursery Rhymes for only 9.99 + 20 Bonus Instrumental versions and save 20$/€!
Ah Poor Bird Sheet Music and PDF
Click on the image to preview and
click on the following button to download
a PDF file with music score of this song for free.


Song Info
This canonic English folk song (round) is said to date back to the Elizabethan times (16th century). This traditional song tells the story of a bird that has lost its mate and expresses the sorrow and loneliness the bird feels.
As a round it is a favourite with singers and can be easily sung in combination with "Hey Ho Nobody Home" and "Rose, Rose".
Did you like this post?
You may also like:
Brahms' Lullaby (Cradle Song/Lullaby and Goodnight)