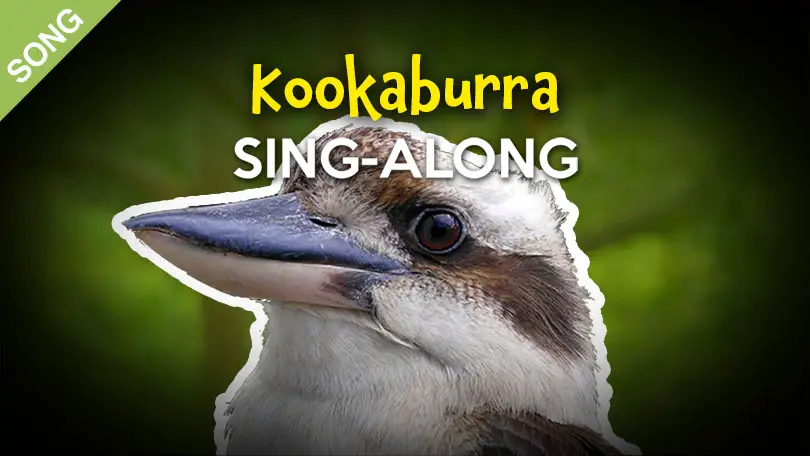 Children's song, Australia.
"Kookaburra" is an Australian nursery rhyme song about a native Australian bird of the Kingfisher family, whose loud call sounds are like echoing human laughter.  The name is a loanword from Wiradjuri guuguubarra, onomatopoeic of its call. The song was written in 1932 by Marion Sinclair, a music teacher at Toorak College, a girls' school in Melbourne. Soon it became popular all over the world, particularly in the United States, Canada and the United Kingdom, countries that have adopted it as a traditional song.
The song can be found on "The Worm Song and Other Tasty Tunes", Janet Wilson, 1993; also found in "Girl Guide Songbook, Vol. 1", Girl Guides Association, 1984 and in "Canciones de Nuestra Cabana", World Association of Girl Guides and Girl Scouts, 1980.
"Olly the Kookaburra" was one of the three mascots chosen for the 2000 Summer Olympics in Sydney.
The tune of "Kookaburra" can be sung as a round. (see also "Row, row, row your boat", "Frère Jacques", "Jack and Jill", "Three Blind Mice' and "Banuwa").
Sing-Along Video

Lyrics
Kookaburra sits on the old gum tree,
Merry merry king of the bush is he.
Laugh, Kookaburra, laugh, Kookaburra,
Gay your life must be!
Kookaburra sits on the old gum tree,
Eating all the gum drops he can see.
Stop, Kookaburra, stop
Kookaburra Save some there for me!
Kookaburra sits on the old gum tree,
Counting all the monkeys he can see.
Laugh Kookaburra, laugh Kookaburra
That's not a monkey, that's me!
Click on the button to watch a karaoke video and download a PDF file with lyrics to this song for free.

Free karaoke MP3 download
To download your free instrumental mp3 of this song, click or tap on the following button, then choose "Save link as…"

Click on the button to watch a glockenspiel / xylophone tutorial video and download a free printable PDF file with glockenspiel / xylophone Music Sheet and Note Chart of this song.

"Kookaburra" free mp3 download (instrumental, 1:53 – 4/4 – 120 bpm)
This composition is copyrighted | Licensing by Singing Bell is not available

---

This track is also featured in our New Album with 50 Instrumental Nursery Rhymes for karaoke, OUT NOW!
Sheet music with chords
To save this free music sheet of "Kookaburra" to your computer, right click (or tap and hold, on mobile devices) and choose "Save Image As…".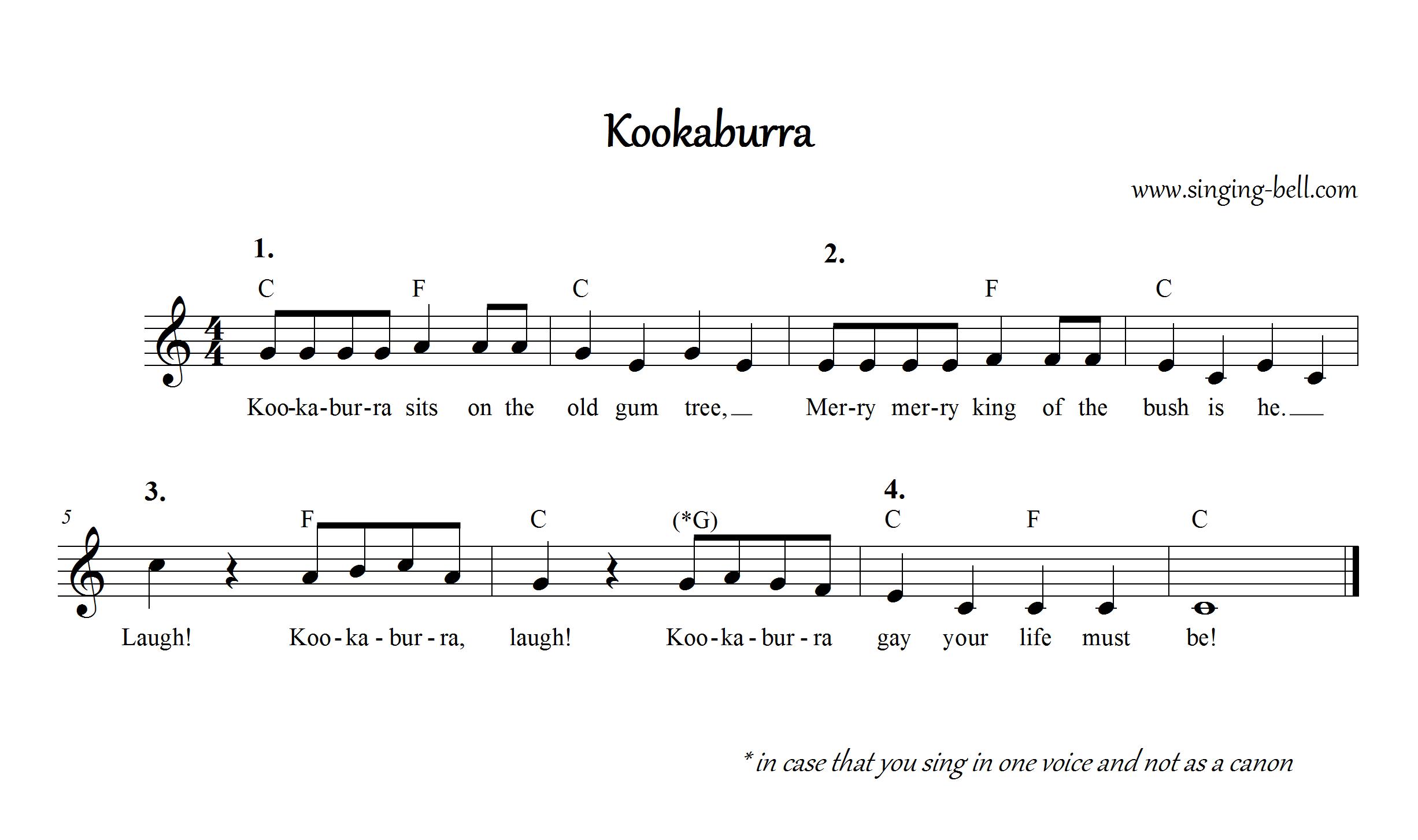 Free Printable PDF with Lyrics and Sheet Music


To download a ready-to-print PDF of this song for music activities with a music sheet, lyrics and a drawing for kids to paint, right click (or tap and hold) on the following link, then choose "Save link as…".
"Kookaburra" free PDF download – Singing Bell
Click on the button for a printable PDF file with Guitar Chords, Tabs and Sheet Music with notes and tablature for this song for free.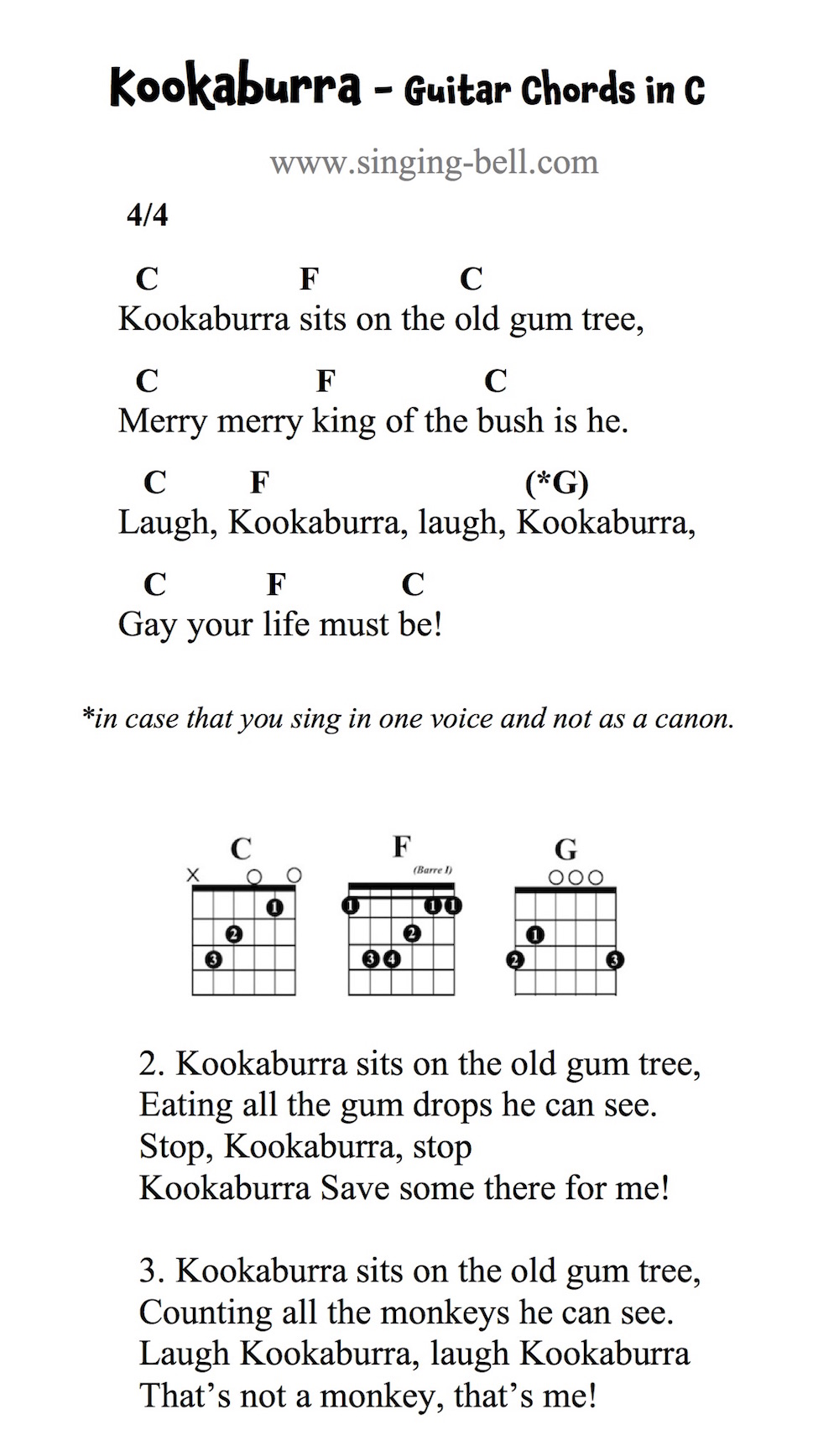 Teaching idea & activities
Sing the tune as a canon for two, three or four voices (see score).
Accompany the last four measures clapping or playing an Orff instrument like this:

Did you like this article?
You may also like:
Molly Malone (Cockles & Mussels)