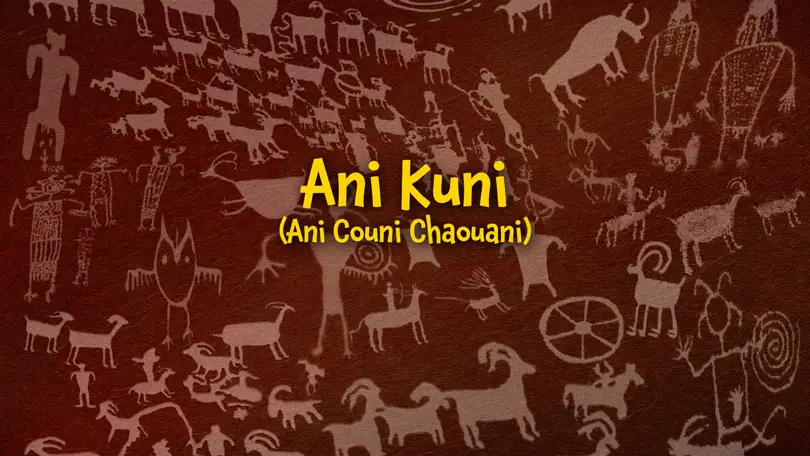 Prayer/children's song, Iroquois/Native American
"Ani Kuni" is a native American prayer that turned into a rhyme for kids or lullaby. Although most First Nations of Canada assimilated the prayer, it is likely that it came from the Iroquois nation. It was sung on a tinge of weeping, sometimes with tears on the cheeks of the dancers, thinking of their condition of dependence.
This Amerindian prayer is comparable to the Christian prayer Our Father (Pater Noster).
Table of Contents
Karaoke Video with Lyrics
---
Lyrics
Ani couni chaouani,
Ani couni chaouani;
Awawa bikana caïna,
Awawa bikana caïna;
éiaouni bissinni,
éiaouni bissinni.
Lyrics, English translation
My father, have mercy on me,
because I'm thirsty to death,
everything has disappeared – nothing more to eat
or :
When the evening descended upon the Indian village
The sorcerer appeared into the valley
Touching the ground with his hands.
Click on the button to watch a karaoke video and
download a PDF file with lyrics to this song for free.

Free karaoke MP3 download
To download your free instrumental mp3 of this song,
click or tap on the following button, then choose "Save link as…"

"Ani Kuni (Ani couni chaouani)" (instrumental, 1:10 – 4/4 – 95 bpm)


This track is also featured in our New Album with 50 Instrumental Nursery Rhymes for karaoke, OUT NOW!

MP4 Video File | Free Download
To watch the karaoke video of this song on your mobile device, click on the following link to download the video file (mp4 format).
Ani Kuni | Free mp4 Video File Download
Sheet music
To save this music score to your computer, right click (or tap and hold, on mobile devices) and choose "Save Image As…".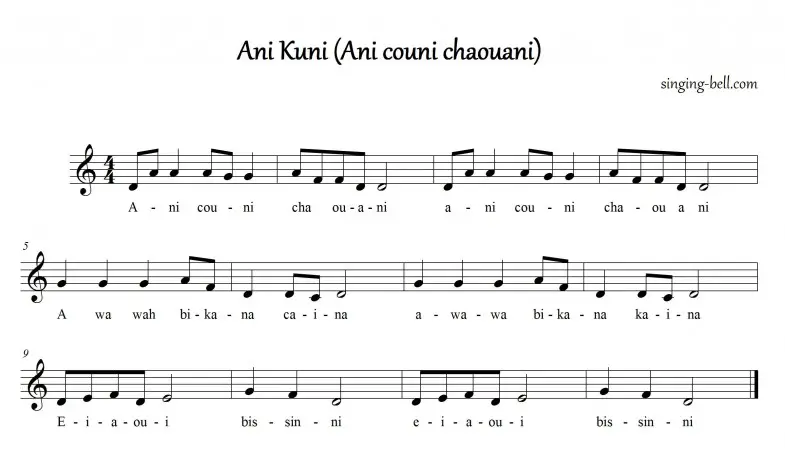 Free Printable PDF with Lyrics and Sheet Music

To download a ready-to-print PDF of this song for music activities with a music sheet, lyrics and a drawing for kids to paint, right click (or tap and hold) on the following link, then choose "Save link as…".
"Ani Kuni (Ani Couni Chaouani)" free PDF download – Singing Bell
Did you like this post?
You may also like: