London Bridge Is Falling Down – Piano Tutorial Video
"London Bridge Is Falling Down" is a traditional nursery rhyme whose earliest known records are from the 17th century. The song recounts the attempts to repair the bridge of London.
On this page you can find Notes, Chords and Activities for the song, and a Printable PDF for free Download.
If you would like to watch and sing this children's song with vocals, click here for the sing-along version.
---
Music Score / sheet music with chords
To save this free music sheet of "London Bridge Is Falling Down" to your computer, right click and choose "Save Image As…".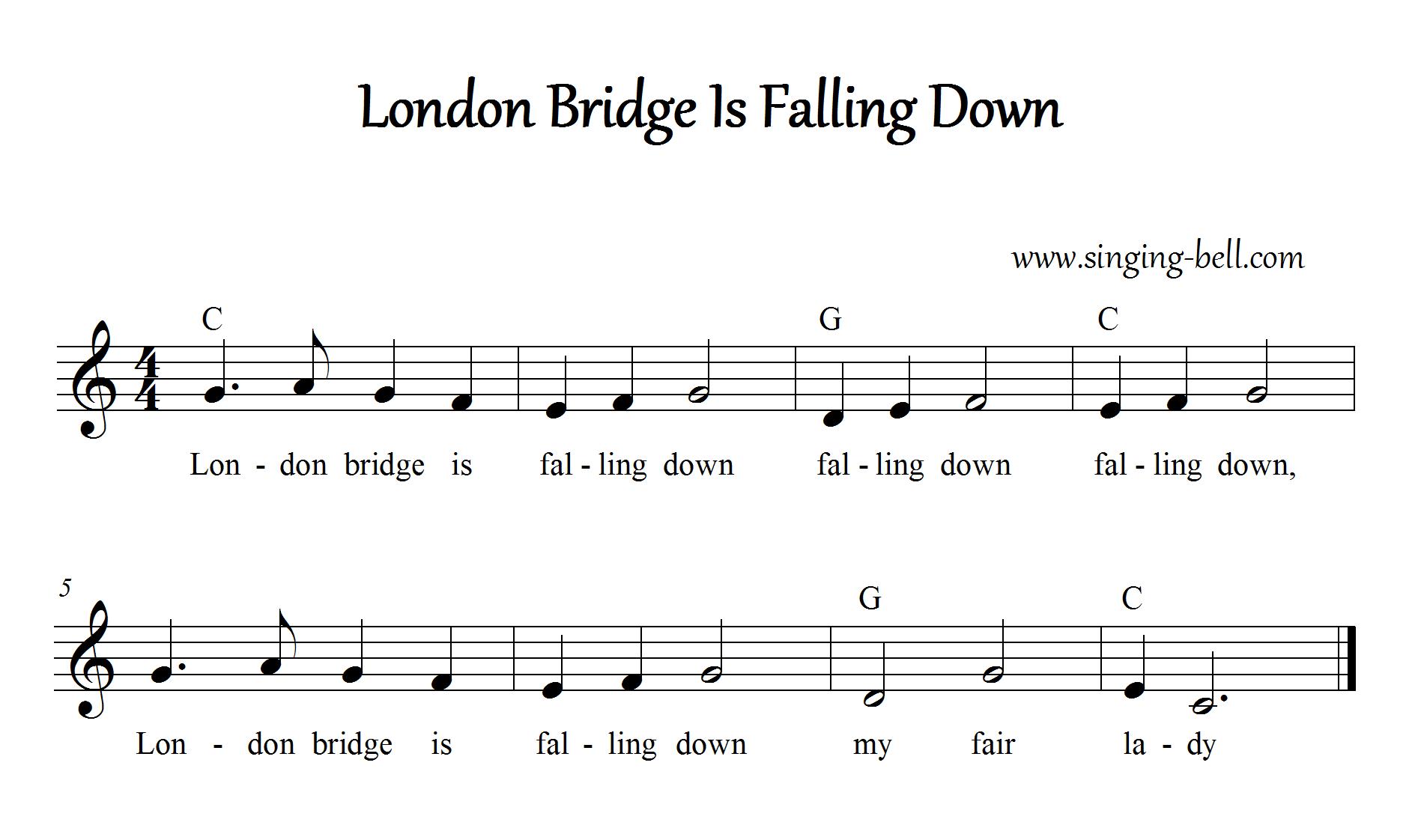 ---
Free Printable PDF with Lyrics and Music sheet


To download a ready-to-print PDF of "London Bridge Is Falling Down" for music activities with a music sheet, lyrics and a drawing for kids to paint, right click (or tap and hold, on mobile devices) on the following link, then choose "Save link as…".
"London Bridge Is Falling Down" free PDF download – Singing Bell
---
Teaching idea & activities

Two children make an arch, face to face with their hands up. The rest of them make a line in front of them, ready to walk under the arch.
They start singing all together while the "line" pass under the arch. At the end of the first verse, the song stops and the two "arch" children catch the child who has stopped under their hands and send them out of the line.
Continue and repeat the same at the end of every verse until all the children have been caught.
You may also like:
How to Play Twinkle, Twinkle, Little Star on the Piano – Notes, Chords, Sheet Music and Activities
How to Play La Cucaracha – Notes, Chords, Sheet Music and Activities
How to Play Finger Family – Notes, Chords, Sheet Music and Activities