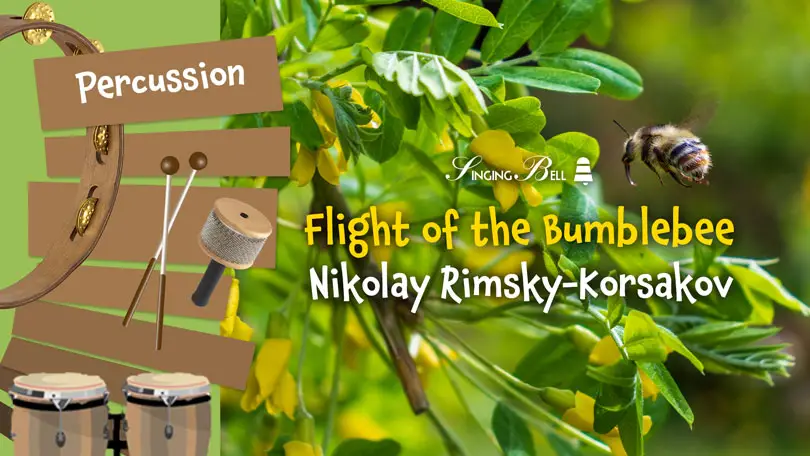 The Flight of the Bumblebee is one of the most famous pieces in the classical music repertoire. On this page you can find an adaption for marimba with free marimba sheet music and a printable PDF file for free download.
Russian composer Nikolay Rimsky-Korsakov wrote this piece as an orchestral interlude for his opera The Tale of Tsar Saltan. The Flight of the Bumblebee theme is heard at the point where the Tsar's son transforms from a magic bird into an insect, in order to fly free and visit his father. Its melody was composed to musically evoke the flying pattern of the bee.
This piece is not only enjoyable but also extremely skillful as it requires great speed from the musicians. This is how it has become established in the repertoire of all musical instruments, and it can be heard in  hundreds of versions of performances that sound like speed competitions!
Sheet Music Details
As mentioned above, this piece is a test of the musician's speed skills. It is played on the marimba with two mallets. For the most part it covers the area C4 – E6, but in the end it reaches up to A6 and ends with A3 as the last note.
Flight of the Bumblebee – Free Solo Marimba Sheet Music PDF
(PDF download button below)
Click on the following images to preview the music sheet.
Click here or on the following button for a free download
of the percussion sheet music in PDF.

Flight of the Bumblebee – Orchestra
Flight of the Bumblebee – Solo Marimba
Did you like this post?
You may also like:
Bach's Violin Concerto in A minor – Solo Marimba Sheet Music
The Pink Panther Theme – Percussion Ensemble and Solo Marimba Sheet Music
Havana – Percussion Ensemble Sheet Music
Seven Nation Army – Percussion Ensemble Sheet Music
We don't talk about Bruno – Percussion Ensemble Sheet Music