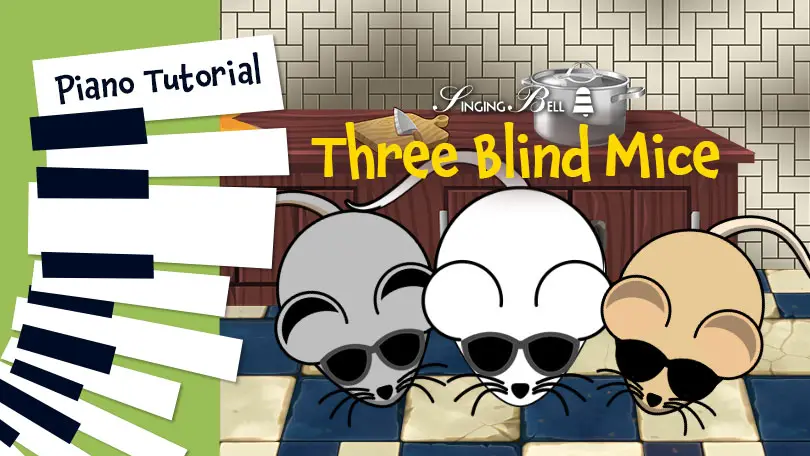 "Three Blind Mice" is a nursery rhyme which can be sung as a round. (see also "Banuwa", "Frère Jacques", "Kookabura", "Row, row, row your boat" and "Jack and Jill").
A version of this rhyme was published in 1609 by Thomas Ravenscroft, an English musician, theorist and editor, notable as a composer of rounds. It seems that the text was a reference to the execution of three Protestant bishops by order of the Queen Mary I of England, although their "blindness", seen by Catholics, could be the Protestantism.
On this page you can find an easy piano tutorial video and a printable PDF file with piano sheet music for beginners.
Piano Tutorial Video for Beginners (Two Hands)
Piano Sheet Music for Beginners (Two Hands) – Free Printable PDF

The arrangement is for easy piano level in C major key. As you can see, the left hand is very easy, imitating the tune or playing only one note which implies the corresponding chord.
Remember to practice the left hand alone before joining the two hands together. Then play the tune at a slow tempo, until you get the hang of it.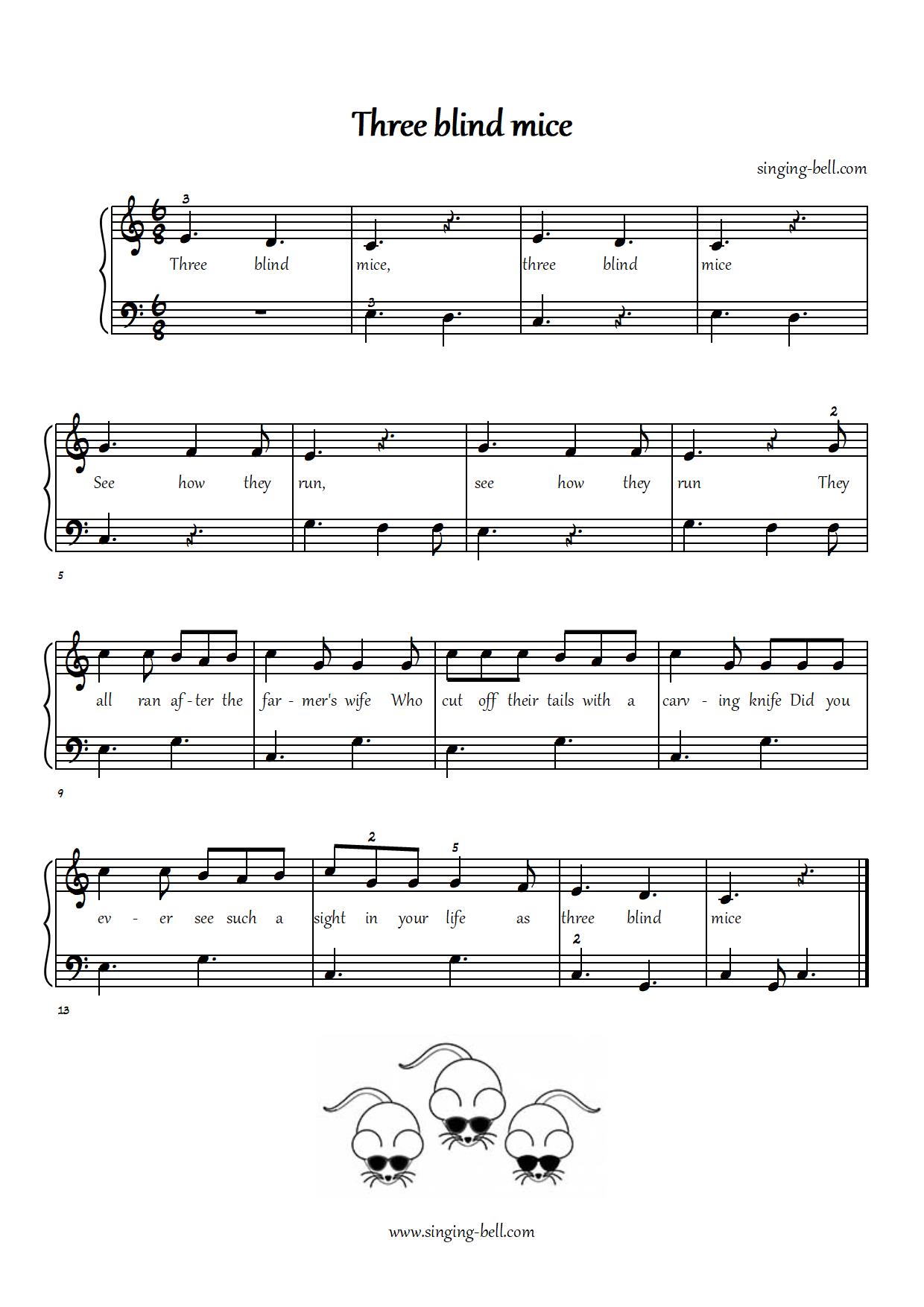 To download a printable PDF of this song with easy piano sheet music for beginners, click on the image above or on the following link.
"Three Blind Mice" Piano Sheet Music for Beginners | Free PDF Download – Singing Bell
Watch a karaoke video and download a PDF file with lyrics to this song for free by clicking on the following button.

Click on the button to watch a sing-along video and download an instrumental mp3 of this song for free.

Did you like this post?
You may also like:
Baby Bumblebee – Piano Tutorial, Notes, Chords, Sheet Music
ABC Song (The Alphabet Song) – Piano Tutorial, Notes, Chords, Sheet Music and Activities
Finger Family – Piano Tutorial, Notes, Chords, Sheet Music and Activities
Five Little Ducks – Piano Tutorial, Notes, Chords, Sheet Music
Jurassic Park Opening Theme – Piano Tutorial, Sheet Music, Notes, Chords
Ode to Joy – Piano Tutorial, Notes, Chords, Sheet Music
Lavender's Blue – Piano Tutorial, Notes, Chords, Sheet Music