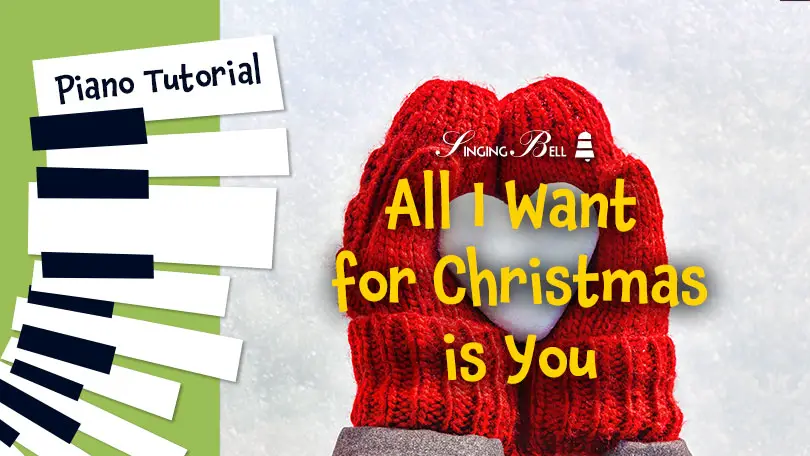 "All I want for Christmas is Yοu" is a 1994 Christmas song by American singer-songwriter Mariah Carey and Walter Afanasieff  in 1994. The track is an uptempo love song that includes bell chimes, backing vocals and synthesizers.
Ever since its release, the song has been met with universal critical acclaim, being Carey's biggest international success.
On this page you can find a free printable PDF with piano sheet music, as well as a piano tutorial video. You can find more Christmas song for piano for beginners in our collection with 35 Christmas Carols and Songs on the piano.
Table of Contents
How to Play All I Want for Christmas is You on the Piano – Easy Piano Tutorial Video
Easy piano sheet music for beginners
We 'd say that the song as adapted here is at an early intermediate level. The harmony is rather simplified with the left hand playing half and whole notes. Yet the right one has to focus more on the rhythm and the accidental notes. In addition, it changes position every two meters.
Notice that the original chords are more complicated and it is Mariah Carey herself who commented that "the song's jaunty piano chords and melody keep the song merrily bouncing along".
Nevertheless, a beginner can cope and will enjoy this arrangement. Watch the video above if you need more help in order to see how to put two hands together on the piano.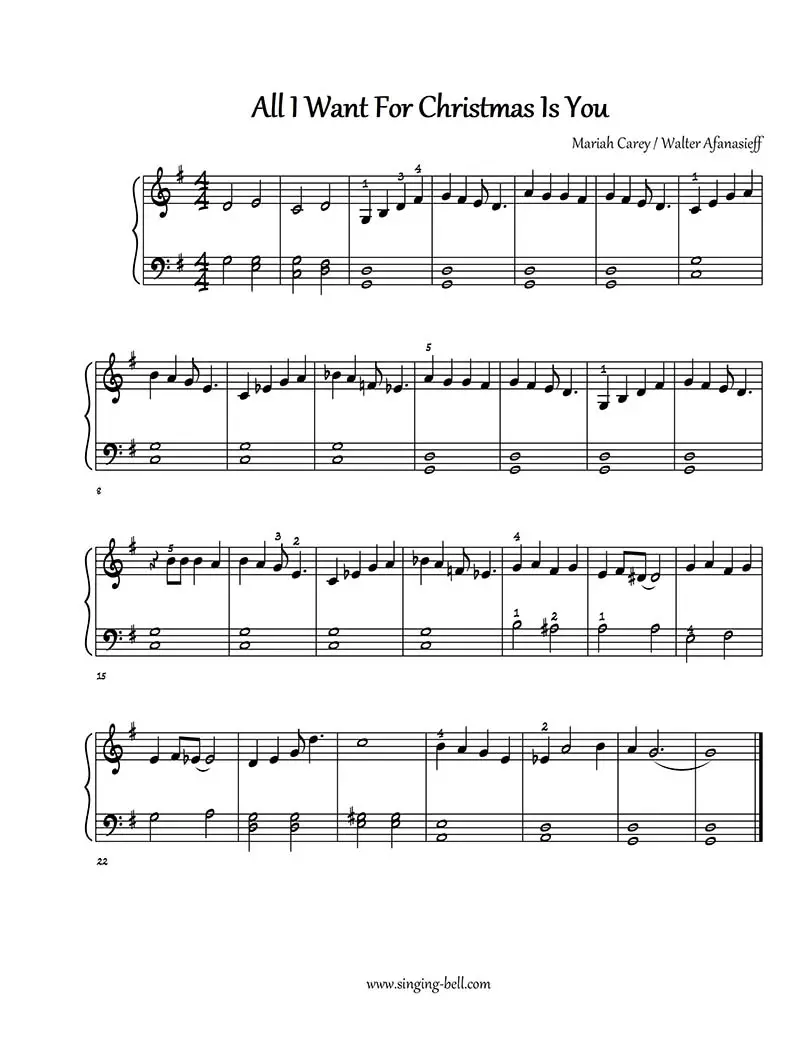 26+1 Easy Christmas Piano Sheet Music for Beginners
Free Printable PDF with Piano Sheet Music and Lyrics

To download a printable PDF of this song for music activities with sheet music, lyrics and a drawing for kids to paint, click on the button above or on the following link.
"All I want for Christmas is Yοu" free PDF download – Singing Bell
Did you like this post? Rate it!
You may also like:
Last Christmas – How to play on the Piano
Jingle Bells – How to play on the Piano
Adeste Fideles (O Come All Ye Faithful) – How to play on the Piano