One way to celebrate Black History Month is by introducing kids to Black History Month Songs that reflect the history and culture of African Americans.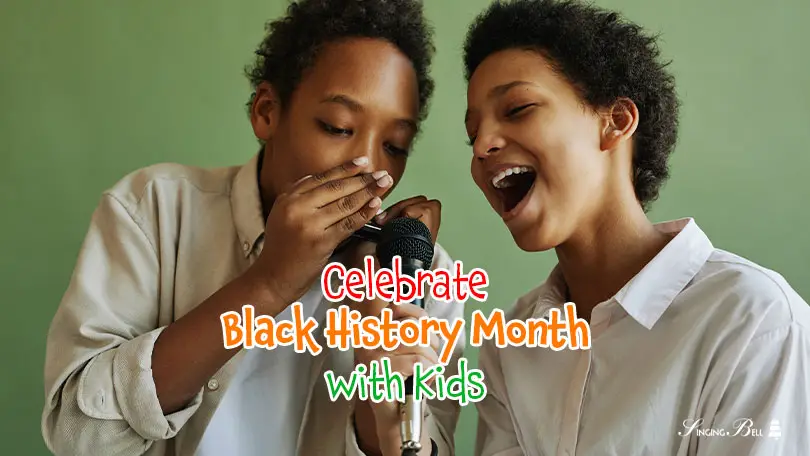 Black History Month is an important time to celebrate the contributions of African Americans and recognize their many accomplishments. One way to do this is by introducing kids to music that reflects the history and culture of African Americans.
Besides the obvious choices of gospel and negro spirituals, this list was created to include jazz, soul, blues, rock, rap, and hip hop songs, following a trail from the 20th century to the present.
Here are some great songs to explore with your students or children during this significant celebration.
Table of Contents
When is Black History Month celebrated?
Black History Month is an annual celebration of black culture and heritage, and takes place each February in the United States. It first started in February of 1926 when Dr. Carter G. Woodson proposed a "Negro History Week" to recognize black history and accomplishments.
Every year since, black Americans have celebrated black joy through various events and activities, such as film screenings, protests and marches, lectures, community potlucks or festivals.
This celebration serves as an opportunity for all people to actively reflect on the stories of untold generations that often go unrecognized, and to celebrate black joy despite centuries of systemic racism and oppression.
11 Great Samples of Black Music History
1
"Lift Every Voice and Sing" – James Weldon Johnson (1905)
"Lift Every Voice and Sing" Alicia Keys 2020 performance for NFL
This powerful song has been called the "Black National Anthem."
It was composed in 1905 by James Weldon Johnson, a prominent African American writer and civil rights leader, as a poem for a celebration of Abraham Lincoln's birthday.
The lyrics are full of hope and pride, and it can be used to open this celebration.
2
"A Change is Gonna Come" – Sam Cooke (1964)
Written by Sam Cooke in 1964, this soul classic has become an anthem for the Civil Rights Movement.
It was inspired by events such as the Birmingham church bombing in 1963 and speaks to the power of hope—that despite all the struggles faced, change will come.
This song can help young learners understand how meaningful social change can happen over time.
3
"Mississippi Goddam" – Nina Simone (1964)
"Mississippi Goddam" by Nina Simone is a powerful choice.
Recorded in 1964, it was written in response to a string of civil rights activists' tragic deaths–Medgar Evers, Marilyn Nelson and four black girls who were killed in the 16th Street Baptist Church bombing.
There's no denying that this song is an effective reminder to never forget how far black individuals have come in their fight for justice and equality. The raw emotion that resonates from this track alone speaks volumes about black resilience and the strength found when facing adversity.
4
"Say It Loud — I'm Black and I'm Proud" – James Brown (1968)
James Brown's "Say It Loud – I'm Black and I'm Proud" is a funk classic that, even after more than 50 years, still serves as an iconic tribute to the African diaspora to this day.
The power in the words of the song made it an obvious choice due to its message. Not only does it express a sense of racial pride, but it also speaks out against obstacles placed on black individuals by society.
After all these years, the funk beat and powerful words of "Say It Loud — I'm Black and I'm Proud" remain timeless and speak of present-day topics.
5
"Glory" – Common and John Legend (2015)
Taken from the soundtrack of the movie "Selma", "Glory" by Common and John Legend is a great choice to celebrate the accomplishments of Black Americans throughout history.
With inspiring lyrics, stirring melodies and passionate performances, it is an uplifting tribute to activists, who fought for social justice and liberation during the civil rights movement.
The music video that accompanies "Glory", featuring then-president Barack Obama and other freedom fighters, further stands as a reminder of how far African Americans have come in pursuit of equality.
6
"Golden" – Jill Scott (2004)
This soulful composition by Jill Scott embraces the world we live in and creates a complex, gentle soundscape with its rich instrumentation.
The lyrics are uplifting and promote messages of love, freedom, joy, self-acceptance and community. These values serve as a crucial reminder of the importance of coming together to create meaningful positive change.
"Golden" celebrates every individual's unique gifts and encourages us to appreciate our world for its beauty and potential.
7
"Get Up, Stand Up" – Bob Marley and the Wailers (1973)
Originally written by Marley in 1973 as an outcry for freedom and human rights, this tune calls on us to stand up against social injustice, oppression, and poverty. Its message is especially poignant as it recognizes the resilience and strength of African American people despite discrimination and adversity.
The song's powerful lyrics are easy to learn so anyone who hears it can immediately join along in singing its chorus.
With its universal call for justice and promise of hope, this track will connect us all while continuing to make a lasting impression across the world.
8
"Freedom" – Beyoncé ft.Kendrick Lamar (2016)
Beyoncé's collaboration with Kendrick Lamar, "Freedom", is an ideal choice for a song to mark black history.
It speaks to black liberation and resilience with meaningful lyrics of how black music, black freedom and black joy must live forever.
The hauntingly beautiful arrangement is rooted in black history, drawing from musics like gospel, reggae and African sounds, while weaving together powerful drums and electronic instrumentation to create a soundscape of black power.
Using this song with your students can help them learn about resilience in the face of adversity.
9
"The revolution will not be televised" – Gil Scott-Heron (1971)
"The Revolution Will Not Be Televised" by the legendary Gil Scott-Heron has long served as a powerful statement of black resilience and perseverance in the face of long-standing systemic oppression.
Its simple motif of shutting out the noise and remembering black empowerment is both timeless and especially relevant to today's society.
The song represents black music as not just a source entertainment, but a key form of expression for black people—one that carries their struggles, determination, and strength against injustice to its listeners wherever it is played.
This makes it an excellent choice for anyone looking to honor black history by playing an anthem of black power.
10
"What's going on" – Marvin Gaye (1971)
Marvin Gaye's classic from the self-titled album is a powerful tribute to black music, making it an ideal choice for celebrating this month.
The earnest lyrics and soulful music crafted by the Motown legend paints a portrait of what black people have gone through in their struggle for equality and justice. The song is timeless and resonates with contemporary experiences while also delivering a soothing melody that is easy to embrace.
With its vibrant message of hope delivered through beautiful harmonies, "What's Going On" provides a perfect interpretation of black history – both musically and lyrically.
11
"Strange Fruit" – Billie Holiday (1939)
"Strange Fruit" by Billie Holiday is music at its most powerful.
Written in the 1930s and based on a poem that highlighted the horror of the lynching of African Americans, it has become a timeless reference to the fight against racial injustice.
Holiday's vocal delivery of this song conveys an almost unbearable force of sorrow, outrage and courage – all within a single performance.
This extraordinary music stands as a testament to the legacy of struggle and creativity which lies at the heart of Black culture, memorializing both its pain and its joy.
Conclusion
Songs can be an incredibly powerful way to teach kids about history and current events.
As you explore these songs together this Black History Month, help children understand what they mean on a deeper level so they can begin developing empathy for others who have faced discrimination or oppression throughout history.
By engaging with these songs, children will develop respect for diversity while deepening their understanding of our shared past.
Playlist: Black History Month Songs for kids
Like it? Pin it!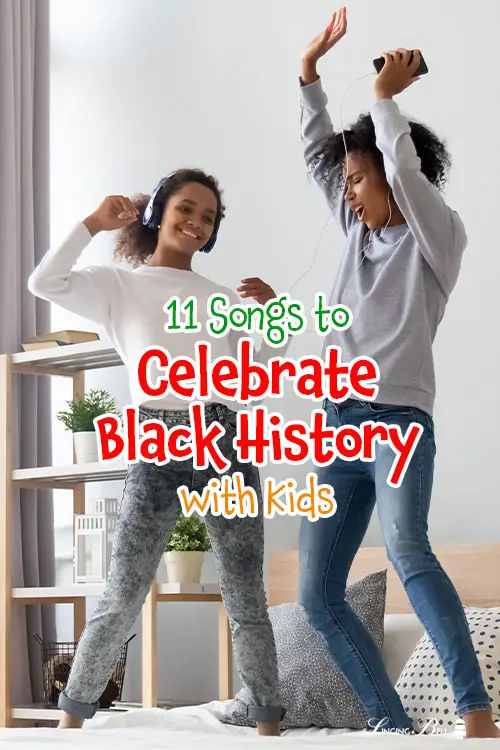 Did you like this post?
You may also like:
Ways to Celebrate Martin Luther King Jr. Day at School
25 Best Dance Songs for Kids Which Will Make Them Move their Feet
15 Uplifting Hispanic Heritage Month Songs for Kids
15 Grown-up Love Songs that Kids Will Love Too
10 Peace Songs for Kids to Symbolize the Fight for World Unity