If you've been looking for Away in a Manger lyrics, especially if you'd like to print them out, then you're on the right page!
"Away in a manger" is a very popular Christmas carol among all carols for children. We don't know who the author of the lyrics is – although a poem of Luther was previously considered to be the basis for the song.
The most common version is composed by William J. Kirkpatrick in 1895, although there is an older one tune composed by James Ramsey Murray in 1887.
On this page you'll find the lyrics of the carol and a printable PDF file with lyrics for free download. You can also watch a karaoke video with lyrics. Enjoy!
Table of Contents
Printable Away in a Manger Lyrics PDF
Click on the button to download a PDF file with lyrics to this song for free.

Away in a Manger Lyrics
Away in a manger, no crib for a bed,
The little Lord Jesus laid down his sweet head,
The stars in the bright sky looked down where he lay,
The little Lord Jesus asleep on the hay.
The cattle are lowing, the baby awakes,
But little Lord Jesus no crying he makes.
I love you, Lord Jesus; look down from the sky,
And stay by my side until morning is nigh.
Be near me, Lord Jesus, I ask you to stay
Close by me for ever, and love me, I pray.
Bless all the dear children in your tender care,
And fit us for heaven, to live with you there.
Karaoke Video with Lyrics
Did you like this post?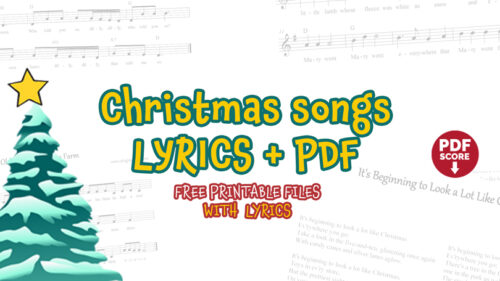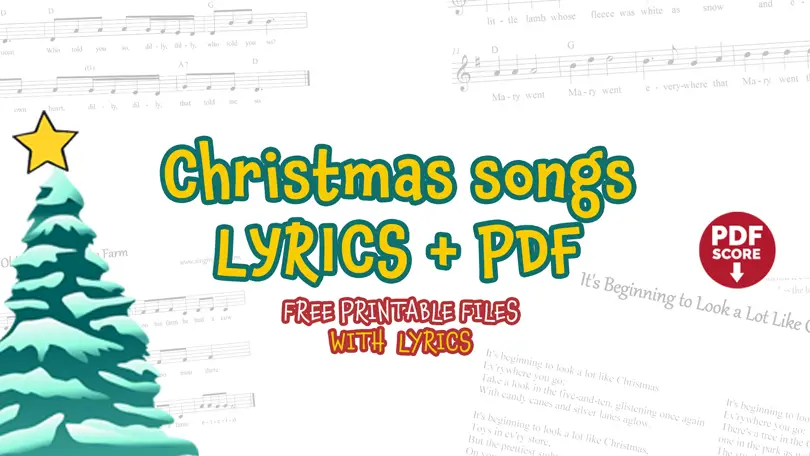 Looking for all our Christmas Lyrics?

Here are 120+ Christmas Songs Lyrics to Help You Spread the Spirit
You may also like:
Little Drummer Boy – Printable Lyrics PDF
Feliz Navidad – Printable Lyrics PDF
Fum Fum Fum – Printable Lyrics PDF
Angels We Have Heard On High (Gloria In Excelsis Deo) Printable Lyrics – PDF
Feliz Navidad Printable Lyrics – PDF
Winter Wonderland – Printable Lyrics PDF
Jingle Bell Rock Printable Lyrics – PDF
Hark! The Herald Angels Sing – Printable Lyrics PDF