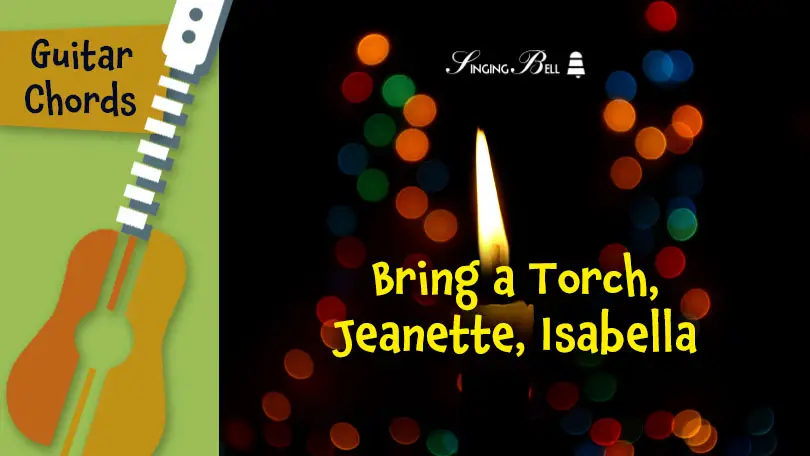 If you've been looking for Bring a Torch Jeanette Isabella guitar chords, then you're on the right page!
"Bring a Torch, Jeanette, Isabella (Un flambeau, Jeanette, Isabelle)" is a 16th century Christmas Carol from the region of Provence, France, originally being a dancing piece for the French aristocrats. In the 18th century the song was translated into English.
Up to this day, on Christmas Eve in the Provence region, children dressed as shepherds and milkmaids carry torches and candles while singing the carol, on their way to Midnight Mass.
On this page you will not only find guitar chords and tabs; You can also download for free a Printable PDF file.
Table of Contents
Guitar Chords and Tabs
To save this free image with the guitar chords of "Bring a Torch, Jeanette, Isabella" to your computer, right click (or tap and hold, on mobile devices) and choose "Save Image As…".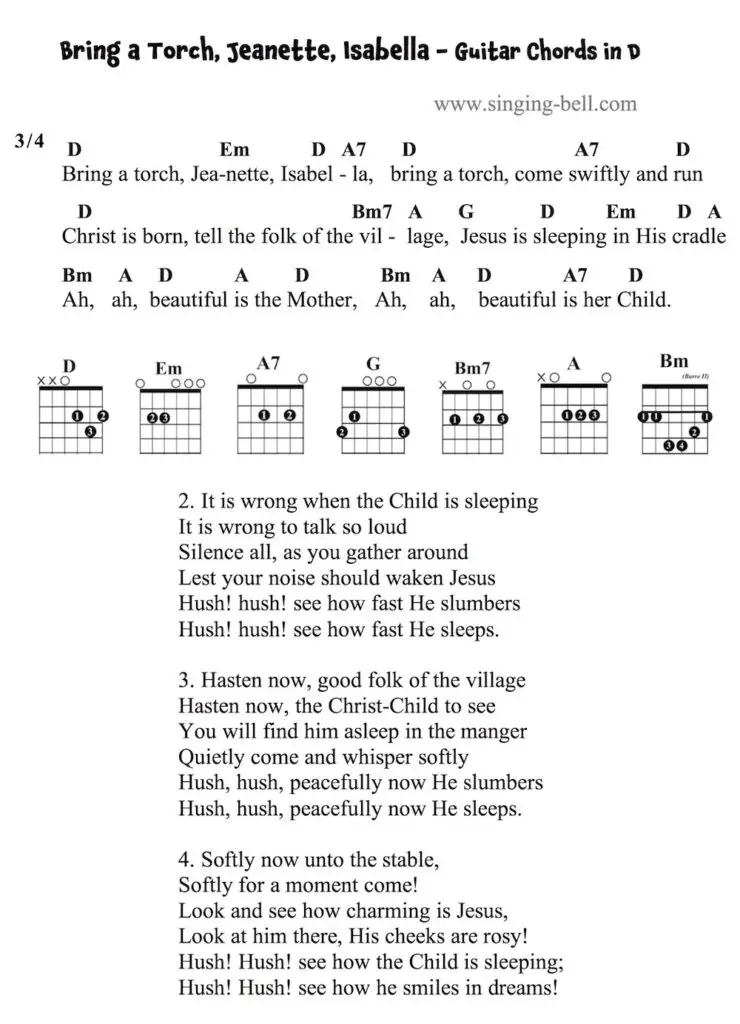 Bring a Torch Jeanette Isabella Guitar Chords Free Printable PDF

To download a ready-to-print PDF of this song with guitar chords, click (or tap) on the button above or on the following link.
"Bring a Torch, Jeanette, Isabella" Guitar Chords – Singing Bell
Did you like this post?
You might also like:
All I Want for Christmas is You – Guitar Chords, Tabs, Sheet Music for Guitar, Printable PDF
Fum Fum Fum – Guitar Chords, Tabs, Sheet Music for Guitar, Printable PDF
Rudolph the Red-Nosed Reindeer – Guitar Chords, Tabs, Sheet Music for Guitar, Printable PDF
Santa Claus is Coming to Town – Guitar Chords, Tabs, Sheet Music for Guitar, Printable PDF
Last Christmas – Guitar Chords, Tabs, Sheet Music for Guitar, Printable PDF
Adeste Fideles (O Come, All Ye Faithful) – Guitar Chords, Tabs, Sheet Music for Guitar, Printable PDF