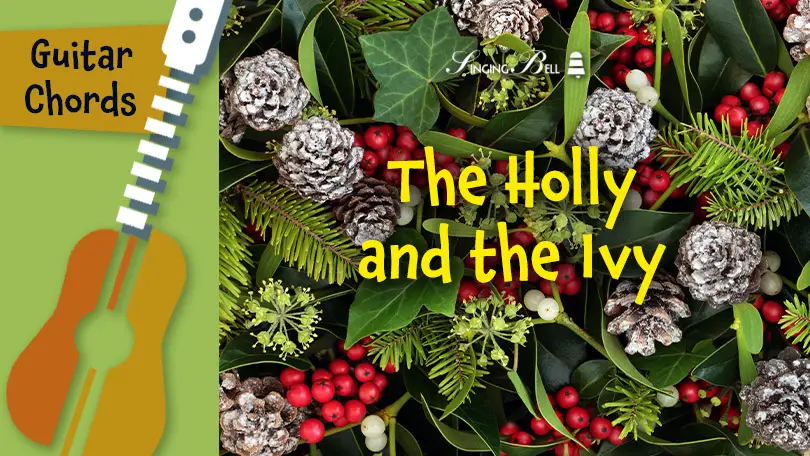 "The Holly and the Ivy" is a traditional British Christmas carol that makes reference to two plants. These plants have been a standard of British Christmas decoration for church use since the 15th and 16th century. The version which is now popular was collected in 1909 by the English folk song collector Cecil Sharp from a woman named Mary Clayton.
On this page you can find guitar chords and tabs. You can also download for free a Printable PDF file with guitar chords.
Guitar Chords and Tabs
To save this free image with the guitar chords of "The Holly and the Ivy" to your computer, right click (or tap and hold, on mobile devices) and choose "Save Image As…".
Free Printable PDF with Guitar Chords

For downloading a ready-to-print PDF of this song with guitar chords, click (or tap) on the button above or on the following link.
"The Holly and the Ivy" Guitar Chords – Singing Bell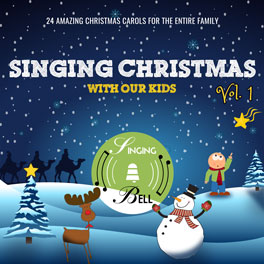 Singing Christmas: Singing Bell's Album with 24 Christmas Carols for the entire family is OUT NOW!
Did you like this post?
You might also like:
Have Yourself a Merry Little Christmas – Guitar Chords, Tabs, Sheet Music for Guitar, Printable PDF
While Shepherds Watched their Flocks – Guitar Chords, Tabs, Sheet Music for Guitar, Printable PDF
All I Want for Christmas is You – Guitar Chords, Tabs, Sheet Music for Guitar, Printable PDF
Fum Fum Fum – Guitar Chords, Tabs, Sheet Music for Guitar, Printable PDF
Rudolph the Red-Nosed Reindeer – Guitar Chords, Tabs, Sheet Music for Guitar, Printable PDF
Last Christmas – Guitar Chords, Tabs, Sheet Music for Guitar, Printable PDF
We Wish You A Merry Christmas – Guitar Chords, Tabs, Sheet Music for Guitar, Printable PDF