Children's song, U.K.
"Oranges and Lemons" is a nursery rhyme and one of the most popular singing games.
The text cites, through their bells who are supposed to talk to each other, several churches of London. The first of them, St. Clement, could be referring to the church of St. Clement Danes or St. Clement Eastcheap, close to which there is a market of citrus fruits. The bells of St. Clement Danes are today tuned to the melody of the rhyme. The last stanza appears for the first time in James Orchard Halliwell's collection of English Nursery Rhymes, in 1840's, while in earlier versions it was absent.
Sing-Along Video

---
Lyrics

1. Oranges and lemons,
Say the bells of St. Clement's.
You owe me five farthings,
Say the bells of St. Martin's.
2. When will you pay me?
Say the bells of Old Bailey.
When I grow rich,
Say the bells of Shoreditch.
3. When will that be?
Say the bells of Stepney.
I do not know,
Says the great bell of Bow.
4. Here comes a candle
to light you to bed.
And here comes a chopper
to chop off your head!
---
Click on the button to watch a karaoke video and download a PDF file with lyrics to this song for free.

---
Free karaoke MP3 download
To download your free instrumental mp3 of this song, click or tap on the following button, then choose "Save link as…"

"Oranges and Lemons" free mp3 download (instrumental, 1:40 – 3/4 – 133 bpm)

---

Buy our entire album with 30 Favourite Nursery Rhymes for only 9.99 + 20 Bonus Instrumental versions and save 20$/€!
---

MP4 Video File | Free Download

To watch the karaoke video of this song on your mobile device, click on the following link to download the video file (mp4 format).
Oranges and Lemons | Free mp4 Video File Download
---
Sheet music with chords
To save this free music sheet of "Oranges and Lemons" to your computer, right click (or tap and hold, on mobile devices) and choose "Save Image As…".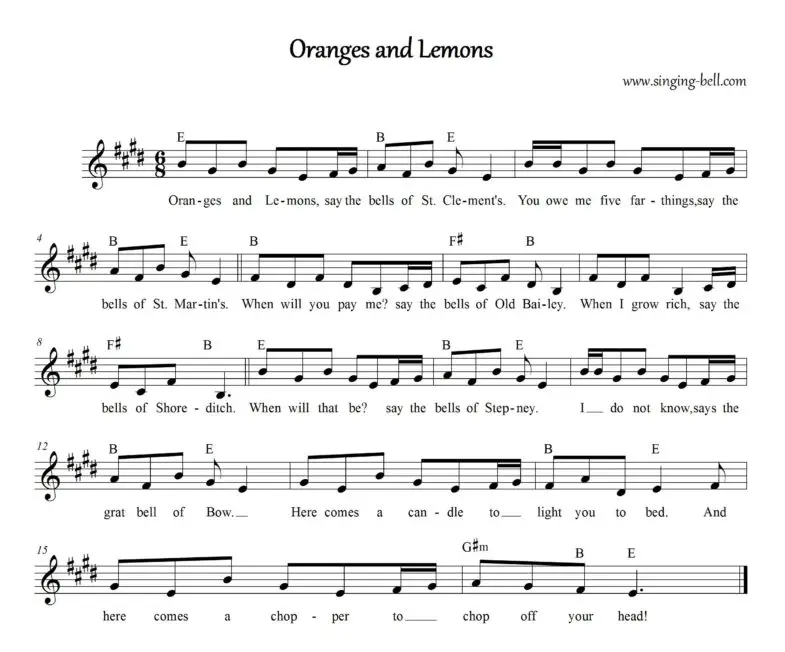 ---
Free Printable PDF with Lyrics and Sheet Music


To download a ready-to-print PDF of this song for music activities with a music sheet, lyrics and a drawing for kids to paint, right click (or tap and hold) on the following link, then choose "Save link as…".
"Oranges and Lemons" free PDF download – Singing Bell
---
Teaching idea and activities
The song "Oranges and Lemons" is followed by a very popular game:
A couple of children determine in secret which of them shall be an 'orange' and which a 'lemon', and they form an arch with their arms. The other children form a row and pass under the arch.
At the last verse of the song the arch falls and the two children catch the child who passes at that moment, asking him privately whether he chooses 'orange' or 'lemon'. He goes behind the corresponding child and the game goes on by singing again.
When there are no more children in the row, the two groups – 'oranges' and 'lemons' – play a 'tug of war' or they just count how many they are, in order to find the winner.
In another version of the game, the children pass in couples under the arch, and if they are caught they form another arch next to the first one. As the series of arches becomes longer and longer, the children have to run faster in order to escape from them.
For older children that learn music, you can teach them the harmonic relationship between the chords of tonic and dominant:
The song starts at E major (tonic) combined with its dominant B, but at the next phrase B major is the tonic and it's followed by F# major which returns again at B. Can you transpose the melody using other pairs of tonic-dominant? (as C-G, G-D, D-A, etc.)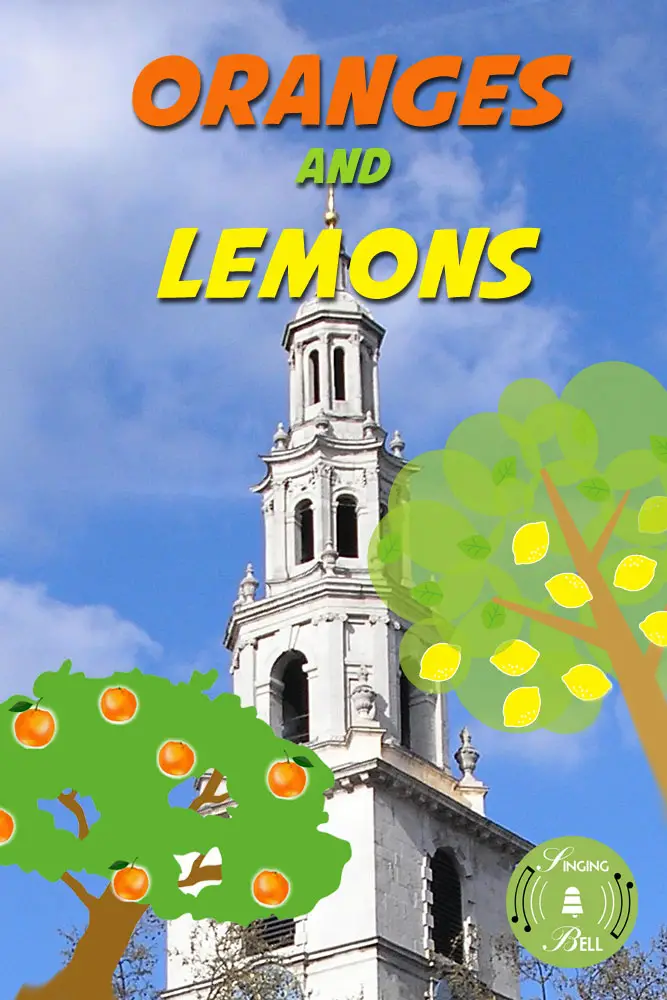 You may also like: