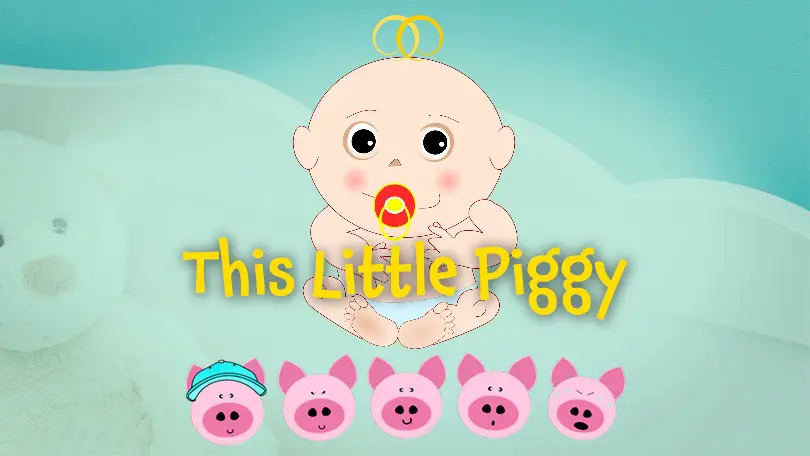 Nursery rhyme, England.
"This Little Piggy" is a British nursery rhyme and fingerplay. In 1728, the first line of the rhyme appeared in a medley called "The Nurse's Song".
The first known full version was recorded in The Famous Tommy Thumb's Little Story-Book, published in London about 1760. The full rhyme continued to appear, with slight variations, in many late 18th and early 19th century collections. Until the mid-20th century, the lines referred to "little pigs".
Karaoke Video with Lyrics
Lyrics
This little piggy went to market,
This little piggy stayed home,
This little piggy had roast beef
This little piggy had none,
And this little piggy cried wee wee wee all the way home.
Click on the button to watch a karaoke video and download a PDF file with lyrics to this song for free.

Free karaoke MP3 download
To download your free instrumental mp3 of this song, click or tap on the following button, then choose "Save link as…"

"This Little Piggy" (instrumental, 3:34 – 2/4 – 132 bpm)

---
This track is also featured in our New Album with 50 Instrumental Nursery Rhymes for karaoke, OUT NOW!
---

MP4 Video File | Free Download

To watch the karaoke video of this song on your mobile device, click on the following link to download the video file (mp4 format).
This Little Piggy | Free mp4 Video File Download
Sheet music with chords
To save this free music sheet of "This Little Piggy" to your computer, right click (or tap and hold, on mobile devices) and choose "Save Image As…".
Free Printable PDF with Lyrics and Sheet Music


To download a ready-to-print PDF of this song for music activities with a music sheet, lyrics and a drawing for kids to paint, right click (or tap and hold) on the following link, then choose "Save link as…".
"This Little Piggy" free PDF download – Singing Bell
Teaching idea & activities
Count out on a baby or children's toes, while singing a line for every toe, starting with the big and ending with the little one. A foot tickle is usually added during the "Wee…all the way home" section of the last line.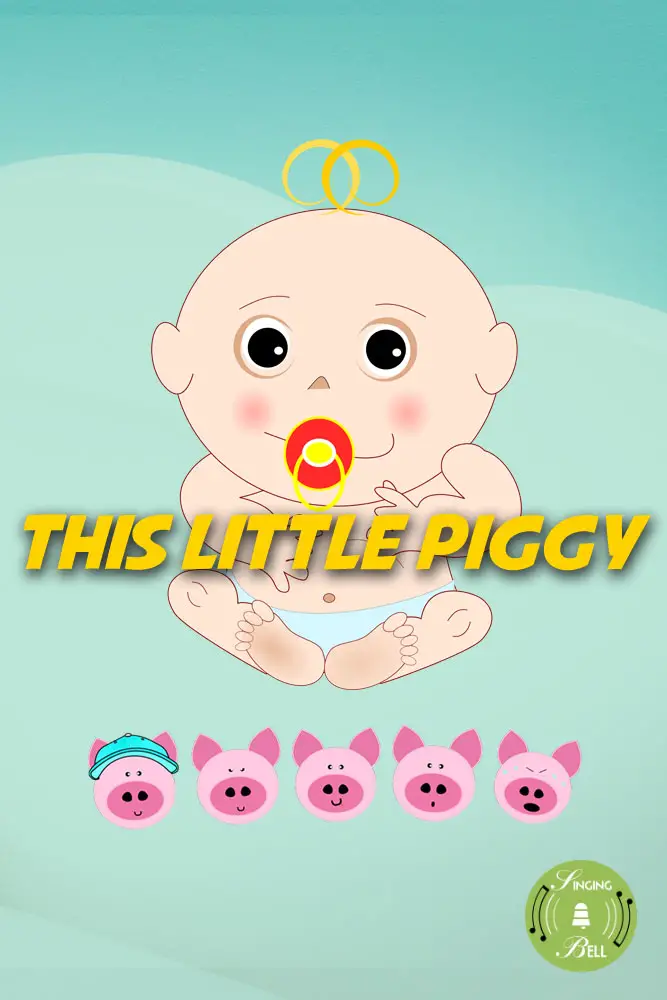 You may also like:
Molly Malone (Cockles & Mussels)