Learn how to play this piece from Star Wars on the glockenspiel / xylophone.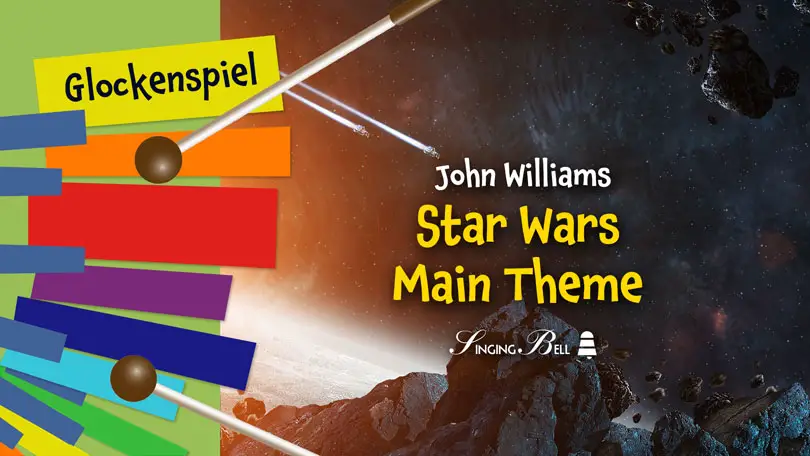 By John Williams
"Star Wars Main Theme" is a composed by John Williams for the epic film "Star Wars" written and directed by John Lucas.
On this page you can find a glockenspiel tutorial video, as well as sheet music with a glockenspiel chart that will help you find the notes on the musical instrument. You can also find a printable PDF for free download.
Table of Contents
Glockenspiel / Xylophone Tutorial Video
Watch this tutorial video to learn how to play this piece on the glockenspiel / xylophone.
Star Wars – Main Theme Glockenspiel / Xylophone Sheet Music and Note Chart
The melody of Star Wars Main Theme is moderately difficult and it consists of 13 notes (11 natural notes and 2 accidentals), as you can see on the chart following the notes of the song.
Watch the video a couple of times and study each part at your own pace until you get the hang of it.
Remember to use both mallets as much as you can – not only the one that is more convenient for you (e.g. the right one if you're right-handed) as this an important basic technique.
To save this free glockenspiel sheet music of "Star Wars Main Theme" to your computer, right click (or tap and hold, on mobile devices) and choose "Save Image As…". Alternatively, you can download the PDF file below.
Free Printable PDF with Glockenspiel / Xylophone Music Sheet with Note Chart


To download a printable PDF file with sheet music for glockenspiel of this song, click on the button above or on the following link.
Star Wars Main Theme | Free PDF with Glockenspiel Sheet Music

Click on the button to watch a piano tutorial video
and download a PDF file with piano music score for beginners of this song for free.
Did you like this post?
You may also like:
Jingle Bells – How to Play on Glockenspiel / Xylophone
We Wish You A Merry Christmas – How to Play on Glockenspiel / Xylophone
Harry Potter Hedwig's Theme – How to Play on Glockenspiel / Xylophone