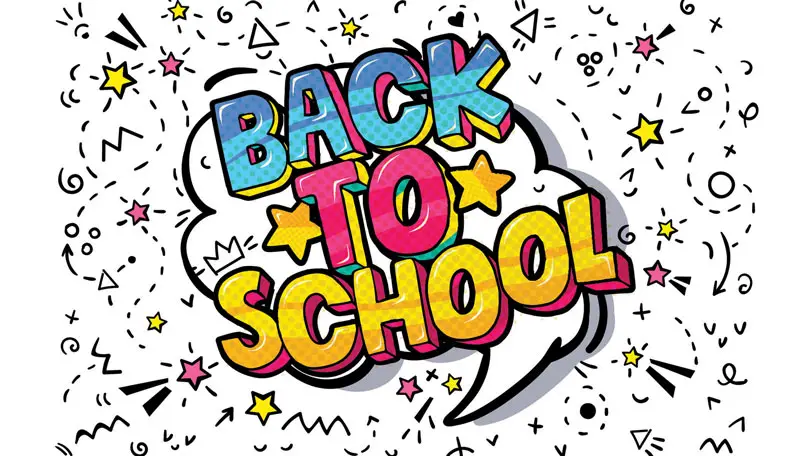 Original kids' song, EU.
"Back to School" is a song for preschoolers and elementary school students, with original lyrics by Singing Bell.
Its melody is taken from the famous kids' song Finger Family and it can be sung in class to encourage kids to start the new academic year in a good mood, and bring old schoolmates together.
Karaoke Video with Lyrics

Lyrics

Back to school
Back to school
Me and you
Smile and clap
Give a hug
Great to be with you!
Click on the button to watch a karaoke video and download a PDF file with lyrics to this song for free.

Free karaoke MP3 download
To download your free instrumental mp3 of this song, click or tap on the following button, then choose "Save link as…"

"Back to School" (instrumental mp3, 0:45 – 4/4 – 112 bpm)

Sheet music with chords

To save this free music sheet of "Back to School" to your computer, right click (or tap and hold, on mobile devices) and choose "Save Image As…".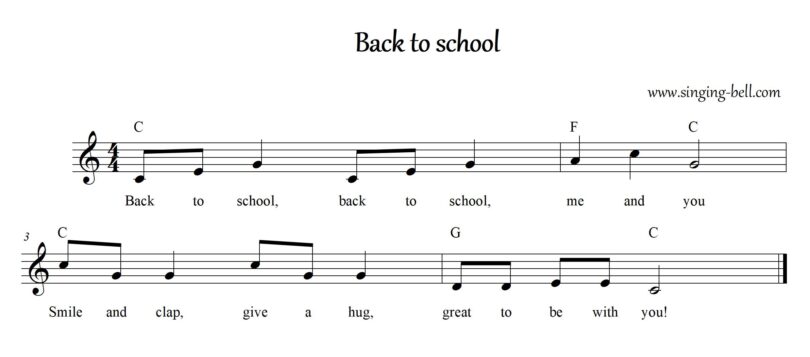 Free Printable PDF with Lyrics and Sheet Music


To download a ready-to-print PDF of this song for music activities with a music sheet, lyrics and a drawing for kids to paint, right click (or tap and hold) on the following link, then choose "Save link as…".
"Back to School" free PDF download – Singing Bell
Teaching idea & activities
We sing the song in a circle and we use movements to follow the lyrics. Alternatively, we can sing in pairs facing each other, and change the person in front of us in each verse of the song.
Kids can use their hands, feet or entire body, especially on the words smile, clap and hug.
Note: During the pandemic, it's best to avoid an actual hug and replace it with a virtual hug looking at each other.
You may also like:
Good Morning, Oh, What a Sunny Morning