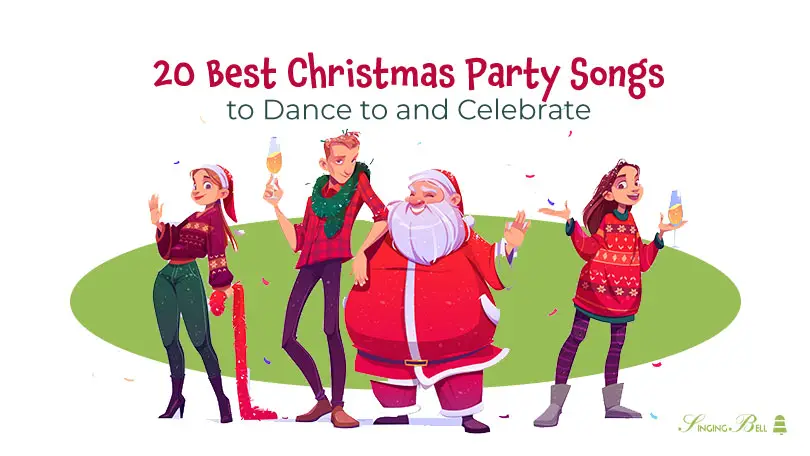 Sometimes you can't trust composers of Christmas music when it comes to taste: lyrics can be cringe-worthy, arrangements can be cliche, and videos are depicting the absolute utopia. However, if you want to get into the comfort zone of that utopia, this list with the best Christmas party songs will lead you there.
From 50's classics to the omnipresent Mariah Carey and Wham, this is a list to listen and dance to.
Table of Contents
1
Ariana Grande – Santa Tell me
That's one of the modern-era Christmas classics. Released in 2013, Ariana Grande's boppy-beat tune managed to get established as a good song for the season.
2
Paul McCartney – Wonderful Christmastime
In 1979, Paul released a song that a lot of people love and many hate. Although musicologists say it's simplistically structured, that didn't stop Rolling Stone readers from voting it the ninth best Christmas song of all time.
3
John Lennon & Yoko Ono – Happy Xmas (War Is Over)
Surely the anti-war song of the list, Happy Xmas (War is Over), John Lennon's seventh release outside his work with the Beatles, is widely considered one of the best Christmas tunes ever written. It was given a really tasteful 21th-century treatment by Mark Ronson, Miley Cyrus and Sean Ono Lennon in 2018.
4
Shakin' Stevens – Merry Christmas Everyone
Stevens' Christmas staple managed to last, perhaps thanks to its crispy arrangement and cheerful melody. Not to be confused with Slade's Merry Xmas Everybody, a good Christmas tune too.
5
Wham! – Last Christmas
George Michael was 19 when he wrote Careless Whisper and 21 when Last Christmas was released, in 1984. Rather long for a Christmas tune (running at 4 minutes and 38 seconds), this has proved to be one of the most loved season's staples ever,
6
Brenda Lee – Rockin' Around the Christmas Tree
Written by the hit-making machine that was Johnny Marks in 1958, this song was performed by Brenda Lee who released the great I'm Sorry two years later.
7
John Legend ft. Stevie Wonder – What Christmas Means to Me
Before becoming the giant of soul music, Stevie Wonder released this song in 1967, and was featured in John Legend's 2018 version which was included in Legend's album titled A Legendary Christmas. The song has also been covered by Paul Young, En Vogue, Cee Lo Green, and Pentatonix among many others.
8
José Feliciano – Feliz Navidad
A truly legendary Christmas classic by Puerto Rican musician, singer and composer José Feliciano. Feliciano said that he intended to release the song entirely in Spanish, but decide to include the English lyrics after all, because he thought the song wouldn't get airplay in the United States otherwise.
9
Bruce Springsteen – Santa Claus Is Comin' to Town
This is a version performed by the Boss live at C.W. Post College, Greenvale, New York, in December 1975, and despite (or perhaps thanks to) the minor flaws of a live recording, it has become one of the best covers of the very popular 1934 song by J. Fred Coots and Haven Gillespie.
10
Mariah Carey – All I Want for Christmas Is You
Among so many things that can be said about All I Want for Christmas Is You, it is the best-selling holiday song by a female artist, and one of the best-selling physical singles in music history. A true Christmas standard, it always surges in popularity every holiday season, almost 30 years after it was released. It was written by Mariah Carey and Walter Afanasieff, and was included in Carey's 1994 Christmas album titled Merry Christmas.
11
The Pogues ft Kirsty MacColl – Fairytale of New York
This popular Christmas song was written as an Irish folk-style ballad and as a duet. It was perfromed by the London-based band the Pogues, featuring Kirsty MacColl.
12
Band Aid – Do they know it's Christmas?
Just like USA for Africa's We Are the World (which followed), Do they know it's Christmas was a charity song released to raise money for the 1983–1985 famine in Ethiopia. It was recorded by a supergroup of British and Irish artists including U2′ Bono, Sitng, Boy George, Paul Young and George Michael. It was written in 1984 by Bob Geldof and Midge Ure, and recorded in a single day.
13
Burl Ives – A Holly Jolly Christmas
Another Johnny Marks song, A Holly Jolly Christmas was famously performed by American singer Burl Ives. It was included in ASCAP's "Most Performed" Song List of the first 5 years of the century, at place 18.
14
Bobby Helms – Jingle Bell Rock
Although this song has also been successfully covered by Hall & Oates, the Bobby Helms original brings back the spirit of the post-war America of the 50's.
15
Gayla Peevey – I Want a Hippopotamus for Christmas
We literally can't get enough of this tune! Gayla Peevey was 10 years old when she sang it in 1952. As a novelty song (a song built upon some form of novel concept, such as a gimmick or a piece of humor), it was re-recorded by artists as various as The Three Stooges, Gretchen Wilson and LeAnn Rimes.
16
Sia – Santa's Coming For Us
A rather underappreciated Christmas tune by the amazing hit-maker Sia, this has stood out thanks to a contagious melody and a video featuring Dax Shepard, Kristen Bell and Henry Winkler, among others.
17
Michael Bublé & Rod Stewart – Winter Wonderland
A song that will be a century old in 2034 has clearly stood the test of time. Since its original recording by Richard Himber, it has been covered by over 200 different artists, notably including Tony Bennett and Darlene Love. Although its lyrics don't actually mention Christmas and they're about a couple's winter romance, it is often regarded as a Christmas song. Michael Bublé's version featuring Rod Stewart was included as a bonus track in the Deluxe edition of his 2011 Christmas album, and then it was also included in Stewart's 2012 Merry Christmas, Baby album.
18
Kylie Minogue – Santa Baby
Kylie's version is one of the best covers of a great original by Eartha Kitt. When Kitt released the song in 1953, the lyrics proved controversial and resulted in temporary bans in the South of the USA. However, its suggestive lyrical content led to a big success in the US and was consequently cover by many women artists like Madonna, Taylor Swift, Trisha Yearwood, Ariana Grande and Gwen Stefani, besides Kylie Minogue who released it in 2015.
19
Mariah Carey – O Holy Night
That's the only traditional song on the list, an English version of the French Cantique de Noël was unforgettably interpreted by Mariah Carey – slightly showing off her amazing vocal range, but ok.
20
Pentatonix – It's the Most Wonderful Time of the Year
Pentatonix's vocals have conquered the world and this version of the 1963 original hit, recorded by pop singer Andy Williams.
If you like it, pin it!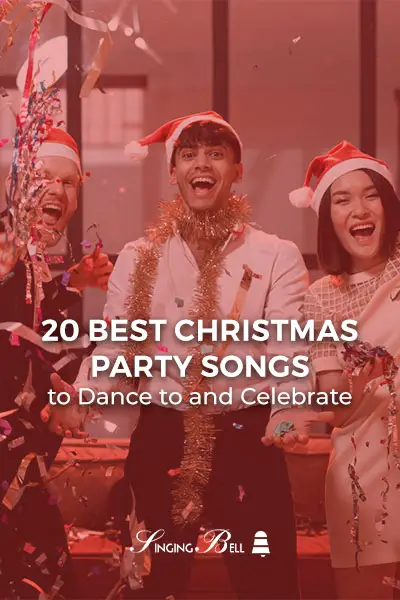 You may also like:
100+ Christmas Songs Lyrics to Help Us Spread the Spirit
Best 50 Songs for a Dreamy Christmas Karaoke
20 Carols for Karaoke You Can Get for Free | Download Christmas Songs
Best 31 Winter Songs for Kids on a Cold Day