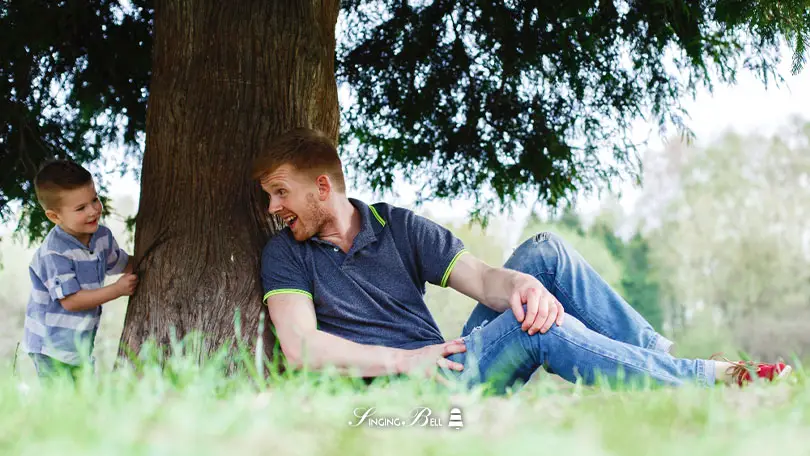 As parents or teachers, we all know that singing with kids is a great way to bond and have fun. There's something special about singing together that brings people closer, no matter their age. But finding the right songs can be a challenge, especially when you want to avoid the overplayed tunes that can drive you crazy. That's why we've compiled a list of the 60 best kids' sing-along songs that both grown-ups and children will love. From pop songs and rock hits to traditional and folk tunes, this list has something for everyone.
Whether you're looking for songs to sing in the car on a road trip or for a fun activity to do at home or in the classroom – or even outdoors at night under a starry sky-, these songs will get everyone singing and dancing along. You don't have to be a professional singer to enjoy these tunes (you can even try their karaoke versions), and many of them require nothing more than some good old-fashioned enthusiasm. So get ready to belt out some classics and make some memories with the kids in your life!
All our selected sing-along tracks can be found on the specially-curated playlist we created on Spotify.
P.S. We promise there won't be any Baby Shark on this list!
Sing-Along Playlist for kids
(2 h 15 min)
You can listen to all our 60 selected sing-along songs for kids on this playlist on Spotify.
1
Skidamarink
If we, as grown-ups, love this song so much, it's not hard to guess that children will like it too!
Today this tune is often sung as a tribute to pure and innocent love.
You can also check out our 7+1 Friendship Songs for Preschoolers
2
Five Little Monkeys
Younger kids love repetitive songs, which are also useful to them because they improve their cognitive skills.
This songs about five cheeky monkeys who jump on their bed and bump their heads is fun – and Singing Bell's arrangement is almost good to dance to.
3
All You Need is Love
Lennon's deliberately simplistic lyrics encapsulated the optimistic mood of the Summer of Love, a 1967 gathering of 100,000 people in San Francisco (who mostly rejected consumerist values, and generally opposed the Vietnam War).
That, along with McCartney's uplifting melody, turned this song into an anthem of that philosophy and a peace song in general, great to be sung by kids and adults alike.
4
If You're Happy and You Know it
Kids love to sing along to this classic children's song because it combines catchy melodies with interactive actions, allowing them to actively participate and express their emotions.
The song's repetitive structure and playful instructions, such as clapping hands, stomping feet, or shouting "hooray," make it a delightful and engaging experience for young children.
5
Head, Shoulders, Knees & Toes
Kids are drawn to the energetic and interactive nature of the song that prompts them to mimic the actions of touching different parts of their body, fostering a sense of movement and coordination.
With its playful rhythm and simple lyrics, it creates a joyful atmosphere where children can actively engage, learn body parts, and have fun while singing and dancing along.
6
Stand by me
"Stand by Me" is a timeless classic pop song about love and hope that you will enjoy singing to or with your kids.
It was included in the 1986 Rob Reiner film by the same title, so it has left its mark on an entire generation of parents.
7
Pop Goes the Weasel
Children are captivated by the playful and suspenseful nature of this song, eagerly anticipating the surprise "pop" at the end of each verse. Adults love to sing its playful lyrics too!
The catchy melody and repetitive lyrics also make it easy for kids to join in and sing along, adding an element of excitement and enjoyment to the overall experience.
8
She'll Be Coming Round the Mountain
"She'll be coming round the mountain" is a traditional folk song, that is commonly sung as a children's song in our days.
The song is derived from a Christian song known as "When the Chariot Comes". During the 19th century, the song spread through Appalachia in the Eastern U.S.A., where the lyrics were changed into their current form.
9
Down By The Bay
Children are enchanted by the whimsical and imaginative lyrics of this song, filled with silly rhymes and humorous scenarios that encourage their creativity and sense of play.
The catchy tune and repetitive structure make it easy for kids to participate, allowing them to engage in a lighthearted and joyful singing experience.
10
Baby Bumblebee
Kids are drawn to the playful and comedic nature of this song, filled with amusing lyrics and silly actions that spark their sense of humor and imagination.
The fun melody and repetitive verses make it easy for children to join in and sing along, creating a fun and interactive experience that keeps them engaged and entertained.
11
This Little Light of Mine
Children are inspired by the empowering message of this song, which encourages them to let their own unique light shine and make a positive impact on the world.
The uplifting melody and optimistic lyrics create a joyful and encouraging atmosphere, fostering a sense of confidence and self-expression as kids sing along with enthusiasm.
12
Bingo Song
Who doesn't love a dog? Children are delighted by the repetitive structure of this song, allowing them to actively participate and anticipate the next letter being called out.
The playful and interactive nature of the song engages kids, encouraging them to join in the fun and learn about spelling and phonetics in an enjoyable way.
13
Oh! Susanna
Going country always works! Children are captivated by the lively rhythm and spirited lyrics of this folk song, which evokes a sense of adventure and storytelling.
The playful and engaging narrative of the song draws kids in, inviting them to sing along and imagine themselves in the shoes of the character, creating a delightful and immersive musical experience.
14
Finger Family
Both adults and kids find joy in singing along to this song as it provides a playful and interactive way to bond and engage with each other.
The song's simple lyrics and actions make it accessible to all ages, fostering a sense of togetherness and shared enjoyment through its rhythmic and participatory nature.
15
Viva la vida
This song is one of the best tracks of the British rock band Coldplay, and its somehow epic lyrics talk about the rise and the fall of a king.
Although its actual message could be considered rather sad, the song sounds like a human fairy tale, referencing Jerusalem bells, Roman cavalry, missionaries, and Saint Peter. That's quite an adventure.
16
Happy
One would argue that during the last decade Pharrell Williams's "Happy" was for adults what "Baby Shark" was for toddlers.
However, the song's huge success and its addictive rhythm and melody have proved this is a modern classic for all ages.
Chorus:
(Because I'm happy)
Clap along if you feel like a room without a roof
(Because I'm happy)
Clap along if you feel like happiness is the truth
(Because I'm happy)
Clap along if you know what happiness is to you
(Because I'm happy)
Clap along if you feel like that's what you wanna do
17
The Farmer in the Dell
Another country-tinged song on this list, this tune appeals to adults and kids alike thanks to its storytelling and interactive nature.
With its engaging lyrics and repetitive structure, it offers a fun and memorable way for everyone to join in and create a playful atmosphere, fostering a sense of camaraderie and enjoyment for all.
18
My Bonnie Lies Over the Ocean
With its Scottish origins, this lively tune captures the imagination of both adults and kids, transporting them to the picturesque landscapes of Scotland.
The song's melodic verses and emotional connection to the longing for a loved one make it a heartfelt and engaging experience for all, encouraging everyone to join in and harmonize together. A great choice to sing along to.
19
The More We Get Together
This cheerful song creates a sense of unity and togetherness, resonating with both adults and kids who appreciate the importance of community and connection.
Its easy, uplifting lyrics and message of friendship inspire everyone to join in, fostering a warm and joyful atmosphere that transcends age and brings people closer.
20
Kumbaya (my Lord)
Could it be meditation time? This timeless song carries a heartfelt and peaceful message that resonates with both adults and children, fostering a sense of harmony and unity.
The soothing and contemplative nature of the song invites everyone to join in, creating a moment of shared tranquility and reflection that transcends age and brings people together.
21
Twinkle Twinkle Little Star
With its universal appeal, "Twinkle Twinkle Little Star" captures the hearts of both adults and children, creating a nostalgic and comforting experience for all.
The timeless lyrics and enchanting melody of this cherished tune evoke a sense of wonder and fond memories, making it a delightful choice for everyone to sing along and bask in the magic of the starry skies.
22
Dream a Little Dream of Me
This timeless song by The Mamas & The Papas is in fact a love song mentioning the craving of a kiss, but the lyrics are so sweet that almost turn this ballad into a lullaby in a parent/child relationship.
Latest renditions include the great version by The Beautiful South or that of Michael Bublé.
23
Pat-a-Cake
This beloved nursery rhyme, with its charming lyrics about baking and clapping hands, ignites a sense of playfulness and nostalgia that appeals to both adults and children.
The interactive nature of the song encourages participation and creates a joyful atmosphere where everyone can join in, clapping their hands and engaging in the delightful rhythm of "pat-a-cake, pat-a-cake, baker's man."
24
Row Row Row Your Boat
"Row, row, row your boat, / Gently down the stream. / Merrily, merrily, merrily, merrily, / Life is but a dream."
Sing this as a round! Tell children they should start singing when you give them the signal. Then, sing its entire verse once and when you start again, point to each kid (or group of kids) in the beginning of the 2nd line, then the 3rd, then the 4th.
Life is but a dream – especially when you sing!
25
Auld Lang Syne
As a timeless song associated with New Year's Eve and special occasions, "Auld Lang Syne" carries a sense of sentimentality and reflection that resonates with both adults and children.
Its lyrics evoke a spirit of camaraderie and the celebration of cherished memories, inviting everyone to join in and sing along as they bid farewell to the past and welcome new beginnings together.
26
Humpty Dumpty
With its whimsical and imaginative lyrics, this beloved nursery rhyme captivates both adults and children, transporting them into the world of Humpty Dumpty's misadventures.
The playful nature of the song, combined with its memorable storyline, invites everyone to engage in the storytelling, fostering a sense of joy and shared amusement as they sing along to the tale of Humpty Dumpty's great fall.
27
This Old Man
This song may get stuck into your brain, so use with caution. With its delightful counting lyrics and whimsical descriptions of "playing knick-knack," this beloved song creates a lively and engaging atmosphere.
The repetitive structure and imaginative verses inspire everyone to participate, fostering a sense of fun and nostalgia as they sing along and celebrate the adventures of "This Old Man."
28
Mary Had a Little Lamb
This simple story of Mary taking her sheep with her at school is both funny and touching,
Its melody is super simple and kids love to sing along.
29
The Animal Fair
This might our own favorite on the entire list. "The Animal Fair" is a cheerful song on a 6/8 rhythm and name-lists a lot of animals doing funny things.
When you have already sung its 2 verses a couple of times, you are going to realize they were definitely not enough…
30
When the Saints Go Marching In
Count on a spiritual song for a spiritual experience! This beloved song, with its uplifting lyrics and jubilant spirit, captivates both adults and children, inspiring a sense of celebration and hope.
The dynamic rhythm and call-and-response format invite everyone to join in, creating a joyful and communal experience as they sing along to the triumphant journey of the saints marching together.
31
I'm a Little Teapot
Is it tea time yet? "I'm a little teapot" was written in order to teach children a dance routine and its dance are a pantomime of a teapot's figure.
Its lyrics make everyone feel special: apparently, teapots are capable of great things!
32
For He's A Jolly Good Fellow
Although this song is considered a birthday song in countries like the USA, Canada, Australia and the UK, its joyful and congratulatory tone makes it a good sing-along tune (unlike the "Happy Birthday" song, which sounds irrelevant outside a birthday party).
Of course, the song's title turns feminine when it's sung with or for girls.
33
Jack and Jill
"Jack and Jill" (also sometimes referred to as "Jack and Gill") is a traditional English nursery rhyme which dates back at least to the 18th century, telling a funny boy/girl story.
The phrase of the two names suggests, possibly, a romantically attached couple, as in the proverb "A good Jack makes a good Jill".
34
Rain, Rain, Go Away
If you're out walking and grey clouds appear on the horizon, this might be the first song you think of to wish it wouldn't rain!
You can use this tune to make funny lyrics about whoever is present like "Little Amy wants to play / rain, come back on her school day" or "Little Scotty wants to play / rain, come back on Saturday".
35
Old MacDonald Had a Farm
This is one of the most popular songs for kids in the English-speaking world. In Old MacDonald's farm you can find a lot of animals and hear their voices.
36
The Muffin Man
"The Muffin Man" has gained popularity as a nursery rhyme and has been sung by children for generations. If you ask us, its tune is pretty addictive!
It serves as a fun way to engage young ones in a playful and imaginative story while introducing them to the concept of different occupations and places within a community.
37
Little Boy Blue
"Little Boy Blue" has endured as a beloved children's song and continues to be sung to this day.
Some believe that the song was originally a warning to young boys not to neglect their duties, while others see it as a commentary on the state of society at the time.
38
La Cucaracha
Turning a Mexican revolutionary song into an English-lyrics song for children is no easy thing – but we did our best.
After all, all la Cucaracha wanted to do was to dance.
39
Somewhere Over the Rainbow
This beautiful Judy Garland song from The Wizard of Oz has been covered by many artists in several languages; yet the 1993 version by Israel Kamakawiwoʻole created a milestone, a totally iconic performance that touched the hearts of millions of people around the world.
With no more – and no less – than his ukulele to accompany him, he proved that authentic expression and personal truth, when shared, spread their vibrations all over space and time.
40
Did You Ever See a Lassie?
"Did you ever see a lassie?" is a nursery rhyme which, although first collected in the United States, seems to have Scottish origins, as the words "lassie" and "laddie" mean "girl" and "boy" in Scottish.
It shares its melody with "The More We Get Together".
41
42
Lavender's Blue (Dilly Dilly)
"Lavender's Blue" is an English folk song and nursery rhyme from the 17th century.
It became very popular during the 20th century through various musical versions, the latest one being the 2015 film Cinderella.
43
London Bridge is Falling Down
This old English classic is easy to sing along to, even though its lyrics keep evolving to recount the troubles faced by the iconic London Bridge, and to portray the challenges of building and maintaining a bridge over the River Thames.
44
Five Little Ducks
One more for the little ones, "Five Little Ducks" works on the idea of subtraction.
Kids really love to sing along this track, as it is a repetitive songs that gives them time to practice and improve.
45
A Ram Sam Sam
Even though it's not in English, "A Ram Sam Sam" is a favorite with many children.
Learn its easy lyrics can have you all singing along for a long time.
46
You're welcome
We don't know if you're going to learn Dwayne Johnson's rap part by heart, but Moana's You're Welcome is a great sing-along tune.
In a funny way, it's also a great opportunity to teach kids how to say "thank you".
47
Isn't she lovely?
Although perhaps melodically challenging, this absolute classic by Stevie Wonder about the birth of a baby (his daughter, Aisha Morris) is perfect for singing. Kids will love this as much as adults do.
48
You are my Sunshine
This song is so sweet that managed to cross the boundaries of a love song and become an actual tune about unconditional love.
Whether you're singing this to get your kids to sleep or just teaching them its soothing lyrics, this is a great song to sing-along.
49
Imagine
Just like "All you need is love", John Lennon's Imagine stands out as one of the most popular peace songs in music history.
Its easy lyrics encourage people to imagine a world of peace, without materialism, without borders separating nations and without religion.
50
Rock-a-bye Baby
With its gentle and soothing lyrics, this popular lullaby creates a calming atmosphere that both adults and children appreciate.
Rock-a-bye Baby's comforting words and soft melody provide a sense of reassurance, making it a beloved choice for lulling little ones to sleep while invoking a sense of nostalgia and tenderness in adults.
51
Itsy-Bitsy Spider
Through its playful lyrics and actions, this beloved children's song brings the adventures of a tiny spider to life, captivating both kids and adults alike.
The whimsical tale and interactive gestures create a sense of engagement and fun, making it a cherished favorite for shared sing-alongs and imaginative play.
52
When Goldilocks Went to the House of the Bears
"When Goldilocks Went to the House of the Bears" is a captivating children's song that brings the classic tale to life through its charming lyrics and storytelling.
With its lively narrative and catchy tune, it invites both children and adults to join in the playful retelling of Goldilocks' mischievous adventure, sparking imagination and enjoyment for all.
53
All the Pretty Little Horses (Hush-a-bye)
"All the Pretty Little Horses" is a tender and soothing lullaby that enchants both children and adults with its gentle melody and heartfelt lyrics.
The song's calming and dreamlike atmosphere provides a comforting and peaceful experience, making it a cherished choice for bedtime routines and moments of tranquility.
54
Lullaby and Good Night (Brahms' Lullaby)
"Lullaby and Good Night," often referred to as Brahms' Lullaby, is a timeless and cherished melody that holds a special place in the hearts of both children and adults.
Its soothing and melodic composition creates a serene and comforting ambiance, making it a beloved choice for lulling little ones to sleep and evoking feelings of tenderness and calmness for listeners of all ages.
55
Frère Jacques (Are You Sleeping?)
For many English-speaking people, "Frère Jacques" is one of the first things they learn in French.
Whether you sing it in is original language or as "Are You Sleeping?" in English, this is a great song to sing-along, even as a round.
56
Sleep Little One (Mozart's Lullaby)
"Mozart's Lullaby" (or "Sleep, little one)" is a lullaby, perhaps the most famous Wiegenlied (German lullaby), dating from the 18th century and attributed for a long time to W.A.Mozart.
One way or another, this is one of the nicest lullabies ever and a timeless universal favorite. Both the lyrics and the music bring out peace, serenity and calmness.
57
Do You Want to Build a Snowman?
Just like "Let it go", this song comes from Disney's 2013 animated film "Frozen".
In 2016 the digital track of the song became second on the list of all-time best-selling Christmas/holiday digital singles.
58
Remember me
This beautiful ballad comes from Disney's 2017 animated film Coco and you will probably be singing it as a lullaby.
59
Golden Slumbers
"Golden Slumbers" is a gentle and melodic lullaby that resonates with both children and adults, carrying a sense of warmth and comfort.
Its soothing lyrics and serene melody create a tranquil atmosphere, making it a cherished choice for bedtime routines and moments of relaxation, inviting listeners of all ages to drift off into a peaceful slumber.
60
Mockingbird (Hush Little Baby)
"Mockingbird (Hush Little Baby)" is an ideal sing-along song at night as its tender lyrics and calming melody create a soothing and comforting atmosphere, helping to lull little ones to sleep.
The gentle repetition of the verses and the imagery of a protective mockingbird watching over the baby provide a sense of security and tranquility, making it a perfect choice for bedtime rituals and creating a peaceful ambiance before sleep.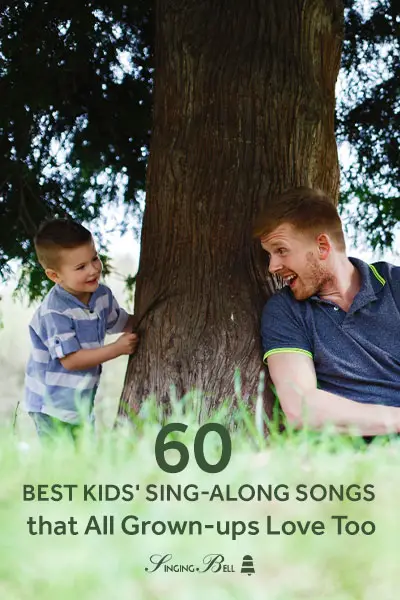 36 Easy Piano Songs For Kids + Free Sheet Music
35 Super Easy Guitar Songs for Kids + Free Sheet Music
32 Disney Songs for Kids to Listen to on Repeat