In Old MacDonald's farm you can find a lot of animals and listen to their voices. On this page you can find Notes, Chords and Activities for the song, and a Printable PDF for free Download.
If you would like to watch and sing this children's song with vocals, click here for the sing-along version.

---
Music Score / sheet music with chords
To save this free music sheet of "Old McDonald Had a Farm" to your computer, right click (or tap and hold, on mobile devices) and choose "Save Image As…".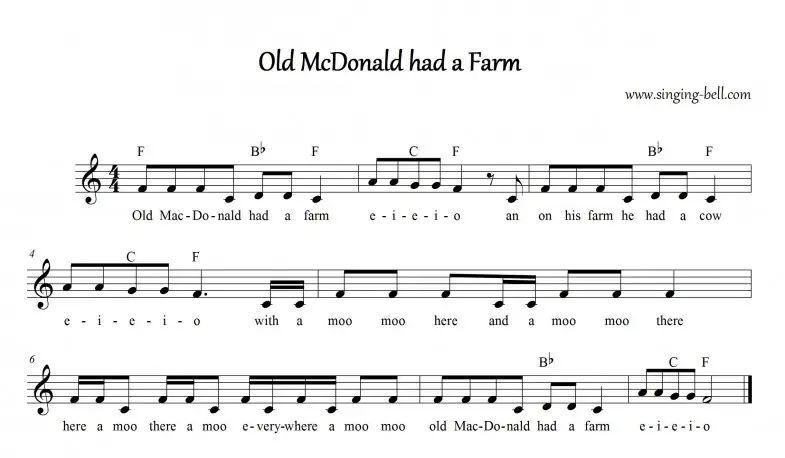 ---
Free Printable PDF with Lyrics and Music Sheet


To download a ready-to-print PDF of "Old McDonald Had a Farm" for music activities with a music sheet, lyrics and a drawing for kids to paint, right click (or tap and hold, on mobile devices) on the following link, then choose "Save link as…".
"Old McDonald had a Farm" free PDF download – Singing Bell
---
Teaching ideas
1. Try to find names and voices of different animals and fit them to the song. If you don't find more, try to invent them, e.x. "…and on his farm he had some zupkies/e-i-e-i-o/With a zup zup here/and a zup zup there…". Of course it's very funny to accompany every verse with the corresponding movements of the animals.
2. Use specific words as the voice of the animal or the "e-i-e-i-o" and play on the time some Orff instruments, or just clap.
Share to let others hear the sound of Singing Bell!