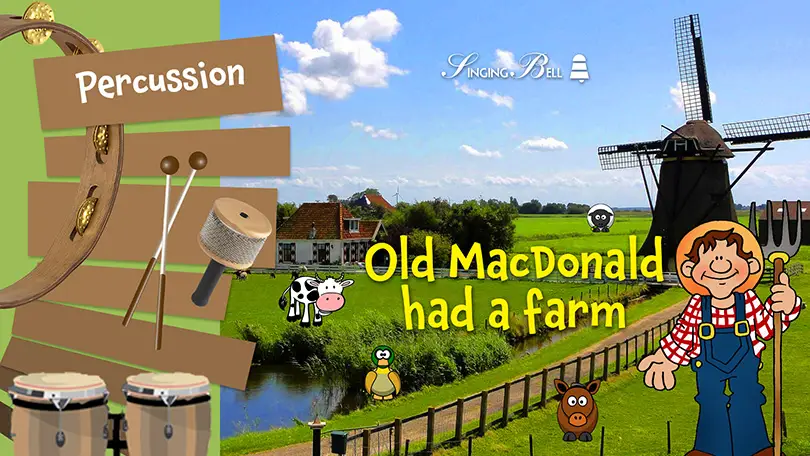 This is one of the most popular songs for kids in the English-speaking world. In Old MacDonald's farm you can find a lot of animals and listen to their voices.
Throughout the years it has been covered by many artists like The Sam Patterson Trio, The King Cole Trio, Elvis Presley, Little Richard, just to mention a few.
On this page you can find an Orff arrangement, as well as a Printable PDF file with sheet music for free download.
Table of Contents
Arrangement Details for Old MacDonald Had A Farm
The Orff arrangement includes:
Alto Recorder
Glockenspiel
Alto Metallophone
Alto Xylophone 1
Alto Xylophone 2
Bass Xylophone
Triangle
Tambourine
Guiro
Although the arrangement consists of 5 lines of mallets, it is only the recorder that plays the melody in parallel with the voice. The triangle alternates with tambourine and guiro in the rhythmic accompaniment.
The sheet music is easy for your beginner students who want to try their hand at the small class orchestra. In G major and 4/4 meter, it moves to the extent of a child's voice and is easy for them to sing. Make as many repetitions as you want, depending on how many animals will pass through the song!
Remember not to start the song at too fast a tempo, as children will tend to speed up – it happens often when the tune is well-known and has a cheerful character.
Old MacDonald Had A Farm – Orff Arrangement Free Sheet Music PDF
(PDF download button below)
Click on the following images to preview the music sheet.
Click here or on the following button for a free download
of the percussion sheet music in PDF

Orff Arrangement Sound file
To listen to the percussion arrangement offered above, click on the following player.
Did you like this post?
You may also like:
Ode to Joy – Orff Arrangement Sheet Music and PDF
Happy Birthday – Percussion Ensemble, Orff and Solo Marimba Sheet Music
The Pink Panther Theme – Percussion Ensemble and Solo Marimba Sheet Music
A Ram Sam Sam with Orff Instruments – Orff Arrangement Sheet Music
Bingo Song – Orff Arrangement Sheet Music and PDF
Yankee Doodle with Orff instruments – Orff Arrangement Sheet Music