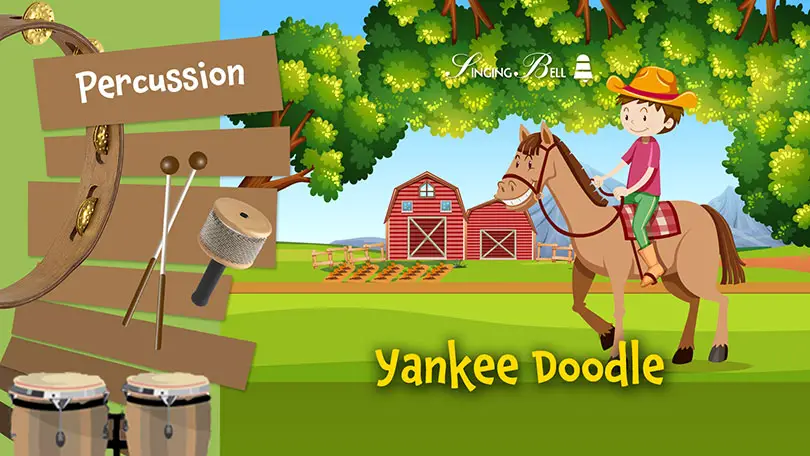 "Yankee Doodle" is originally a patriotic American song, whose melody became a children song too. The earliest known version of the lyrics is from 1755, while its melody goes back to folk songs of Medieval Europe. In our days, children's television series Barney & Friends tittle theme is based on Yankee Doodle tune. Today it is also the state anthem of Connecticut.
On this page you can find an Orff arrangement and Printable PDF files for free download.
Table of Contents
Arrangement Details
As you have already seen, here you'll find an Orff arrangement and sheet music. It is in the C major key, and we could say that it's rather easy for beginners to play. The alto metallophone and the xylophone have to play with two mallets, so it's better for more skilled students to take on this role.
Soprano Glockenspiel
Alto Metallophone
Soprano Xylophone
Alto Xylophone
Bass Xylophone
Yankee Doodle – Orff Arrangement Free Sheet Music PDF
(PDF download button below)
Click on the following images to preview the music sheet.
Click here or on the following button for a free download
of the percussion sheet music in PDF.

Orff Arrangement Sound file
To listen to the percussion arrangement offered above, click on the following player.
Yankee Doodle inspires "Barney & Friends" – Video
Click on the button to watch a karaoke video and download a PDF file with lyrics to this song for free.

Did you like this post?
You may also like:
Happy Birthday – Percussion Ensemble, Orff and Solo Marimba Sheet Music
The Lion Sleeps Tonight – Percussion Ensemble, Orff Arrangement and Solo Marimba Sheet Music
Ode to Joy – Orff Arrangement Sheet Music and PDF
Twinkle, Twinkle, Little Star – Orff Arrangement and Solo Marimba Sheet Music
Dos Oruguitas – Percussion Ensemble Sheet Music
Havana – Percussion Ensemble Sheet Music
Seven Nation Army – Percussion Ensemble Sheet Music
We don't talk about Bruno – Percussion Ensemble Sheet Music