"Mozart's Lullaby (Sleep, little one)" is a lullaby, perhaps the most famous Wiegenlied (German lullaby), dating from the 18th century and attributed for a long time to W.A.Mozart. However, according to recent research, the composer of the tune is considered to be either Bernhard Flies or Johann Friedrich Anton Fleischmann. Both of them lived at the end of 18th century. The words are by Friedrich Wilhelm Gotter (1746–1797).
One way or another, this is one of the nicest lullabies ever and a timeless universal favourite. Both the lyrics and the music bring out peace, serenity and calmness. On this page you can find lyrics, a printable lyrics PDF file for free download and a karaoke video with lyrics of the song. Listen, sing-along and enjoy the beautiful lullaby!
Table of Contents
Printable Lyrics PDF
Click on the button to download a PDF file with lyrics to this song for free.

Lyrics
Sleep, little one, go to sleep
So peaceful the birds and the sheep
Quiet the meadow and trees
Even the buzz of the bees
The silvery moonbeams so bright
Down through the window give light
O'er you the moonbeams will creep
Sleep, little one, go to sleep.
Good night, good night.
Karaoke Video with Lyrics
Did you like this post?
RELATED:
Best Lullaby Lyrics for Your Baby's Bedtime Routine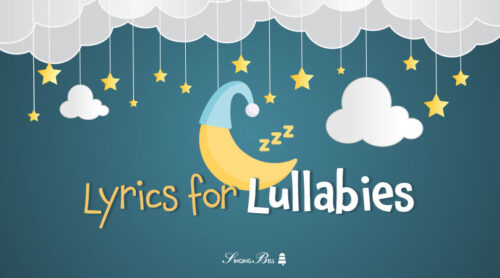 You may also like:
Twinkle, Twinkle, Little Star Lyrics – PDF
Rain, Rain, Go Away Lyrics – PDF
This Little Light of Mine Lyrics