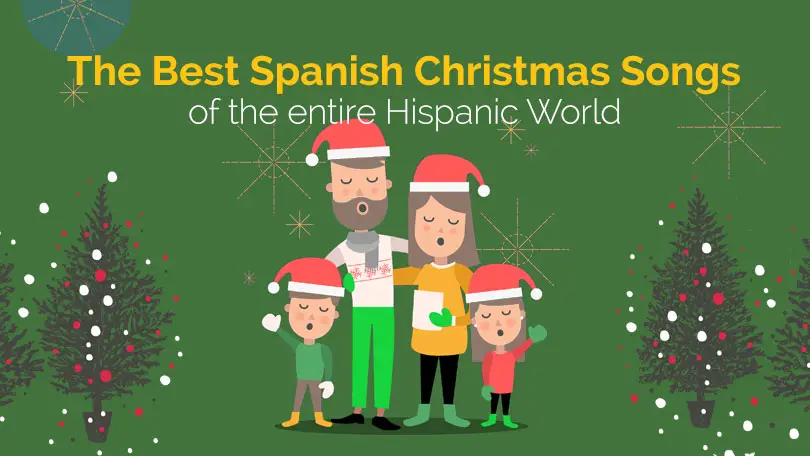 Christmas is best celebrated when we sing Christmas carols, and it is a tradition we learn from childhood. Most Christmas songs have lyrics that are easy to learn, and they are usually upbeat tunes. That is probably the reason why children around the world love to sing them too.
Spanish-language Christmas carols and songs can be heard all around the Mundo Hispano and our collection of Christmas carols in Spanish for karaoke will add some of that magical Christmas spirit. If you want to download Christmas music that you can sing yourself, look no further. For our entire collection of Christmas songs in English, click here.
Table of Contents
The Most Popular Christmas Songs in Spanish
1.
It could be said that this is one of the best-known Christmas songs in the countries that celebrate the birth of Jesus, not just the Spanish-speaking ones.
It was written in 1970 by José Feliciano and, despite its simple structure and simple lyrics, it has become a long-lasting success.
Listen to Feliz Navidad for karaoke here.
2.
A traditional Christmas carol from Catalonia and the Balearic Islands, in Spain. It is believed that its roots are very old, between the 16th and 17th centuries, although it is still sung to this day.
The original lyrics were in Catalan, hence the "fum" which means "smoke".
Listen to Fum Fum Fum for karaoke, here.
3.
This song whose title mean "Oh, the little one!" is one of the most popular Spanish songs of the Christmas holidays. It has a fun, lively and catchy beat.
It talks about the birth of Jesus, using diminutives that make it tender, and also reflects the affection of Mary for the newborn.
Listen to Ay, del chiquirriquitin! for karaoke, here.
4.
"Ya viene la vieja" means "The old woman is coming". The origin of this popular Christmas carol is believed to be either in Extremadura or Andalusia, Spain.
It talks about the custom of giving the "aguinaldo", that is, making a small gift or giving an amount of money, usually on Christmas dates.
Listen to Ya Viene la Vieja for karaoke, here.
5.
This Christmas carol stands out for its rhythm, its joy and its musicality; evoking the sound of the bells in the chorus with the word "Belen" (that is, Bethlehem).
It is believed that its roots lie in the early 20th century in Andalusia, although it is one of the songs sung in all regions and has also been translated into several languages.
Listen to Campana sobre Campana for karaoke, here.
6.
This is a Christmas carol with a very lively melody and somewhat extravagant lyrics, which is very popular in both Spain and Latin America. Its title means "The fish in the river" which is an original way to explore devoutness, as the lyrics say "Look at how the fish in the river are drinking / They drink, and they drink / As they see God being born".
Although neither its author or nor the date it was composed are known exactly, it began to become popular in the 20th century and, apparently, it has an Arab influence both in the structure of the song itself and in the tone.
Listen to Los peces en el río for karaoke, here.
7.
"Huachi Torito" ("Hey, Little Bull!") is a Christmas Carol that is sung at the south of Peru, in parts of Chile and Bolivia, and the north-east of Argentina.
It is said to be of Catalan origin, brought to Latin America by Catalan emigrants.
Listen to Huachi Torito for karaoke, here.
8.
"Pastores Venid" (literally: "Shepherds, come") is a memorable Spanish Christmas carol with lyrics making reference to the birth of Jesus in Bethlehem.
It can be easily accompanied by someone playing the tambourine.
Listen to Pastores Venid for karaoke, here
9.
This popular Spanish carol by an anonymous author is believed to come from Castilla y León.
En Belén tocan a fuego refers to the birth of Jesus – a fact so extraordinary that "the bells in Bethlehem sound as for a fire". That is, the custom that used to exist to ring the bells to warn of fire in villages. It is a carol with perhaps a more solemn touch than others, since it is usually performed by a choir.
Listen to En Belén tocan a fuego for karaoke, here.
10.
"La peregrinación" ("The pilgrimage") is a famous Christmas song written by the legendary Argentinian composer and pianist Ariel Ramírez. The lyrics were written by Félix Luna.
This beautiful holiday song that refers to pilgrims visiting has been sung by many artists, but it's the version by Mercedes Sosa that really stands out.
Listen to La peregrinación for karaoke, here.
Spanish Christmas Songs with lyrics [Video]
This YouTube video collects 16 great Christmas songs in Spanish.
Subscribe to our YouTube channel for more videos.
English Christmas Songs in Spanish
Christmas is celebrated all over the Christian world and music is often exchanged among cultures, countries and languages.
The influence of English-language Christmas music is obvious in the Spanish versions of popular Christmas songs in English, which you can find here.
Did you like this article?
You may also like:
Best Christmas Music for Kids | 50 Free Songs for the Holiday Season
15 Uplifting Hispanic Heritage Month Songs for Kids
20 Best Carols for Karaoke You Can Get for Free | Download Christmas Songs
30 Scores for Free Download | Christmas Carol Sheet Music
9 Lovely French Christmas Carols and Songs for kids