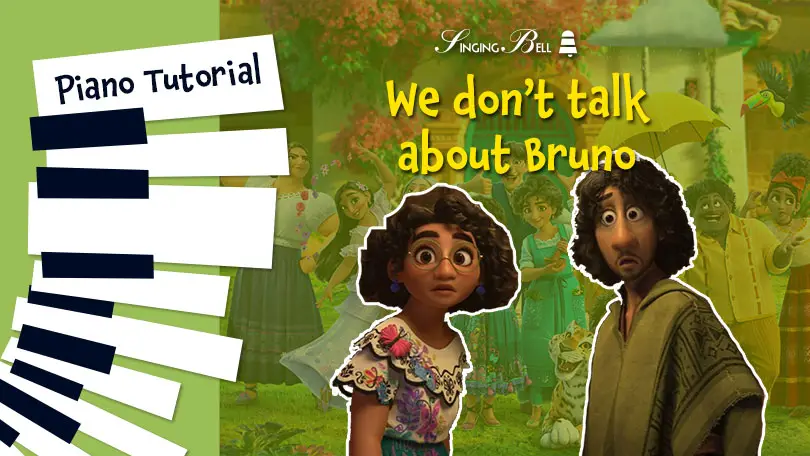 By Lin-Manuel Miranda

This song from Disney 's 2021 film Encanto was a great success, as it became the best-selling Disney song since Frozen's "Let it go" and the first Disney song to hit the Number 1 spot in the UK Charts. The composer is Lin-Manuel Miranda.
The song features members of the Madrigal family (Pepa, Felix, Dolores, Camilo, Isabela, Mirabel, Abuela Alma). The family explains to little Mirabel why she should not mention Bruno's name. The music draws on elements from both latin and pop / hip hop music. It's not performed by a single singer, but the song is rather a dialogue between the leading characters. In the end, they all sing-along together in a polyphonic climax – thus confirming the name of the family: Madrigal, which as a musical term that refers to a polyphonic song that flourished during the Renaissance.
On this page you can find two Piano Tutorial Videos, one which is easy and another one, simplified and easier, in lower tempo.
Simple Piano Tutorial Video
Very Easy Piano Tutorial Video
Piano Sheet Music for Beginners

To save this free music sheet of "We don't talk about Bruno" to your computer, right click (or tap and hold, on mobile devices) and choose "Save Image As…".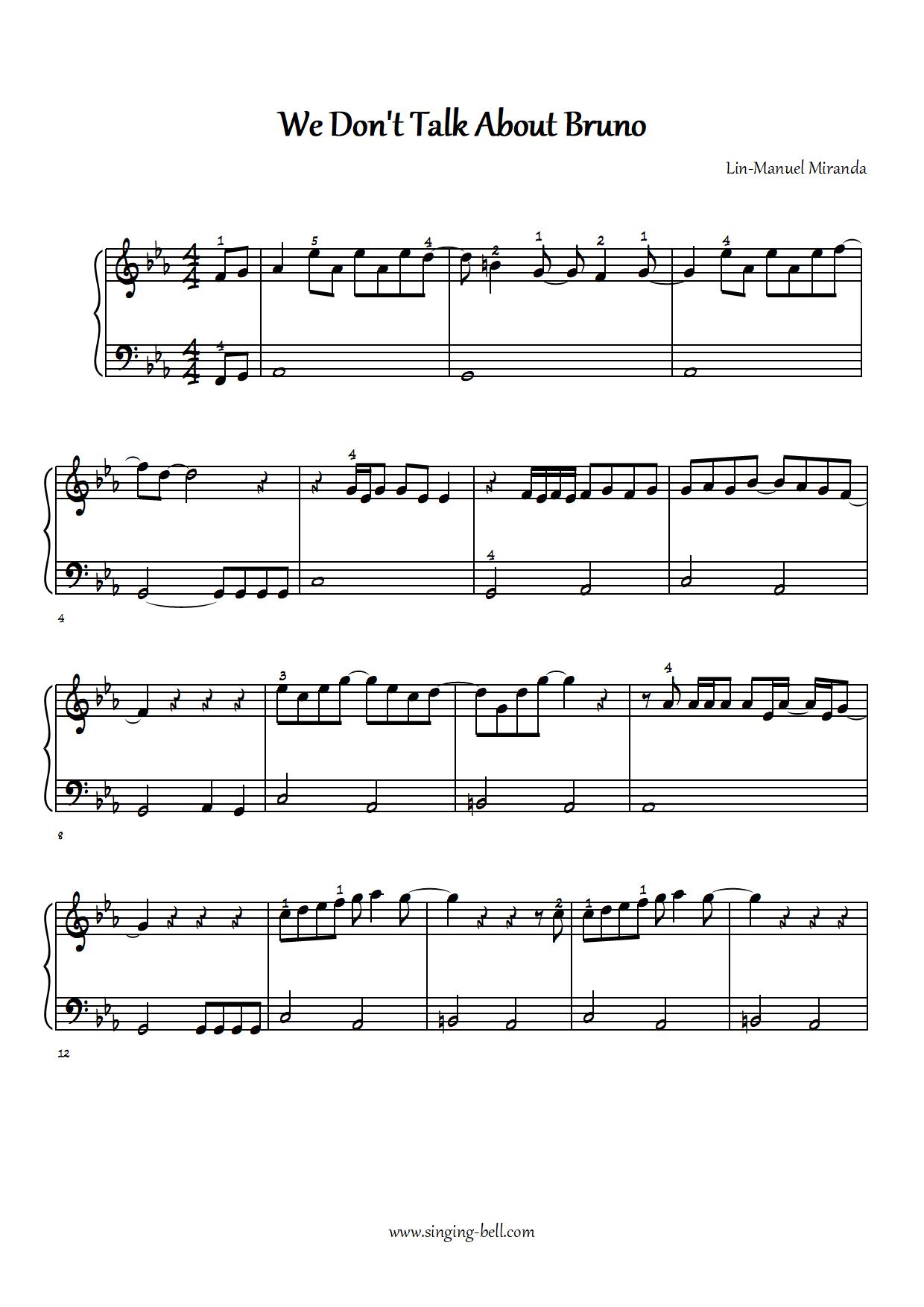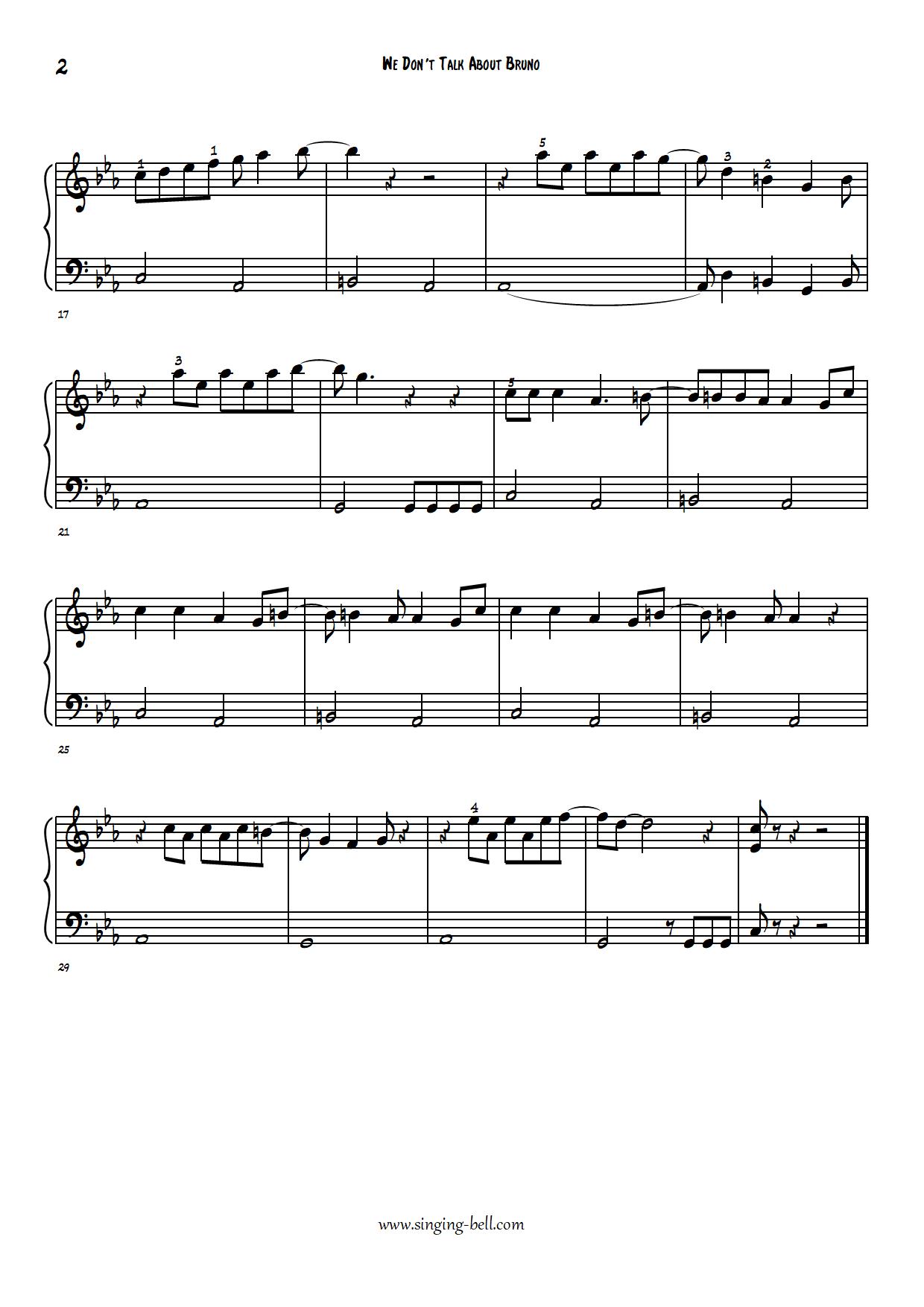 Free Printable PDF piano sheet music for beginners


To download a printable PDF of this song with easy piano sheet music for beginners, click on the button above or on the following link.
We Don't Talk About Bruno – Free PDF with easy Piano Sheet Music for Beginners
Click on the button to watch a karaoke video and download a PDF file with lyrics to this song for free.

You can click on the button for a printable PDF file with Guitar Chords, Tabs and Sheet Music with Notes and Tablature for this song for free.

Click on the button to watch a glockenspiel / xylophone tutorial video and
download a free printable PDF file with glockenspiel / xylophone Music Sheet and Note Chart of this song.

Did you like this post?

You may also like:
How To Play Star Wars | Main Theme – Piano Tutorial, Notes, Keys, Sheet Music
My Heart Will Go On (Titanic) – Piano Tutorial, Notes, Sheet Music
Pirates of the Caribbean (He's a Pirate) – Piano Tutorial, Notes, Keys, Sheet Music
Harry Potter | Hedwig's Theme – How to Play on the Glockenspiel / Xylophone
Un Poco Loco (Coco) – Piano Sheet Music, Tutorial, Notes,