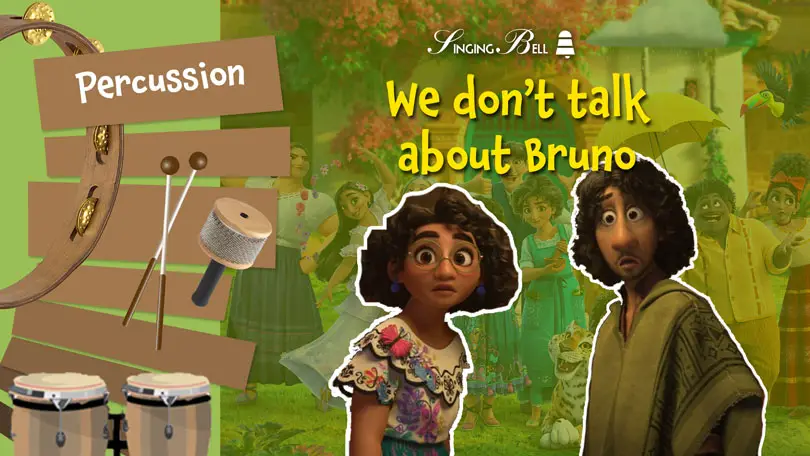 Composed by Lin-Manuel Miranda
This song from Disney 's 2021 film Encanto was a great success, as it became the best-selling Disney song since Frozen's "Let it go" and the first Disney song to hit the Number 1 spot in the UK Charts. The composer is Lin-Manuel Miranda.
The song's music draws on elements from both Latin and pop / hip hop music, making a percussion ensemble arrangement ideal. It's not performed by a single singer, but the song is rather a dialogue between the leading characters. In the end, they all sing-along together in a polyphonic climax.
On this page you can find Percussion ensemble sheet music and a Printable PDF file for free download.
Arrangement details
Another arrangement aimed at relatively advanced students, just like the songs Havana and Seven Nation Army. The instrumentation uses:
Glockenspiel
Xylophone
Vibraphone
Marimba (2players)
Maracas
Guiro
Congas
Vibraslap
Brass Drum
Cymbal
We could say that the score is quite demanding, but it will satisfy the musicians' musical quests and will make the audience enjoy it.
We Don't talk About Bruno – Percussion Ensemble Free Sheet Music PDF
(PDF download button below)
Click on the following images to preview the music sheet.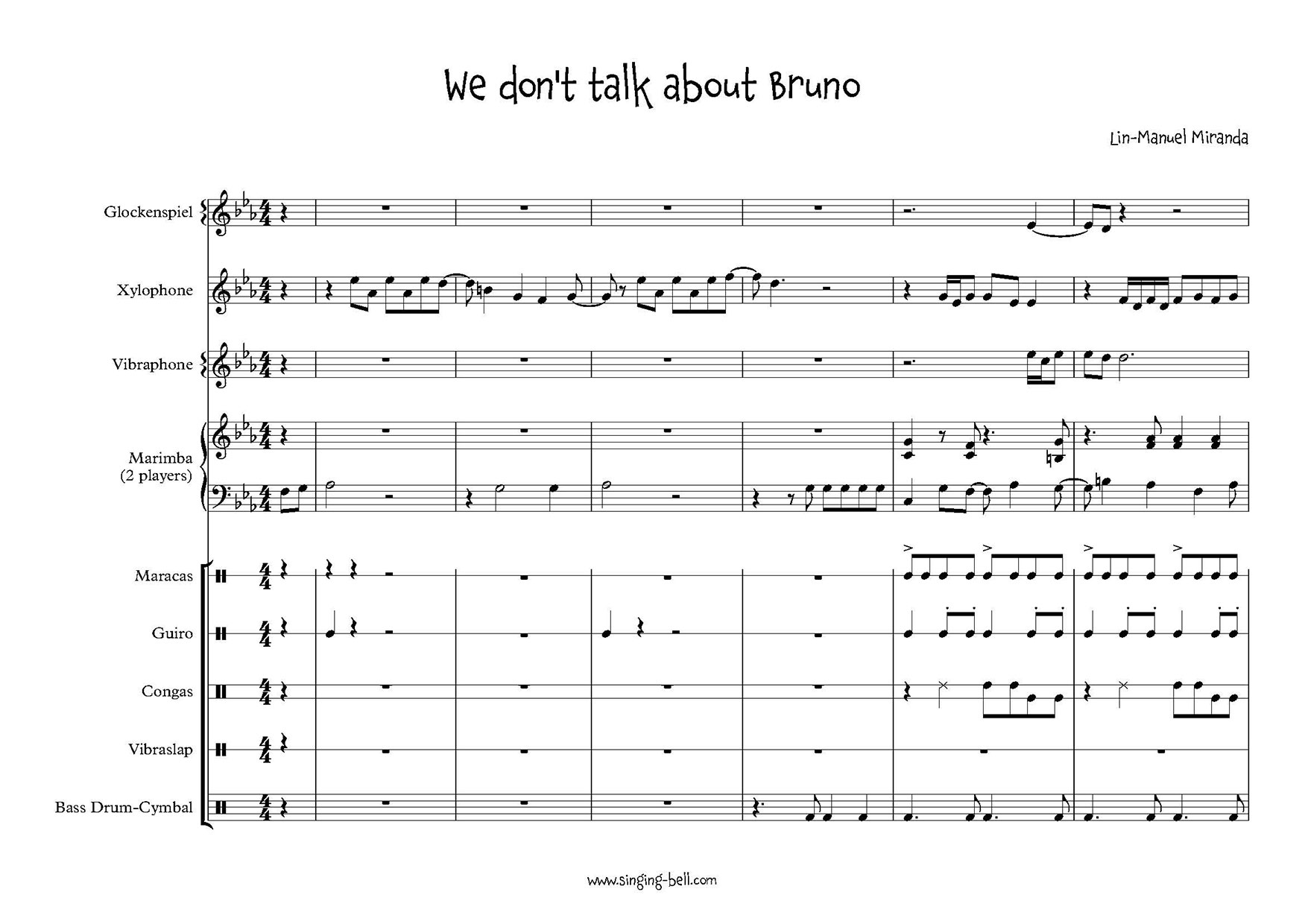 Click here or on the following button for a free download
of the percussion sheet music in PDF.

Percussion Arrangement Sound file
To listen to the percussion arrangement offered above, click on the following player.
We Don't Talk About Bruno – Original Video
Click on the button to watch a karaoke video and
download a PDF file with lyrics to this song for free.

You can click on the button to watch a piano tutorial video and
download a PDF file with piano sheet music for beginners of this song for free.

Click on the button to watch a glockenspiel / xylophone tutorial video and
download a free printable PDF file with glockenspiel / xylophone Music Sheet and Note Chart of this song.

Please click on the button for a printable PDF file with Guitar Chords, Tabs and Sheet Music with notes and tablature for this song for free.

Did you like this post?
You might also like:
Havana – Percussion Ensemble Sheet Music
Seven Nation Army – Percussion Ensemble Sheet Music
Shape of you – Percussion Ensemble Sheet Music